Video:  The State's Attorney's office says no criminal charges will be filed against two police officers involved in fatal shootings last year. Photojournalist Mateo Zapata and president of the Little Village Community Council, Baltazar Enriquez join "Chicago Tonight" with their response to the decision. (Produced by Blair Paddock)
---
Cook County State's Attorney Kim Foxx announced Tuesday that her office will not file criminal charges against the Chicago police officers who killed 13-year-old Adam Toledo and 22-year-old Anthony Alvarez in separate on-duty shootings just days apart last year.
Foxx said her office reviewed the evidence of both shootings and decided against charging Officer Eric Stillman in the death of Toledo, or Officer Evan Solano in the death of Alvarez.
With the anniversary of both shootings coming up later this month, Foxx said the families of both Toledo and Alvarez were "heartbroken" when informed that no criminal charges would be filed against the officers.
"I want to once again publicly give my deepest condolences to the family of Anthony Alvares and Adam Toledo," Foxx said during a press conference Tuesday. "I sat with them here in the office earlier this morning and the grief on their mothers', their fathers' and family members' faces was almost unbearable."
Foxx said her office considered first- and second-degree murder charges against the officers. But prosecutors ultimately decided the evidence was "insufficient to support criminal charges."
Toledo and Alvarez were each killed after being chased on foot by officers. Both incidents sparked outrage as Toledo had dropped a firearm he was carrying and appeared to put his hands in the air before he was shot, while Alvarez was shot in the back while attempting to flee police.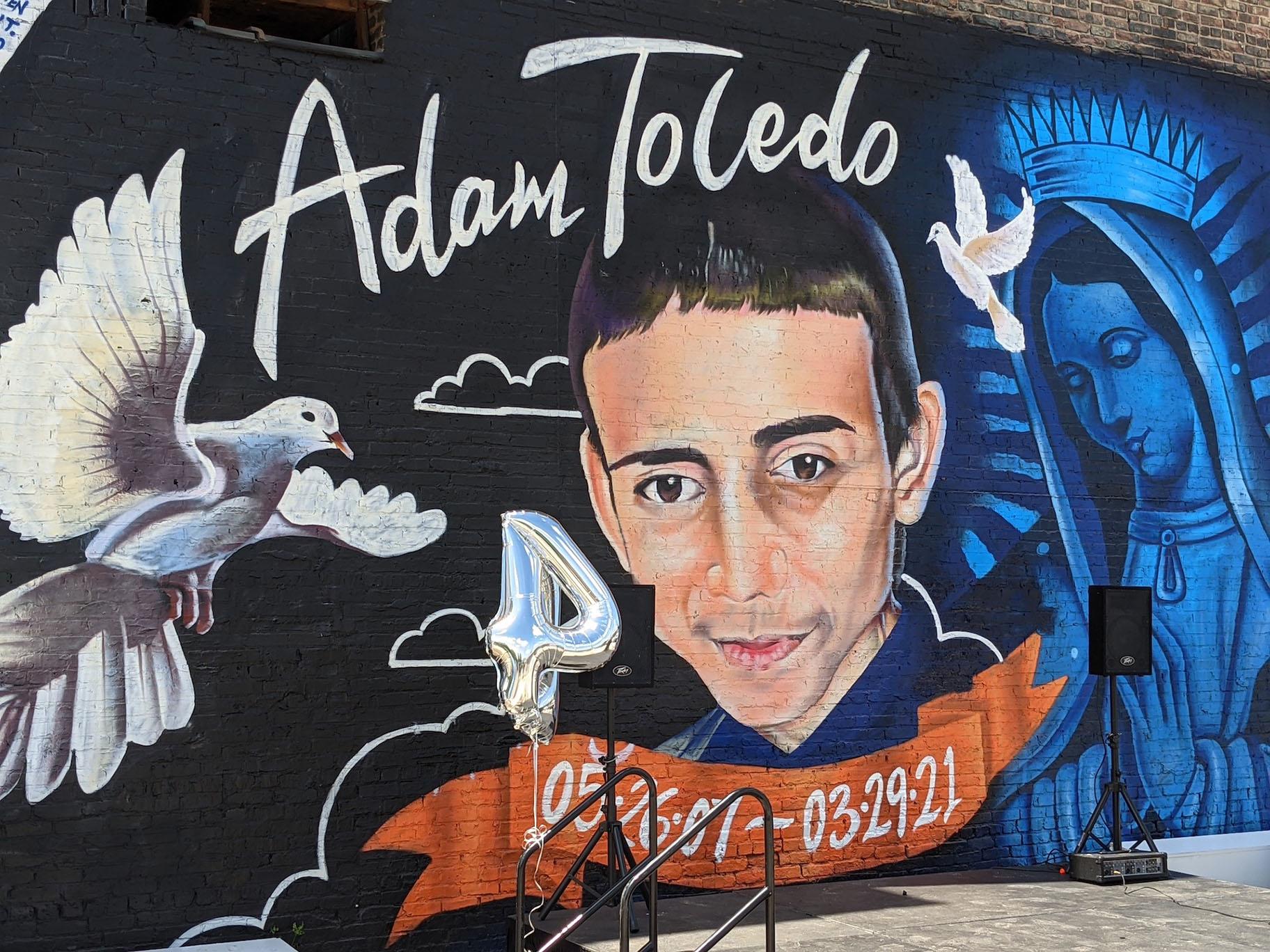 A mural of Adam Toledo painted by Milton Coronado. (Matt Masterson / WTTW News)
Toledo was killed in the early morning hours of March 29 after officers, including Stillman, responded to a report of shots fired in the Little Village neighborhood. When they arrived, Toledo and 21-year-old Ruben Roman attempted to flee down an alleyway on foot.
Toledo was carrying a firearm in his right hand, but began dropping it and tried to put his arms in the air as he turned to face Stillman, who then fired one shot at the boy, striking him in the chest.
Foxx said these actions occurred "within one second." She said the charging decision came down to whether or not Stillman's belief that he was in danger of imminent harm was reasonable "given the totality of the circumstances surrounding the incident."
"We have concluded there is no evidence to prove that Officer Stillman acted with criminal intent," Foxx said.
In a statement, attorneys for Toledo's family said they've filed a lawsuit against Stillman and the city of Chicago "in our effort to get justice for Adam and the Toledo family."
"Officer Stillman's use of deadly force was excessive and posed a threat to the safety of Adam and others," attorneys Adeena Weiss Ortiz and Joel Hirschhorn said. "Despite the painful loss of Adam, the Toledo family continues to call for peace on the streets of Chicago as they pursue justice through the court system."
In a statement, the city law department said it had not yet been officially served with the complaint, and had no further comment.
While the state's attorney's office again declined to press charges in the Alvarez case, Foxx was more critical of the officers' actions in that shooting incident.
Alvarez had been walking by himself near a Portage Park gas station around 12:18 a.m. on March 31 when Solano and his partner — who knew Alvarez from a failed traffic stop the night before — activated the lights of their squad car and began a pursuit.
Alvarez began to run, and the officers started chasing him on foot. Alvarez — who was carrying a gun in his right hand and his phone in his left — made his way through an alley and then on to Eddy Street, where he slipped and fell on a residential lawn.
When Solano caught up to him there, he believed Alvarez was "waiting to ambush him," according to Foxx. The officer then drew his gun and, as Alvarez got up and looked back, fired five shots in a span of one second, striking Alvarez in the back and thigh.
While prosecutors again concluded there was insufficient evidence to file murder charges against Solano, Foxx said it was the officers who "created the conditions" under which "the use of deadly force became necessary."
She said the officers did not need to pursue Alvarez at all, as he was not committing any crimes "readily apparent to the officers" at the time they found him, and had only been sought prior for a traffic offense. Foxx added that Solano and his partner knew Alvarez's home address, and simply could have contacted him there if need be.
"The frustration is, we got into this situation because of the actions of the officers initially," Foxx said.
The shootings of both Toledo and Alvarez led to widespread calls for the Chicago Police Department to reform its foot pursuit policy. Foxx believes both Stillman and Solano violated that policy in these incidents, though it will be up to the Civilian Office of Police Accountability to make that determination.
The CPD has since worked to improve that policy, in part, by banning officers from pursuing suspects involved in minor crimes or traffic offenses, unless they pose an immediate danger to the community.
Still, Foxx said she still has "deep, deep concerns" about how the department regulates foot pursuits.
"The question is, do we have a policy that makes everyone safe, in particular those who are running toward danger?" Foxx said. "And I think in the instances we have seen, especially with Mr. Alvarez, we have to ask ourselves, was this worth the effort?"
Contact Matt Masterson: @ByMattMasterson | [email protected] | (773) 509-5431
---