The Southwest Side neighborhood is a mostly residential community with many restaurants and some small businesses. It was hard hit by the pandemic, but today it's among the areas with high vaccination rates — and, it's home to the now indicted former house speaker Michael Madigan.
Interactive map: More from our community reporting series
It's also a community touched by another quintessential South Side Chicago politician  — the first Mayor Daley.
President of the Richard J. Daley College Janine Janosky says the school's a beacon in the community.
Students can get hands-on lessons at the MTEC — manufacturing technical engineering center — for training in welding, computer numerical control machine and robotics.
Chicago residents can even take classes for free, through City Colleges of Chicago's Future Ready program.
President Janosky says jobs are waiting on the back end.
"Right now, industry reaches out to us asking for when students are available to graduate because they are ready to enter the workforce with an industry here in Southwest Chicago. And the demand is ever increasing, especially post pandemic," Janosky said.
Students entering the workforce without professional attire can pick up free business clothes at the Career Wardrobe Boutique.
It started a few years ago as a pop-up and opened as a permanent space last week.  The boutique is taking donations.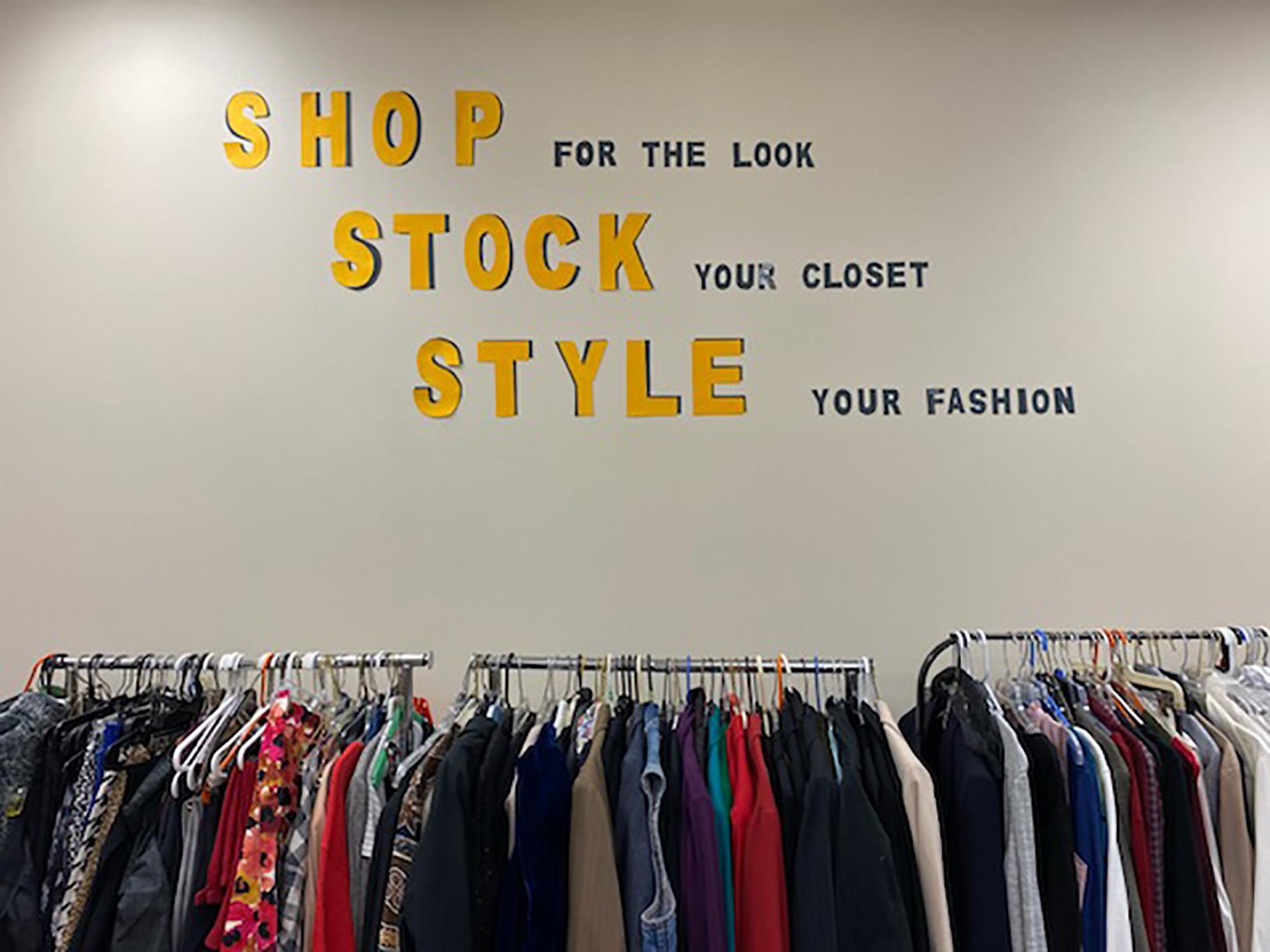 Students entering the workforce without professional attire can pick up free business clothes at the Career Wardrobe Boutique in West Lawn. (WTTW News)
Meanwhile, young families that need support can look to Metropolitan Family Services.
Dawn Delgado-Mendez leads the organization's at-home visits in West Lawn. They're designed to help expecting and new parents.
Since Delgado-Mendez started over a decade ago, she says the number of families signing up for the program has decreased.
To her that's a sign of progress — more families are employed and no longer need in-home visits; they're looking for center-based child care while they're at work.
"We reach those at-risk families and bring them up to where they need to be in order to be successful, whether it's individually, whether it's education or employment but also to just have a safe home for their families," said Delgado-Mendez.
For school-aged children, Monday will be a day of change at CPS. It will be the first day since the pandemic that masks won't be required.
Judy Idrovo — who leads a vaccine ambassador program in West Lawn — says that's motivating some parents to get their kids vaccinated. 
"Just because masks are lifted, doesn't mean that folks are vaccinated. Now we are communicating with families that it's up to them to make sure their kids are vaccinated, and keeping in mind that 0-5 year olds are still not eligible. But what I've been hearing is that folks are taking that initiative now because it's getting lifted, and they are going and getting that appointment," Idrovo said.
As COVID-19 restrictions lift and the city hopes to be turning a new corner in the pandemic, Cook County Commissioner Alma E. Anaya, who represents the northern part of West Lawn, hopes the lessons learned during this pandemic are remembered.
"I hope when this is over, we continue to look into the social issues still impacting communities. They were impacting them before the pandemic, but we saw that COVID made it bright and clear. We need to make sure we don't forget about the health inequities and disparities," Anaya said.
Video: Watch our full interview with Alma E. Anaya
---
The Southwest Collective operates on Chicago's Southwest Side, bringing a variety of programming and resources to the area. Board president Enrique Mendoza said they are working on expanding food equity work in order to better support families in the area, especially as prices rise.
"Businesses are struggling and with everything else going on in the world, with gas prices spiking. I've been talking with families and they've seen the price of wheat go up, it just gets more expensive to buy groceries," Mendoza said, who is also a West Lawn resident. 
Video: Watch our full interview with Enrique Mendoza
---
One of the major cultural attractions in West Lawn is the Balzekas Museum Of Lithuanian Culture
"We are very connected to this area, because just east of here is the Stockyards. Lithuanians were very integral to the development of the city. They've also contributed greatly to the culture of the city, they've established operas and we had folk dance festivals. I would say from the stockyards to the stock exchange, Lithuanians have been involved in the fiber of Chicago," said Sigita Balzekas, vice president and interim executive director of the museum.
Friday's an important day: It's when Lithuanians celebrate the restoration of its independence.
That's poignant now, given what's happening in Ukraine.
As is the museum's "No Home to Go To" exhibit about refugees and displaced peoples. 
Balzekas says Putin's efforts to expand Russia are comparable to Stalin's— when millions died or were displaced.
She hopes lessons of the past guide today's leaders, before history repeats itself.
"I don't think the holocaust would have happened if people like Stalin and Hitler would have been stopped in their tracks. Now we're watching another tragedy unfold in a part of Europe — the same part of Europe," Balzekas said.
Madigan's Neighborhood
Political buffs may think another area within the building's deserving of an exhibit -—
Madigan's longtime ward office is located on the second floor. Madigan's known for putting his nose to the grindstone and spent a lot of Saturdays in the office.
You may consider it, a sort of second home. His actual one is about a half mile away.
Madigan was born in Clearing.
But has long lived in West Lawn and has represented the community in the state legislature since 1970.
West Lawn has changed a lot since Madigan was first elected — in the past decade alone, the Latino population grew by 10%.
Realtor Jose Gonzalez says it's important the community have Latino representation in government.
"Latinos we are very culturally rich, very driven toward our family and only other Latinos can fully comprehend what our needs are," Gonzalez said.
The 22nd House district is now represented by a Latina — Rep. Angelica Guerrero-Cuellar, who was appointed to the post with Madigan's support, and is now running for election.
---
Community Reporting Series
"Chicago Tonight" is expanding its community reporting. We're hitting the streets to speak with your neighbors, local businesses, agencies and leaders about COVID-19, the economy, racial justice, education and more. See where we've been and what we've learned by using the map below. Or select a community using the drop-down menu. Points in red represent our series COVID-19 Across Chicago; blue marks our series "Chicago Tonight" in Your Neighborhood.
---