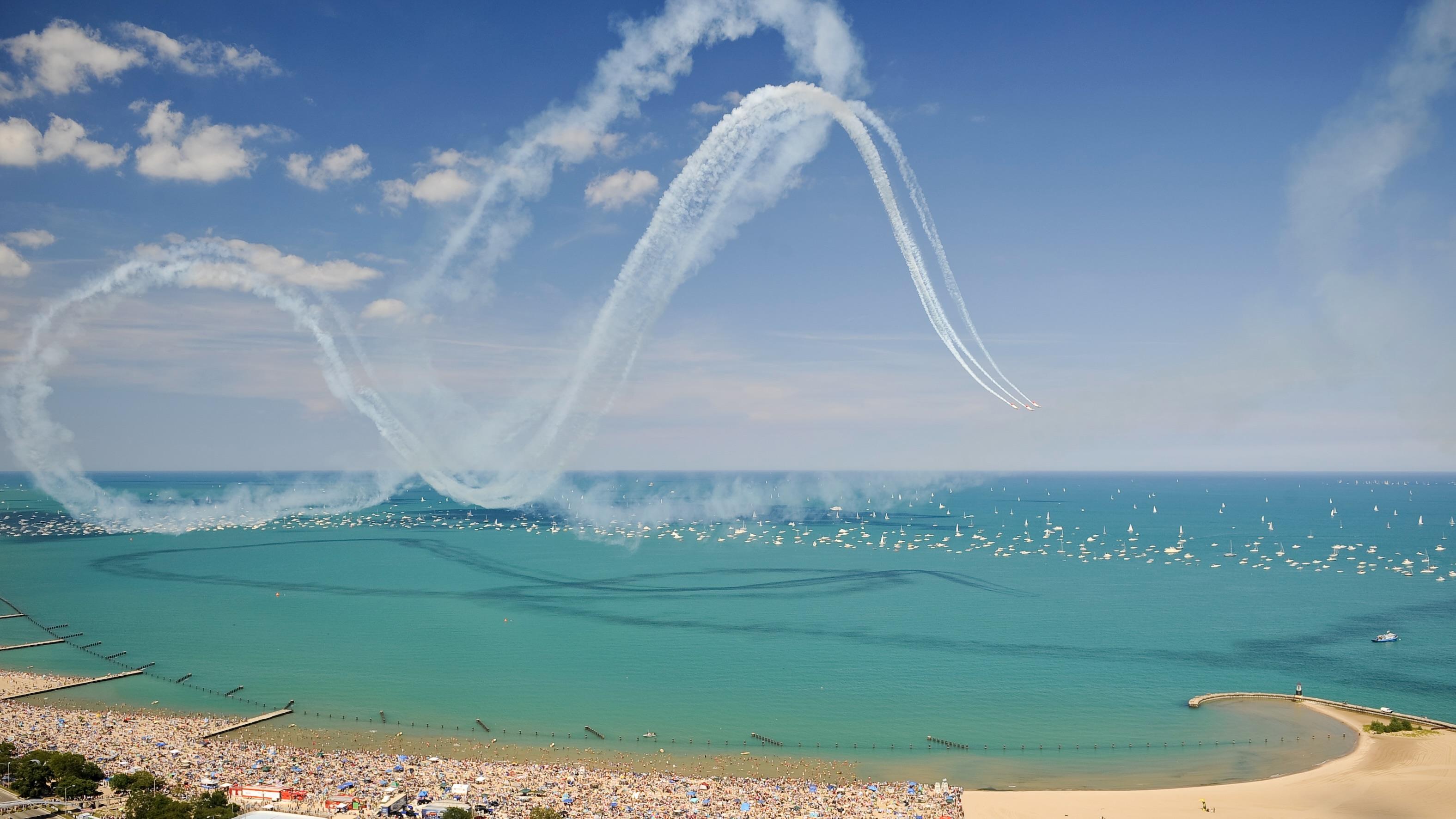 The Chicago Air and Water Show is set to return after a two-year hiatus on Aug. 20 and Aug. 21. (Courtesy Department of Cultural Affairs and Special Events)
Summer in Chicago will feature a full slate of festivals after many were scaled back or canceled by the COVID-19 pandemic, Mayor Lori Lightfoot announced Thursday.
The Chicago Blues Festival, the Chicago Jazz Festival and the Chicago Air and Water Show will take place this summer at their pre-pandemic size and scope, officials said. However, only a "bite-sized version" of Taste of Chicago will return to Grant Park, with pop-ups returning to Chicago's neighborhoods, officials said.
"I am thrilled that we can bring back our iconic music and food festivals, as well as hundreds of other events," Lightfoot said in a statement. "This will help to bring a sense of normalcy back to our city and revitalize the local economies of our neighborhoods."
Canceled by the COVID-19 pandemic in 2020, Lightfoot announced a solo performance by the U.S. Navy Blue Angels would take place in 2021 as part of efforts to reopen the city as the number of confirmed cases of COVID-19 and hospitalizations dropped — only to rebound in the fall and surge in the winter.
The Blues Festival will take place June 9 through June 12, officials said.
The Jazz Festival will take place Sept. 1 through Sept. 4, officials said. Both fests will take place at the Pritzker Pavilion in Millennium Park. The festivals took place virtually in 2020 and were scaled back to a single night each in 2021. 
The 2022 Chicago Air and Water Show will feature "aeronautical feats and a nautical demonstration" from 10 a.m. to 2 p.m. Aug. 20 and Aug. 21. Practice will take place on Aug. 19.
Taste of Chicago will take place in Chicago's neighborhoods on June 11, June 18 and June 25 and in Grant Park from July 8 through July 10. Between 30 and 40 eateries and food trucks will be present each day, as well as three evening concerts as part of the fest in Grant Park.
In addition, plans call for the Maxwell Street Market to be open 38 Sundays this summer, as compared to just 15 Sundays in 2021. The market was closed during the summer of 2020.
Other summer events set to take place this summer are:
Chicago City Markets
Memorial Day parade
Millennium Park Summer Workouts
Millennium Park Summer Film Series
Chicago Gospel Music Experience
Millennium Park Summer Music Series
Chicago SummerDance
Year of Chicago Dance Showcase
Chicago House Music Experience
World Music Festival Chicago.
Contact Heather Cherone: @HeatherCherone | (773) 569-1863 | [email protected]
---