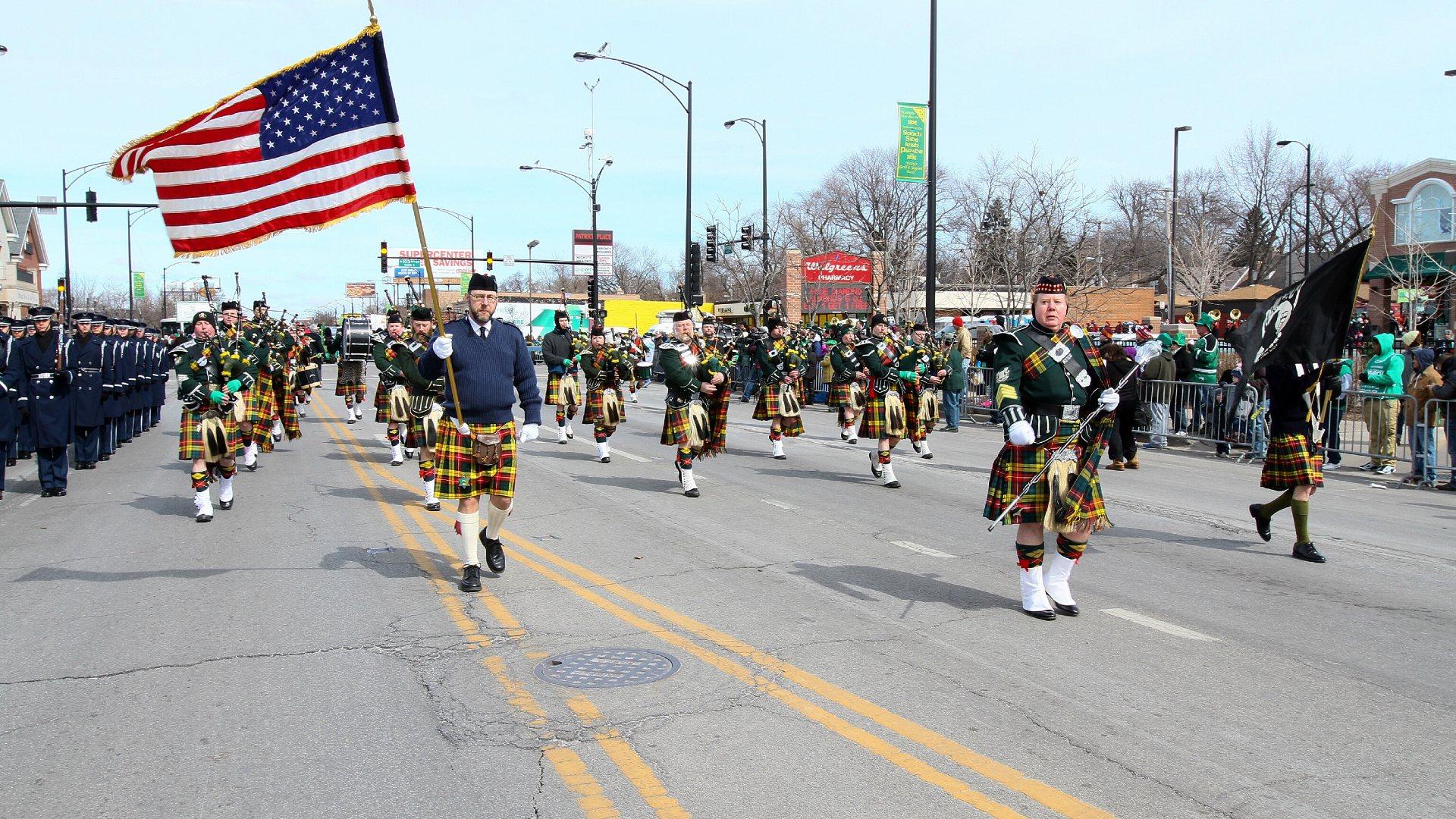 (Courtesy of South Side Irish Parade Committee)
Irish eyes will be smiling in March as all three of Chicago's St. Patrick's Day parades are set to return after a two-year hiatus due to the coronavirus pandemic.
"I'm really happy about it, and I think the communities are in need of it," said Elizabeth Murray-Belcaster, Northwest Side Irish Parade organizer. "I think people are ready for this."
The downtown Chicago St. Patrick's Day Parade and annual dyeing of the Chicago River are scheduled for Saturday, March 12, according to the event's website. Times for each of the events have not yet been announced.
Both the Northwest Side and South Side Irish parades plan to step off at noon Sunday, March 13 on the northwest and south sides of the city, respectively. (Get the details.)
The Northwest Side Irish Parade already has 100 groups signed up to participate, including Irish dancers, bagpipes and drums groups, community organizations, union groups, schools and churches.
"Because we canceled three days prior in 2019 we have a full-spectrum parade already in place," said Murray-Belcaster. "We're committed to dedicating (this year's) parade to health care workers … because it's been such a tough couple of years for them."
The South Side Irish Parade anticipates about 100 groups and organizations will participate in this year's event, according to co-chair Don Larisey, who said the parade is still accepting applications. (Interested? Send an email.)
"We're excited. The neighborhood is excited, the business leaders and owners are excited for this," said Larisey. "It's a big piece of the community and we need something to look forward to, and we're ready."
Given the unpredictable nature of the pandemic — which lead to the cancellation of the last two years' events — organizers say they'll be monitoring the situation and adjust as needed.
"Obviously, there have been some challenges in the past year or two, but we feel strongly this year — with outdoor events happening this summer like White Sox games and Bears games and concerts — that we feel we can operate a safe event moving forward," Larisey said.
Last year, the cancellation of the South Side Irish Parade led to the creation of a program inviting neighborhood residents to decorate their homes in St. Patrick's Day décor.
"It was a great pivot for the community to come together, for not having a parade but to still be able to have some safe neighborhood participation," Larisey said, adding organizers are planning to include a similar component to this year's festivities.
In addition to COVID-19 precautions, both parades are stepping up security for their events as they anticipate large crowds, as well as working with bars and restaurants along the parades' routes.
"Safety, security and celebration are the most important things we're focused on," said Murray-Belcaster. "Our big message is to keep it safe, community-friendly and enjoy the day for what it is: a celebration of St. Patrick's Day and a celebration of our entire community."
Northwest Side:
Details: Noon Sunday, March 13 stepping off at William J. Onahan School, 6634 W. Raven St. (Map) Parade proceeds along N. Neola Avenue to N. Northwest Highway to Harlem Avenue.
South Side:
Details: Noon Sunday, March 13 stepping off at 103rd Street and Western Avenue. (Map) Parade proceeds south along Western Avenue to 115th Street.
Contact Kristen Thometz: @kristenthometz | (773) 509-5452 |  [email protected]
---