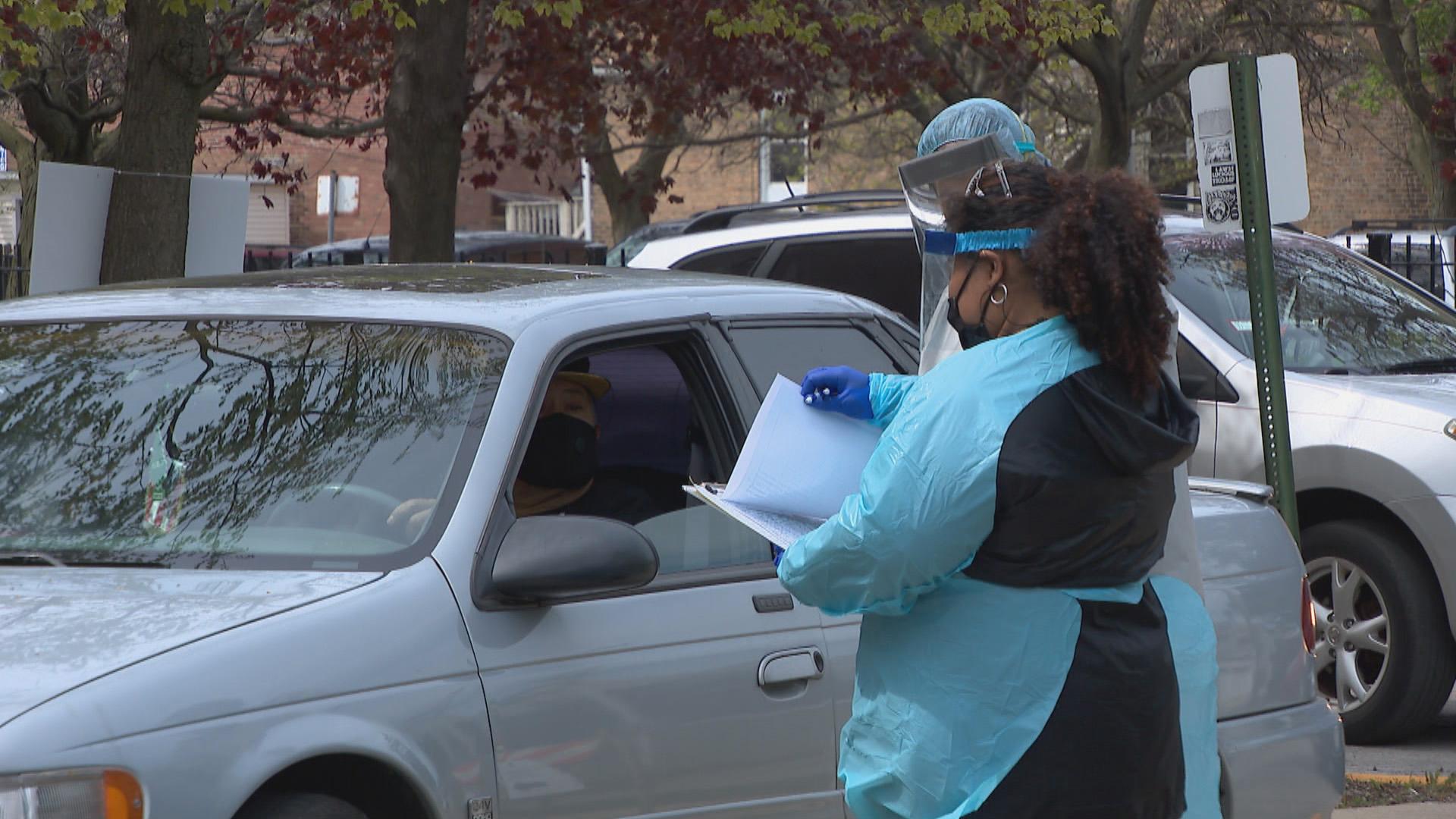 (WTTW News)
Administrators with Advocate Aurora Health, which operates 26 hospitals in Illinois and Wisconsin, provided a bleak snapshot Monday of the latest COVID-19 surge.
The number of patients hospitalized due to COVID-19 has doubled within the Advocate Aurora system in the last 30 days, and quadrupled in the last 60, said Mary Beth Kingston, chief nursing officer.
"Those aren't just numbers, but people who are really ill," she said. "The situation is growing more challenging by the day."
The vast majority of Advocate Aurora's COVID-19 patients — 92% of nearly 1,500 — are either unvaccinated or not fully immunized, meaning they've either received just a single dose of a vaccine or are in need of a booster shot, she said. People with suppressed immune systems or underlying conditions such as diabetes or chronic obstructive pulmonary disease continue to be at risk.
While the omicron variant, first detected in the Chicago area back in November, is believed to cause milder symptoms overall, its effects are no less severe for those requiring hospitalization.
"People in the hospital are equally as sick as they were with delta or beta," said Dr. Raul Mendoza, a pulmonologist with the health system. And the mortality rate remains high once a patient lands in the intensive care unit, he added.
The surge is being fueled not only by omicron's rapid rate of transmission, but by the disturbing trend of people failing to disclose a positive COVID-19 test or symptoms because of the "stigma" associated with the virus, said Dr. Jeff Bahr, chief medical group officer.
Withholding such information from friends, family, co-workers or others "promotes unknown spread and sets us back in terms of the timeline of the pandemic," Bahr said. "Let those around you know. It's the right thing to do."
The influx of patients is taxing a health care system already buckling under the strains of a pandemic now entering its second year.  
Staff shortages, problematic even before the surge, are accelerating, Kingston said. The pandemic has taken a physical and mental toll on health care workers, and fatigue has set in, she said.
At this point, non-clinical staff are volunteering or being recruited to assist with non-medical tasks such as sitting with patients or shuttling trays of food or equipment, said Kingston.
Bahr quashed a rumor that hospitals were turning away non-COVID-19 patients. 
"We're not delaying cancer treatment or life-saving operations," he said. "There's simply more work to do."
But to keep people with COVID-19 from utterly overwhelming hospitals, Bahr encouraged people to think in terms of the "right care, at the right place, at the right time."
For example, people who are concerned they might have been exposed to COVID-19, but are otherwise asymptomatic, should take a home test rather than head to the emergency room. Likewise, for someone who's tested positive for COVID-19 but doesn't have a fever, cough or upper respiratory symptoms, Bahr recommended consulting with their primary care physician and recuperating at home.
So when is a trip to the ER warranted?
People should seek help if COVID-19 is causing a worsening of their chronic health conditions, Bahr said. And for normally healthy people, shortness of breath while at rest or with mild activity is one of the signs that the disease is taking a nasty turn, he added.
In these instances, Bahr said, early intervention is key to preventing the situation from deteriorating.
Everyone can help, he said, by continuing with the mitigations health officials have been promoting since 2020: Wear a mask, wash your hands and maintain distance from others.
Contact Patty Wetli: @pattywetli | (773) 509-5623 |  [email protected]
---