Ald. Ed Burke (WTTW News)
A federal judge said Tuesday that he has yet to finish reviewing more than 700 pages of arguments filed in the corruption case against Ald. Edward Burke (14th Ward) but expects to hold a key hearing in the long-stalled case in February.
U.S. District Court Judge Robert Dow said during a brief hearing for Burke and his co-defendants, longtime aide Peter Andrews and Portage Park businessman Charles Cui, that he expected to finish his review in the coming weeks and schedule oral arguments in February.
"God willing," Dow said.
Dow said his review had been "waylaid" by the fact that he is presiding over three consolidated cases challenging the Illinois House and Senate district maps drawn by Democrats and signed into law by Gov. J.B. Pritzker.
Burke's attorneys have asked Dow to toss out evidence gathered by federal agents from wiretaps on Burke's cellphone and City Hall offices, which captured thousands of conversations the longtime alderperson held during the course of a year, alleging the evidence was gathered improperly.
Federal prosecutors defended the conduct of investigators and told the judge the probe "revealed Burke to be thoroughly corrupt and worthy of prosecution."
The 14-count indictment made public in May 2019 that alleges Burke repeatedly — and brazenly — used his powerful position at City Hall to force those doing business with the city to hire his private law firm by the Department of Justice.
Burke, 77, has pleaded not guilty to charges of racketeering, bribery and extortion. Racketeering charges — usually brought against members of the mob or street gangs — allege a pattern of corruption unknown to its victims.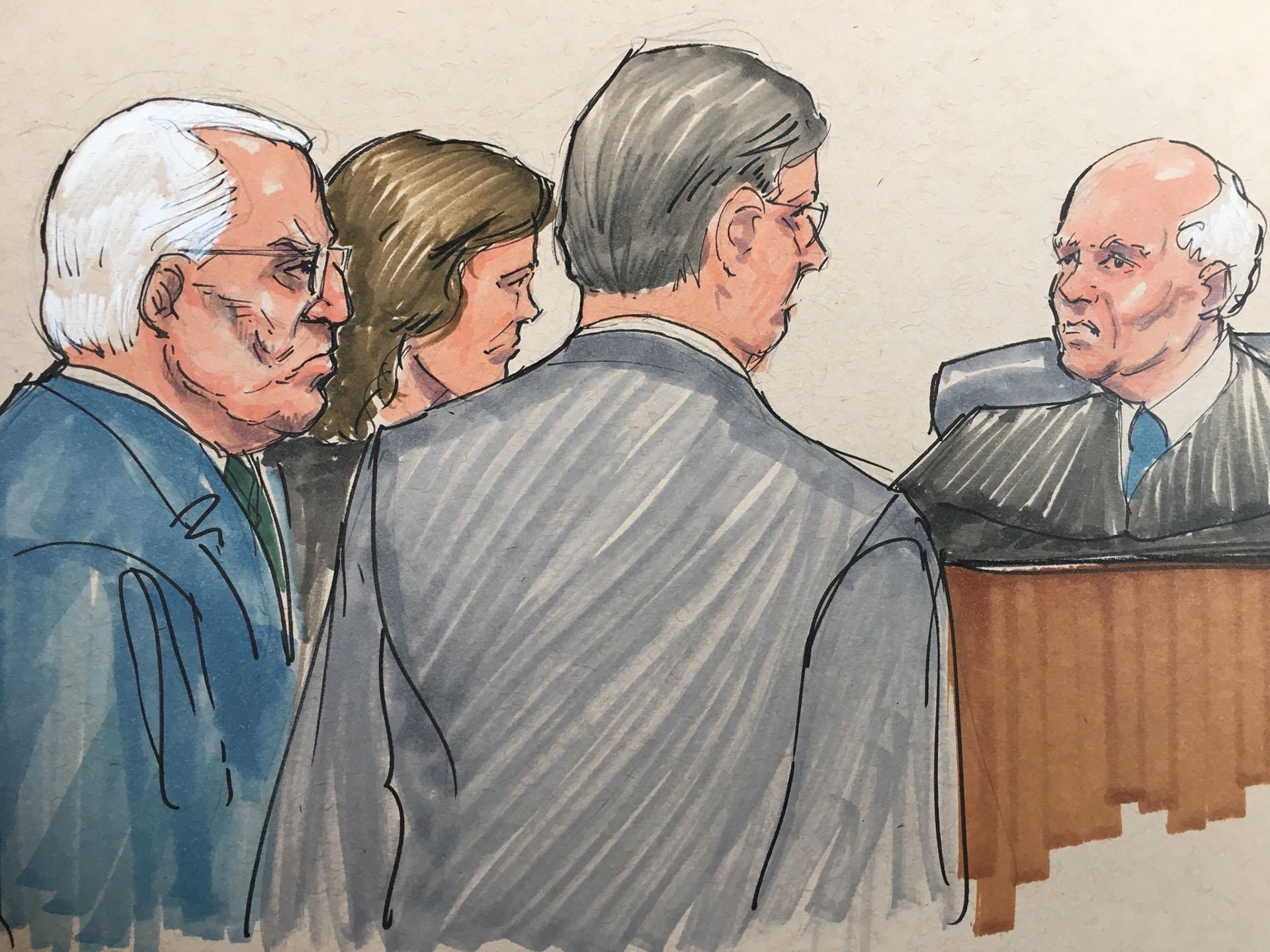 In this courtroom sketch, Ald. Ed Burke, left, appears before U.S. Federal Magistrate Judge Jeffrey Cole with his attorneys on Tuesday, June 4, 2019. (Credit: Tom Gianni)
Some of those charges revolve around a plot involving disgraced former Ald. Danny Solis to force the firm renovating the Old Post Office in Solis' 25th Ward to hire Burke's private law firm in return for city approvals.
In the alderperson's response to the charges against him, filed in August, Burke's attorneys accused the government of setting him up with the help of Solis and improperly listening to his phone calls. 
Solis, who has not been charged with a crime, agreed to help federal agents investigate Burke after Solis was secretly recorded by a developer as part of another investigation and confronted by federal officials with evidence that he traded sex acts, Viagra, free weekend use of an Indiana farm once owned by Oprah Winfrey and a steady stream of campaign contributions for City Council actions.
The indictment alleges that Burke enlisted Solis' help to force the Old Post Office developer to hire Burke's private law firm in return for city approvals. Burke had already pledged to kick back a portion of the spoils to Solis in return for his approval of an $18 million subsidy and a tax break worth $100 million, prosecutors alleged. 
Burke's attorneys have argued that although Solis repeatedly tried to record Burke offering to provide an official action in exchange for private business, he never did. 
The indictment improperly characterizes the impact Burke's work as a private attorney had on his official duties as alderperson, according to the alderperson's attorneys.
Indicted more than 2 1/2 years ago, Burke has yet to go to trial, in part because of the COVID-19 pandemic as well as the huge amount of evidence in the case, including records from "the longest wiretap in the United States that concluded in 2018." In all, investigators intercepted 9,101 calls made by Burke or answered by him during the investigation, according to court records.
Those calls contain "powerful evidence" that Burke is guilty of corruption, prosecutors said, including a 2017 question he posed to Solis: "So, did we, uh, land the tuna?"
Contact Heather Cherone: @HeatherCherone | (773) 569-1863 | [email protected]
---