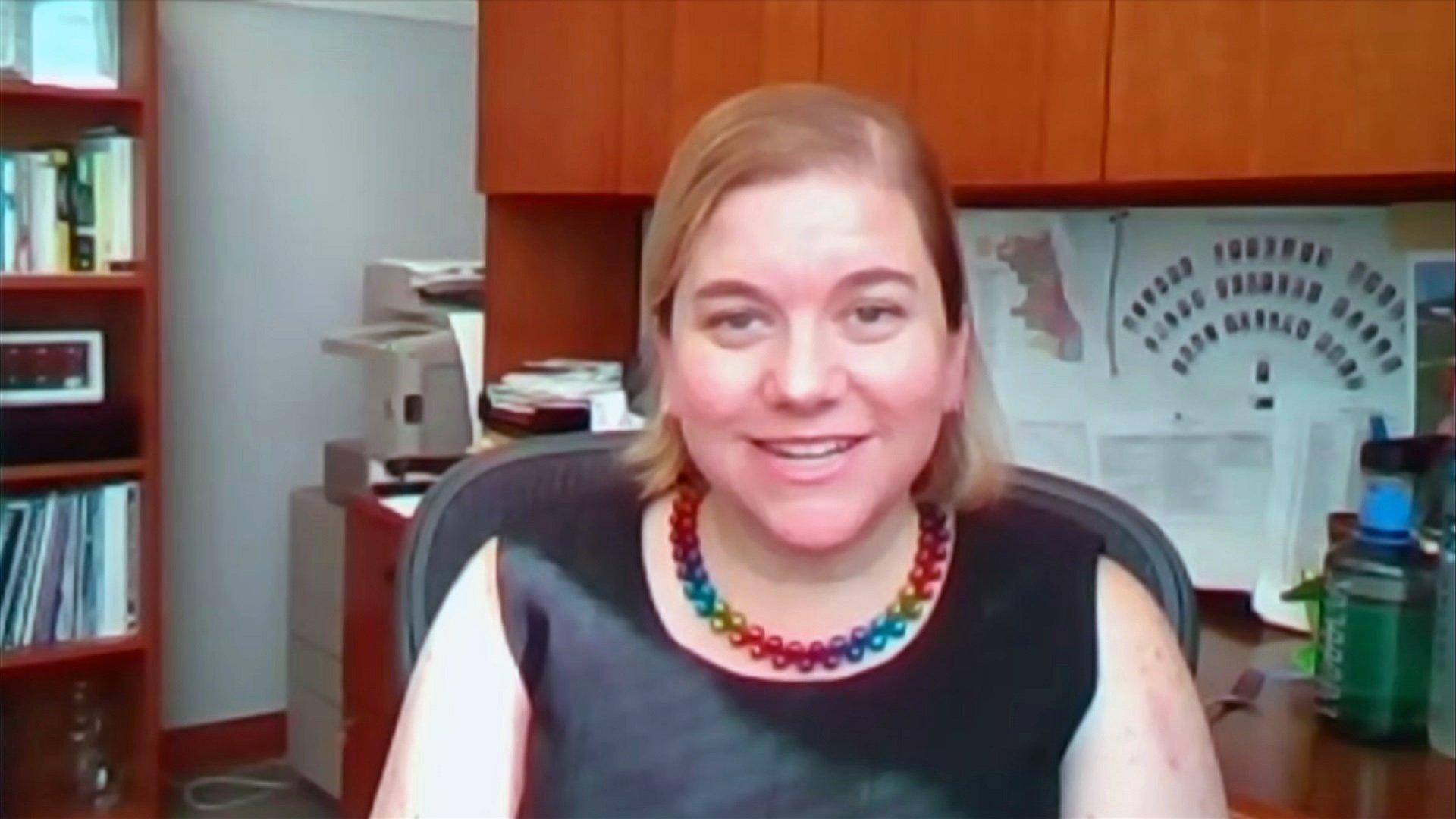 Chicago Department of Public Health Commissioner Dr. Allison Arwady appears on "Chicago Tonight" via Zoom on Monday, July 26, 2021. (WTTW News)
Chicago officials are considering requiring those who gather in "high-risk settings" where masks cannot be worn to offer proof that they are fully vaccinated against COVID-19 or have tested negative for the virus, Chicago's top doctor said Thursday.
Several members of the Chicago City Council's Health and Human Relations Committee urged Dr. Allison Arwady, the commissioner of the Chicago Department of Public Health, to put those requirements in place quickly as the number of confirmed cases of COVID-19 in Chicago reached the highest level since January 2021, according to city data.
"We have to do more if we want to get past this economically," said Ald. Michele Smith (43rd Ward).
Arwady said "preliminary conversations" were taking place with representatives of business groups about requiring proof of vaccination or a negative test for diners or revelers, but no decision had been made.
The rules may be necessary "while we are in a big surge like this," especially in places where people cannot keep their masks on, Arwady said, telling alderpeople that there was no timeline for a decision to be made.
Nearly 90% of New York City residents older than 18 have received at least one dose of the vaccine, while just 78.6% of Chicago adults have gotten at least one dose of a COVID-19 vaccine.
In response to a question from Smith, Arwady acknowledged New York's higher rate of vaccination was due to those requirements. Until this week, Arwady has been reluctant to even consider rules requiring private businesses to demand proof of vaccination for either their employees or customers.
Health officials detected the first case of the omicron variant of COVID-19 in Chicago Monday. That variant is believed to be more transmissible, and could be less responsive to COVID-19 vaccines. However, those who contract it seem to be less likely to get seriously ill, according to early data.
Mayor Lori Lightfoot has yet to announce whether she would now support tougher vaccine requirements, which she resisted during past surges of COVID-19. Lightfoot has not taken questions from reporters since Monday, before she traveled this week to Los Angeles, which also requires those entering restaurants, gyms and entertainment or recreational facilities to be fully vaccinated.
Lightfoot told reporters Monday that she would not follow New York City Mayor Bill DeBlasio's lead and require private employers in Chicago to enforce a vaccine mandate on their employees, saying it was likely illegal.
State officials have said they are not considering vaccine requirements to enter public spaces.
Since the beginning of the COVID-19 pandemic, Gov. J.B. Pritzker consistently imposed tougher rules designed to stop the spread of COVID-19 than Lightfoot. The two Democrats were often at odds, including over the role played by restaurants and bars in spreading the deadly airborne virus.
There is now a "very high risk" of COVID-19 transmission in Chicago, according to the Chicago Department of Public Health because the city averaged 948 confirmed cases of COVID-19 during the past week. Along with COVID-19 cases, hospitalizations are at the highest level since January 2021.
"I want to stay open," Arwady said, adding that she would prefer vaccine mandates to a return of orders forcing businesses to limit capacity or shut down entirely. "We don't want any of that."
Data from Chicago health officials show that confirmed cases of COVID-19 have been rising in Chicago since Oct. 25, once the weather turned colder, sending people indoors. Cases are also likely to continue to rise as families and friends gather for holiday celebrations, Arwady said.
The highest rates of confirmed cases of COVID-19 are in the Midwest, according to CDPH data.
Arwady urged all Chicagoans older than 5 to get vaccinated, and for those older than 18 to get a booster dose of the vaccine as soon as they are eligible. Everyone should also wear a mask while indoors in a public space, she added.
Contact Heather Cherone: @HeatherCherone | (773) 569-1863 | [email protected]
---