Chicagoans love their beaches, but even the staunchest civic booster will admit they're not exactly a beachcomber's paradise.
So when a longtime Edgewater resident (and WTTW News staffer) stumbled onto a sudden bounty of shells at Lane Beach in early November, something she'd never encountered in 10 years of daily walks, her spidey sense tingled in a "that's strange" kind of way.
Strange indeed. Our esteemed colleague had just come into contact with one of the most threatening creatures to haunt the Great Lakes ecosystem, and yet didn't even recognize the menace by sight.
From photos, scientists at the Shedd Aquarium identified the innocuous looking shells, roughly the size of a penny, as the remains of quagga mussels, an aquatic invader that's wreaked all kinds of havoc in these parts.
Recent storm waves likely stirred up shell deposits from the lake bottom and brought them ashore, according to Shedd research biologists Kentaro Inoue and Austin Happel.
If Lake Michigan operated more like an ocean, with the strong tides and pounding surf needed to serve up a steady supply of detritus from the deep, it would cough up boatloads of quaggas on the regular.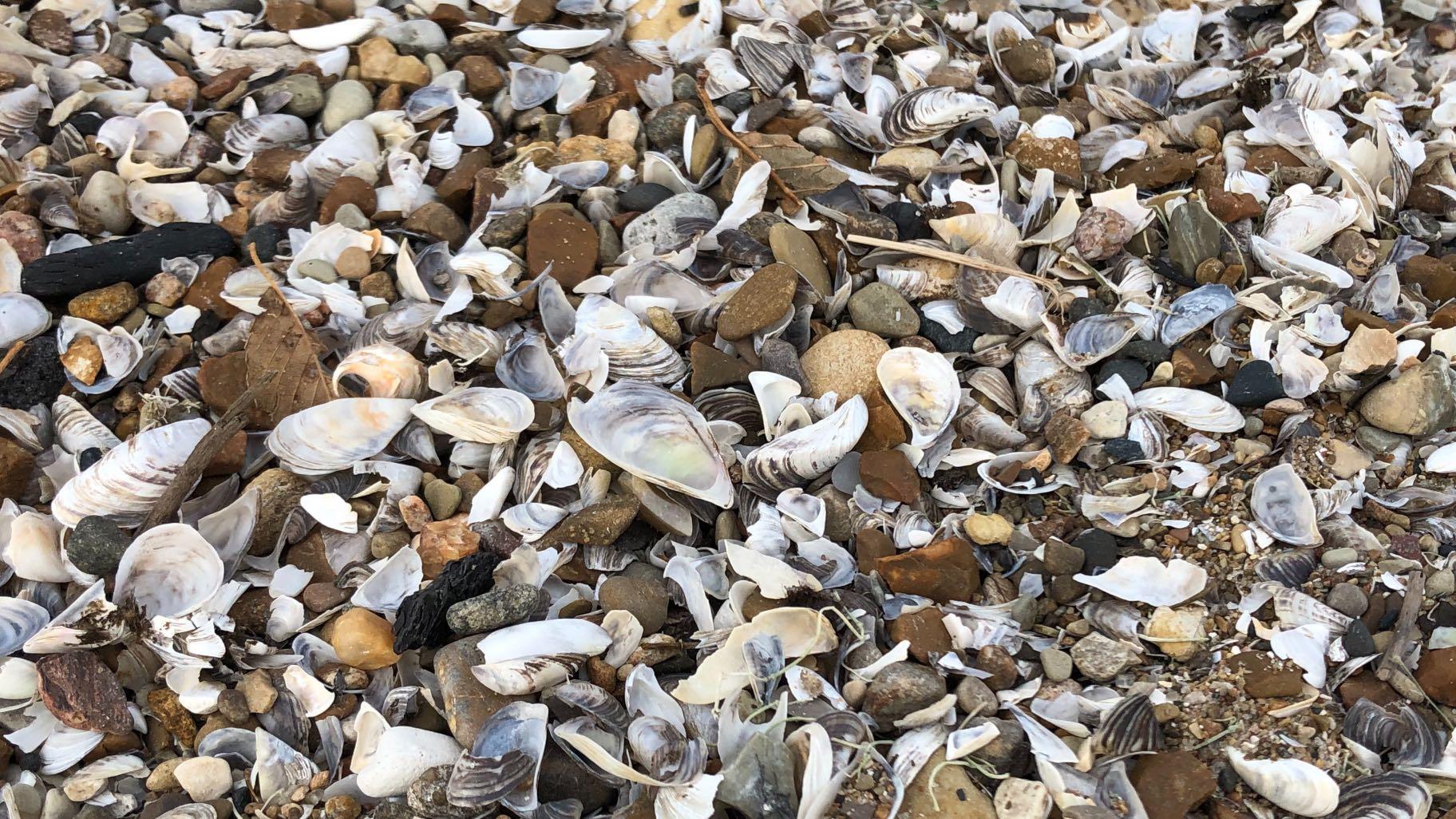 A large deposit of shells washed up on Lane Beach in Edgewater. (Patty Wetli / WTTW News)
Native to the Dnieper River of Ukraine, quaggas hitched a ride to the Great Lakes via the ballast water of transatlantic ships and were first recorded in northern Lake Michigan in 1997, near Mackinaw City. By 2002, they had spread to the lake's southern reaches.
Here's a not-so-greatest hits list of the problems they cause:
— Attach to and clog water intake structures like pipes and screens, which translates into costly maintenance for water treatment and power plants.
— Adhere to boat hulls and engines, increasing drag, affecting steering, and leading to overheating and engine malfunctions.
— Devastate the food chain by outcompeting native mussels and other filter feeding invertebrates (worms, insect larvae, etc.) for food. The result is less food for small fish, so their population shrinks, which means less food for the bigger fish that eat the small fish. 
— Associated with avian botulism outbreaks, killing tens of thousands of birds. Because they're voracious filter feeders, quaggas can accumulate incredibly high concentrations of pollutants in their tissues, which get passed up the food chain when the contaminated mussels are eaten by predators.
— Quaggas' filtration of particulates improves water clarity, which would seem like a good thing except light is then able to penetrate to greater depth, altering the species composition of aquatic plant communities. The upshot being that this clearer water likely aids algal blooms.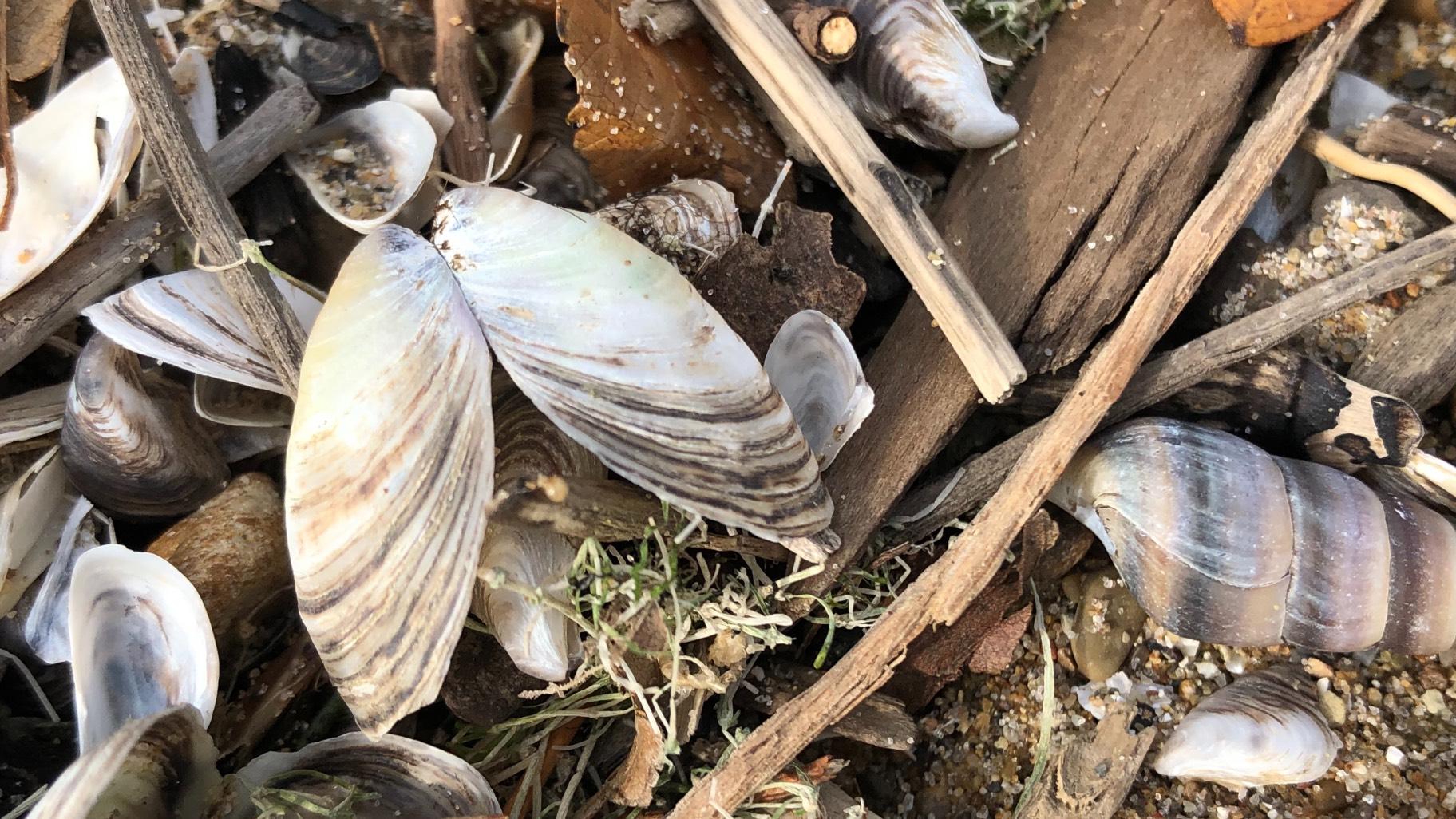 Invasive quagga mussels make up 90% of the invertebrate creatures on the bottom of Lake Michigan. (Patty Wetli / WTTW News)
Quaggas now make up 90% of the invertebrate creatures on the bottom of Lake Michigan, according to reports. Yet for all their dominance, the quagga still manages to fly under the radar due to a certain level of invisibility.
The mussel is no Asian carp, jumping out of the water and whacking anglers in their boats. And it's definitely no sea lamprey, with its nightmarish maw from hell. 
Even among invasive mussels, the quagga is forever playing second banana to the zebra mussel, which got here first and continues to enjoy greater name recognition despite being supplanted by quaggas (imagine Ask Jeeves being better known than Google).
Quagga mussels hold a number of advantages over their zebra cousins: They thrive at greater depths (they've been found 540 feet deep in Lake Michigan), are more tolerant of colder water and reproduce in even larger numbers. In 2000, zebra mussels made up 98.3% of mussels in Lake Michigan; by 2005, they'd been obliterated by quagga mussels, which represented 97.7% of collected mussels.
Quagga mussels are responsible for damage ranging from clogged boat engines to a devastated food chain in Lake Michigan. (Patty Wetli / WTTW News)
Thing is, to inexpert eyes, the two mussels are hard to tell apart.
If all a person has to go by is a vague notion that a shell pattern of black and white stripes equals zebra mussel, allow us to blow the usefulness of that criteria out of the water. "Quagga" is the name of a species of zebra that went extinct in the 1880s — (a South African team is attempting to Jurassic Park the animal back into existence) — ergo, quagga mussels are black and white too.
In the case of a jumble of shells like the mass deposited at Lane Beach, eroded and bleached nearly beyond recognition, scientists suggested a number of ways to distinguish between quagga and zebra.
In general, zebra mussels are more triangular, or D-shaped, while quagga mussels are rounder or tear-dropped, Inoue said.
"The most distinguishing feature I know of is that if you place them on a flat surface, the zebra mussels will stay there but quagga mussels fall over because they aren't flat on the bottom," added Shedd biologist Karen Murchie.
Other identifying traits, courtesy of the U.S. Geological Survey, include things like the appearance of the mussels' mid-ventral line — the line where the two sides of the shell join together.
But when in doubt, quagga is the safest bet, Happel said, for one simple reason: "Most of the zebras have been out-competed by the quaggas in Lake Michigan."
Contact Patty Wetli: @pattywetli | (773) 509-5623 |  [email protected]
Note: This story was originally published Nov. 21, 2021. It has been updated.
---