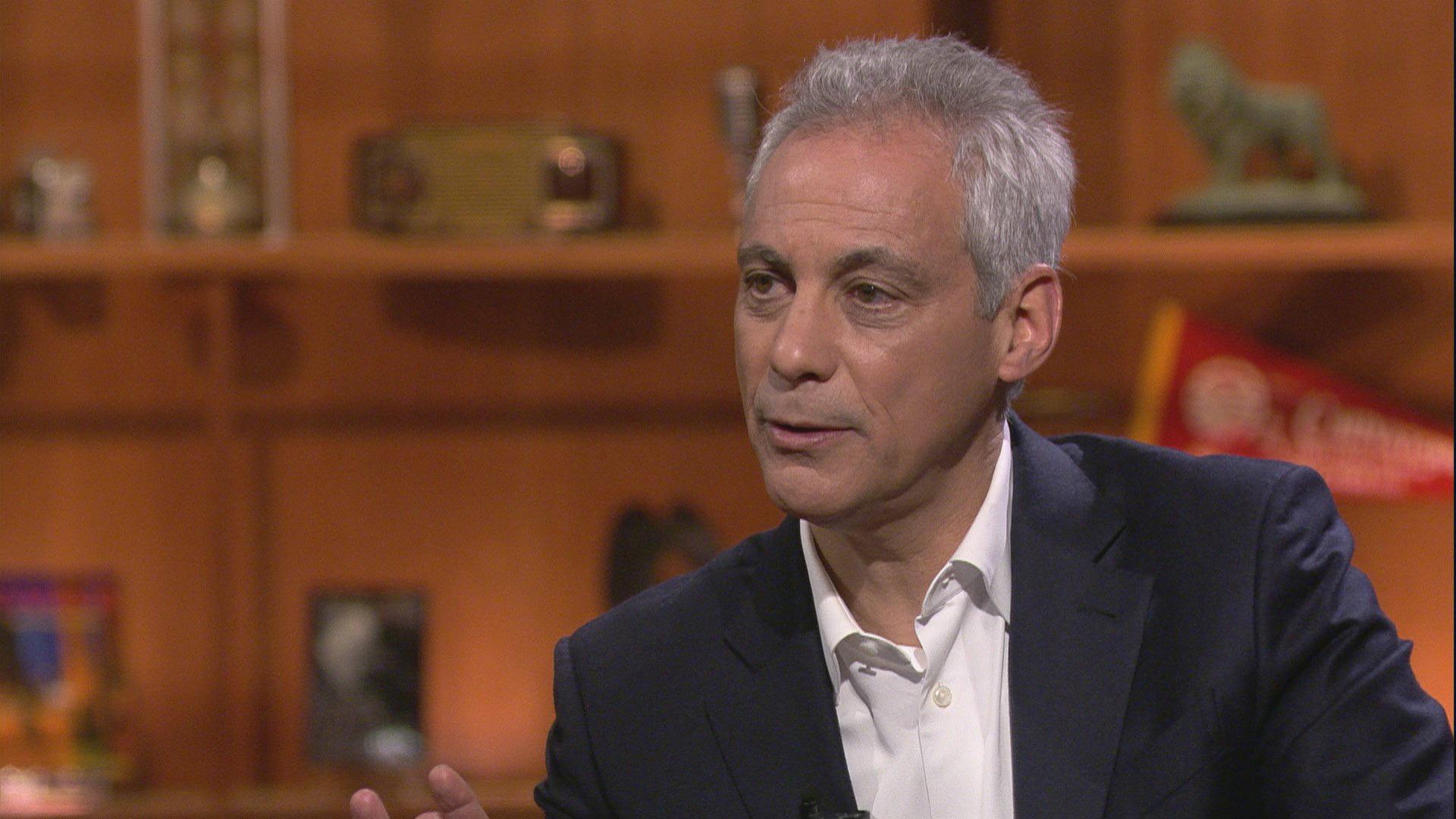 Rahm Emanuel appears on "Chicago Tonight" on Monday, May 13, 2019.
One of former Mayor Rahm Emanuel's most vocal critics told members of the U.S. Senate weighing the former mayor's nomination to be President Joe Biden's ambassador to Japan that there was no evidence Emanuel covered up the police murder of 17-year-old Laquan McDonald in 2014.
In fact, former Inspector General Joseph Ferguson told the members of the Senate Foreign Relations Committee in a three-page letter dated Oct. 18 that Chicago's former mayor should be praised for his response to the shooting that has shadowed his bid to return to public office more than three years after announcing he would not run for another term as mayor.
"There is a complete absence of factual basis to support the claim that Mayor Emanuel was involved directly or indirectly in a 'cover-up' of the McDonald shooting videos," Ferguson wrote in a letter obtained by WTTW News on Oct. 28.
Representatives of Emanuel did not respond to inquiries about the letter, and Ferguson declined to comment for this story.
During his confirmation hearing on Oct. 20, Emanuel faced pointed questions from U.S. Sen. Jeff Merkley (D-Oregon), who suggested that it defied belief that Emanuel did not know that the dash cam video showed now-former Officer Jason Van Dyke shoot McDonald 16 times in October 2014, even as the teen moved away from the officers.
Emanuel has repeatedly said he did not see the video until it was released publicly in November 2015, prompting protests and upending Chicago politics.
However, Ferguson said his probe determined that withholding videos like the one that showed McDonald's murder was the longstanding practice of the city's Law Department in an effort not to thwart ongoing criminal investigations. That policy was changed by Emanuel in February 2016, on the recommendation of the Police Accountability Task Force.
Charged by Emanuel with investigating McDonald's shooting death, the task force included Ferguson and was led by Lori Lightfoot, who was then president of the Chicago Police Board and would be elected mayor of Chicago in April 2019.
That task force operated independently and its findings were "unconstrained," Ferguson wrote.
"Then-Mayor Emanuel, to his eventual discomfort, asked that the truth be found and reported, with the chips to fall where they may," Ferugson wrote.
In addition, Emanuel should be admired for acknowledging that a "code of silence" existed in the Chicago Police Department that protected officers who committed misconduct and violated the constitutional rights of Chicagoans, Ferguson said. That declaration exposed the city to legal jeopardy in cases where Chicagoans alleged they were abused or mistreated by officers, Ferguson wrote.
"[Emanuel] chose a principled over transactional path," Ferguson said, noting that he often clashed with Emanuel.
Ferguson also credits Emanuel with supporting a "thoroughgoing independent investigation" of the Chicago Police Department.
"In all of these respects, Mayor Emanuel was fully supportive of a comprehensive inquiry resulting in full accountability, again, letting the chips fall where the evidence indicated," Ferguson said.
Emanuel announced he would not seek a third term as Chicago mayor in 2019 just weeks before a jury convicted Van Dyke of second-degree murder for shooting McDonald 16 times in rapid succession.
McDonald's death weighs on him, Emanuel told senators.
"There's not a day or a week that has gone by in the last seven years I haven't thought about this and the what-ifs and the changes and what could have been," Emanuel said during his confirmation hearing. "A grave tragedy occurred seven years ago. And that tragedy sits with me, as it has, every day and every week for the last seven years."
Merkley and U.S. Sen. Ed Markey (D-Massachusetts) voted to reject Emanuel's nomination.
While dissenting votes from two Democratic members of the committee would be enough to tank nearly any other nomination made by Biden in the U.S. Senate, Emanuel's bid to become the United States' representative in Japan advanced with the support of several Republican committee members, including U.S. Sen. Jim Risch (R-Idaho).
Five Republican senators including Risch and Sen. Bill Hagerty of Tennessee, a former ambassador to Japan, who introduced Emanuel at his confirmation, have said they will support Emanuel.  U.S. Sens. Roy Blunt, of Missouri, Lindsey Graham, of South Carolina, and Susan Collins, of Maine, have also expressed support, according to The Washington Post.
The full U.S. Senate has not yet scheduled a vote on Emanuel's nomination amid a blockade of all of Biden's nominees to State Department posts led by U.S. Sen. Ted Cruz (R-Texas.)
Contact Heather Cherone: @HeatherCherone | (773) 569-1863 | [email protected]
---