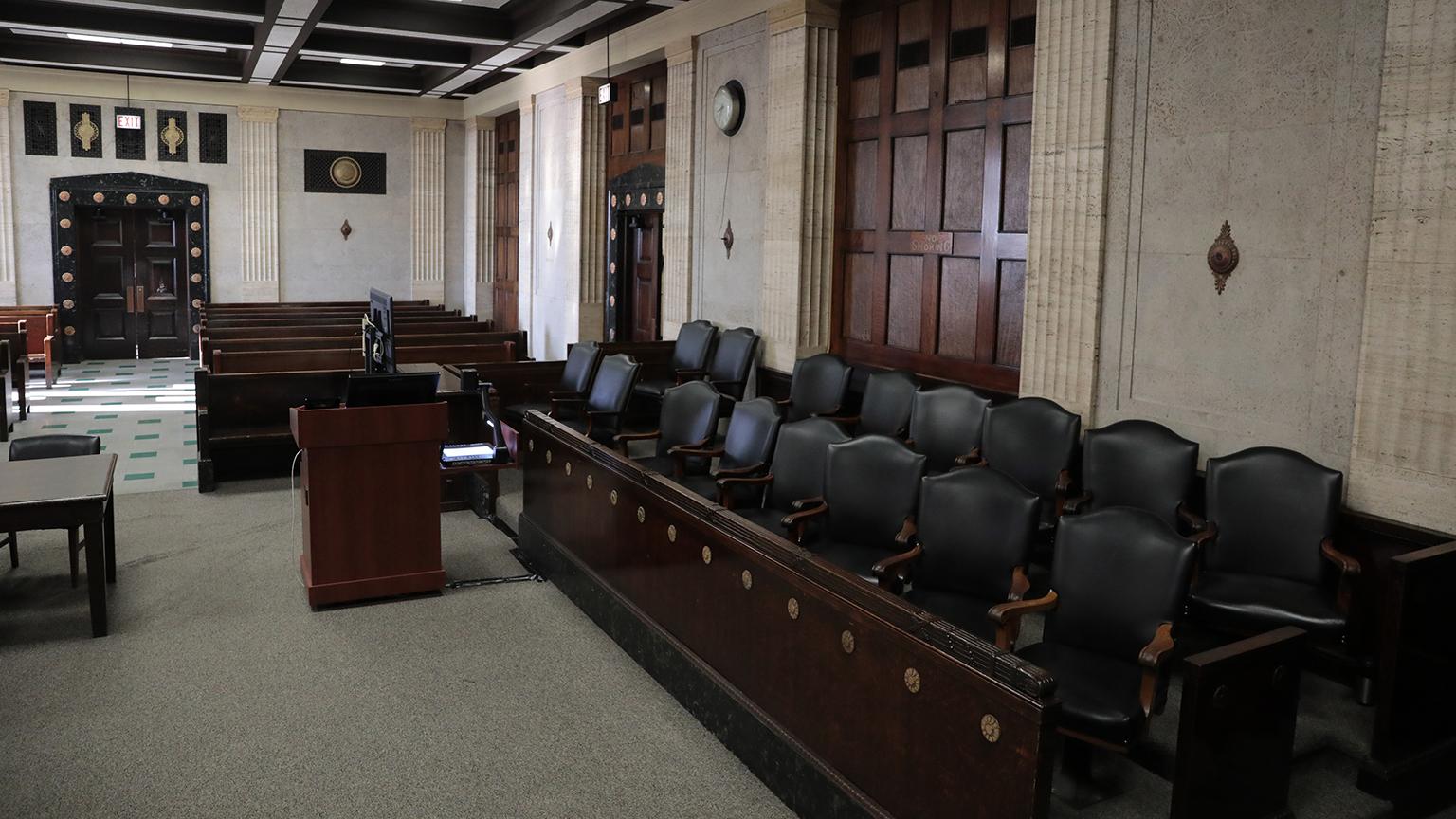 Empty jury box area readied for members of the jury in the courtroom of Judge Vincent Gaughan at the Leighton Criminal Court Building on Tuesday, Sept. 4, 2018. (Antonio Perez / Pool / Chicago Tribune)
Jurors called to service across Cook County will see their daily pay double beginning next year under a new amendment approved Thursday.
The Cook County Board of Commissioners on Thursday unanimously approved a measure as part of the court's annual budget, which boosts pay for jurors and private attorneys who represent indigent persons, and expands services for domestic violence survivors.
"We need to respect the time and effort it takes to serve on a jury, which is such a critical part of our justice system under the U.S. Constitution," Chief Judge Timothy Evans said in a statement.
Beginning June 1, 2022, juror pay — which Evans' office noted has not increased for decades — will increase from $14.50 per day to $30 per day, while travel stipends will increase from $2.70 per day to $5 per day.
The new measure will also be used to fund additional personnel and equipment to allow for 24/7 access to emergency orders of protection for domestic violence survivors. Additionally, pay for private attorneys representing indigent clients will increase from $75 per hour to $112.50 per hour for in-court proceedings, and from $50 to $75 for out-of-court preparation, beginning June 1, 2022.
The new programs will cost the court $2.82 million next year, according to Evans. That amount will be funded by a delay in filling court personnel vacancies, reducing the contract budget for the court's Juvenile Division and increasing fee collections from special-purpose funds. 
"These changes are of crucial importance to the administration of justice in Cook County," Evans said in a statement. "While it has required sacrifices from our office, we believe these sacrifices are needed to improve services for those who come before the court, either as jurors, complaining witnesses, or as defendants."
Contact Matt Masterson: @ByMattMasterson | [email protected] | (773) 509-5431
---