The Beatles, jazz great John Coltrane, composer Philip Glass – all of these music giants and many more felt the influence of Ravi Shankar.
"Chicago Tonight" toured a pandemic-delayed exhibition about the sitar virtuoso. We met one person who knew Shankar in Chicago, and a musician who studied with him in India.
TRANSCRIPT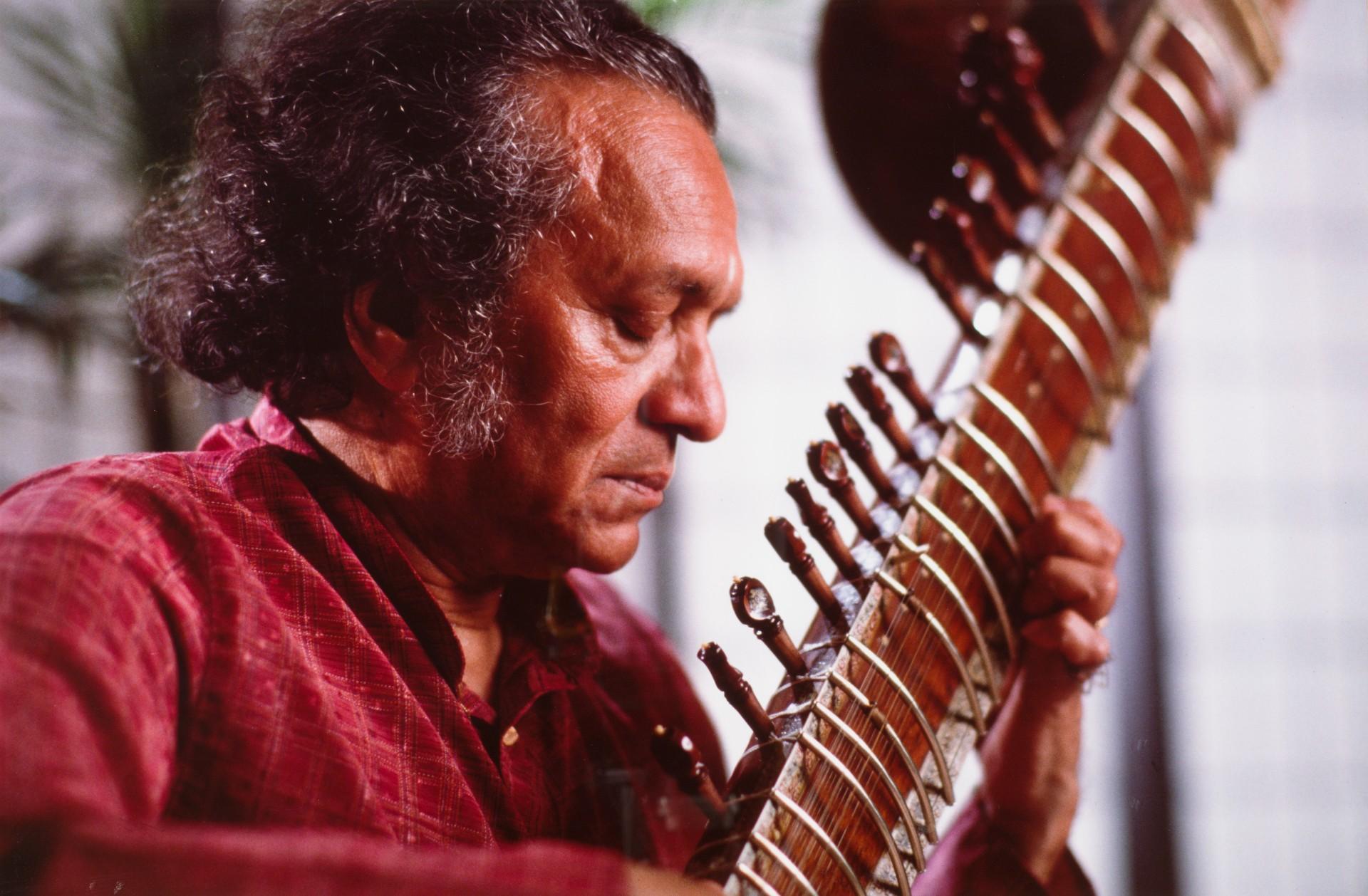 (Photo by Alan Kozlowski / Credit the South Asia Institute and the Ravi Shankar Foundation)
Marc Vitali: A highlight of the 1967 Monterrey Pop Festival was the performance by a 47-year-old veteran musician from India. Sitarist Ravi Shankar roused an audience that included other performers at the festival, including Jimi Hendrix.
Ravi Shankar also famously tutored the Beatles' George Harrison, who played the sitar on "Norwegian Wood" and other songs.
A new exhibition makes it clear that Ravi Shankar had a long career before and after his leap to stardom in the psychedelic '60s. We met a former student.
Gaurav Mazumdar, sitarist: I come from a very small town called Allahabad in India. I happened to meet him in person in the '80s, and in the mid-80s he accepted me as his disciple. 
And I stayed with him for seven years, in his home, learning from him, and then my association with him was until the very end of his life. 
Vitali: The exhibit was planned for the centennial of Ravi Shankar's birth – last year. But the newly opened South Asia Institute at 19th and Michigan had shut down for the pandemic.
We met the founders of the Institute, a husband and wife team – collectors who've retired from their long careers in medicine.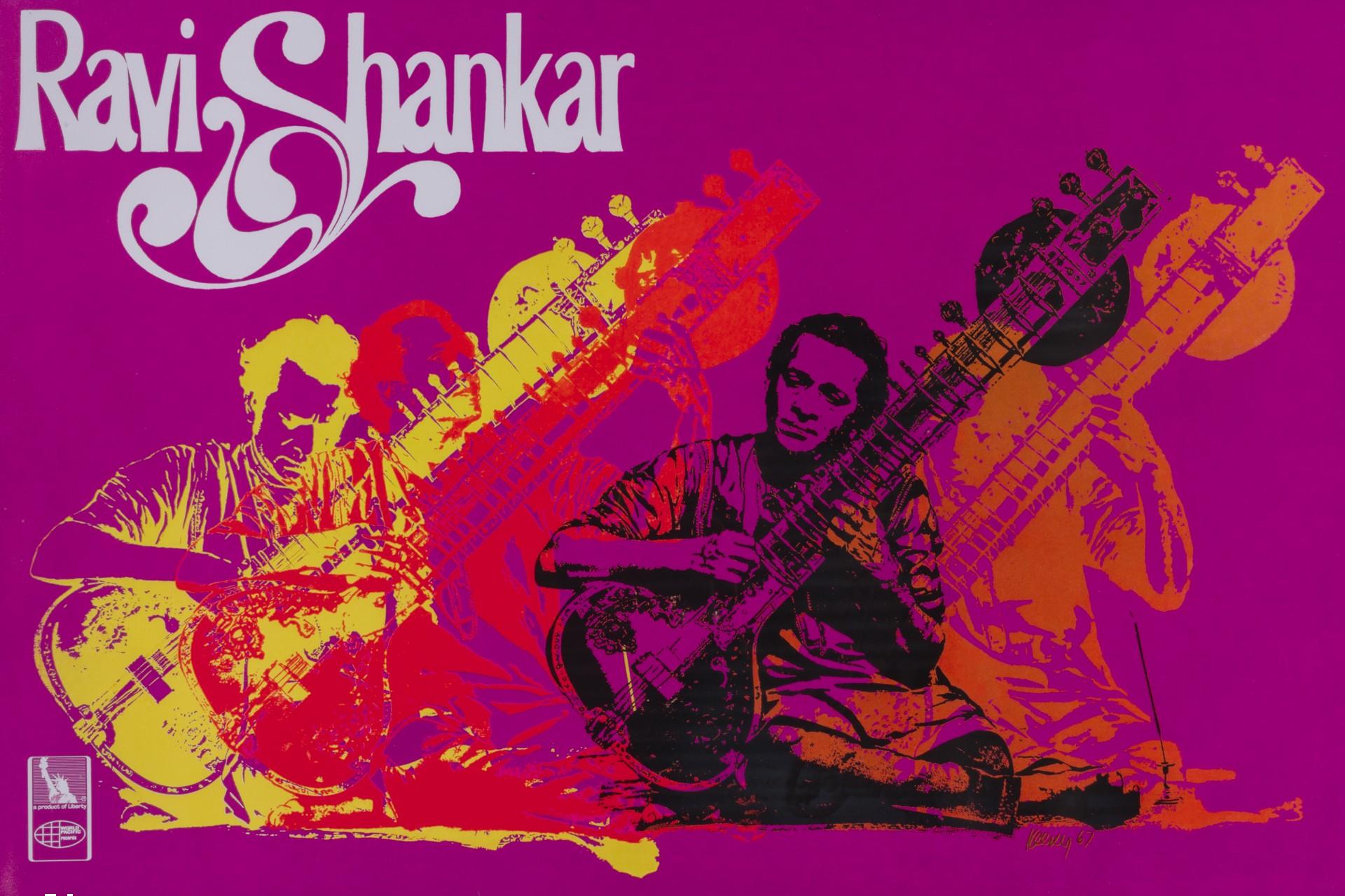 (Credit Keeney / South Asia Institute and the Ravi Shankar Foundation)
Shireen Ahmad of the South Asia Institute: South Asians in this country are several million now, but there's very little about our culture and our heritage that we've communicated to the general public on a larger scale.
Vitali: Much of the show comes from the collection of one person, a music promoter who got to know Shankar.
Brian Keigher, music promoter and friend of Shankar: Every time I talked to Ravi about Chicago he had just a dear connection to Chicago. It was one of the first places he played in the U.S. He played at the Chicago Symphony Center when he was 13 years old in 1933 with his older brother's dance troupe, and he played there his entire life up until he passed in 2012.
Vitali: Yes, this master of rhythm and improvisation started as a dancer.
An exhibit on sitarist Ravi Shankar is on display at the South Asia Instiute. (WTTW News)
Mazumdar: If you listen to his music, without knowing any background, you would realize that his music is moving you. His music is telling you a story. His music gives you visions. Basically, you can imagine things, and many times while teaching or after performing he'd speak to us and he said that he imagines a choreography to his music within himself because of his dancing days.
Vitali: That choreography expressed itself within the traditions of classical Indian music. And Ravi Shankar became a 20th century influencer.
Keigher: The influences are unparalleled: the rock, the jazz, the classical, even new age music and ambient music.
Ahmad: We feel very strongly about building bridges within the community but also with the general humanity around us, and we find that he was doing this decades ago through his music. There's a whole lot more to this man that we felt needed to be communicated.
---
More on this story:
Ravi Shankar was also friendly with Studs Terkel. Check out this 1961 interview from WFMT's Studs Terkel Radio Archive.
The exhibit runs through March 5, 2022. For more information, visit the South Asia Institute's website.
---
---