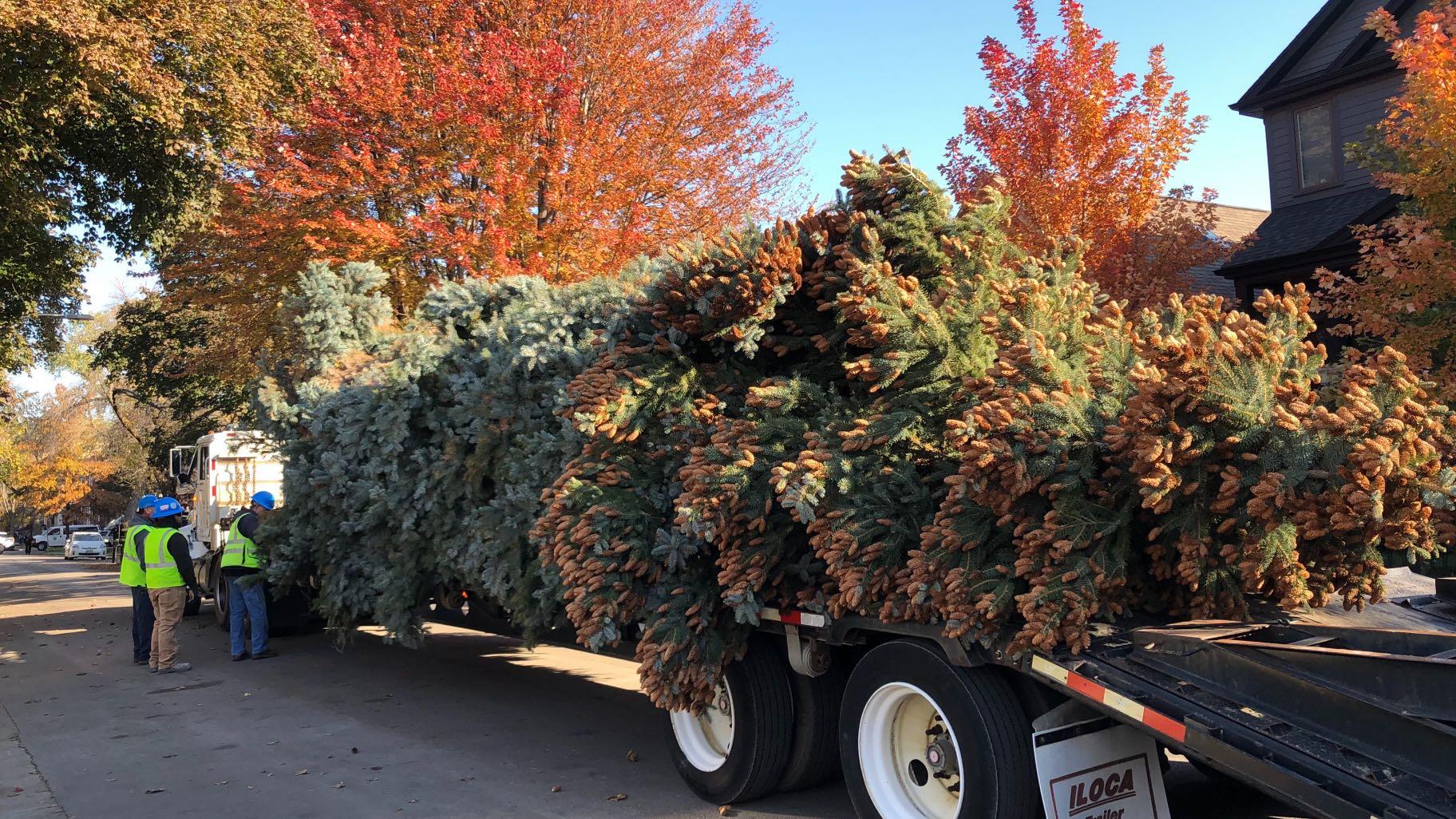 Chicago's official 2021 Christmas tree, loaded up and ready for transport from Logan Square to Millennium Park. (Patty Wetli / WTTW News)
Accompanied by whoops of "Bye, tree! See you on the 19th!" Chicago's official 2021 Christmas tree was hoisted from its longtime home on a Logan Square block and loaded onto a trailer Friday morning. Destination: Millennium Park.
The 46-year-old, 51-foot-tall blue spruce was donated by Noemi and Mario Benavides, who gathered with family and friends on their front porch to bid the tree farewell. The next time they see it, the spruce will be gussied up for its starring role at the city's tree lighting ceremony on Nov. 19, which happens to be Noemi's birthday.
"What a birthday present!" she exclaimed.
When the Benavides, both 61, moved into their house 34 years ago, the tree was just a bitty thing, comparatively, and grew with their family. The couple fondly recalled memories of their now adult daughters camping out behind the tree, and movie nights outdoors, with the spruce walling off street noise and light.
Up until the tree hit 20 feet, Mario would string it with lights for Christmas, rigging a makeshift pole and hook to reach the highest boughs.
"I'm going to miss this tree," he said.
A sentiment echoed by his wife. "I'm not prepared at all," said Noemi.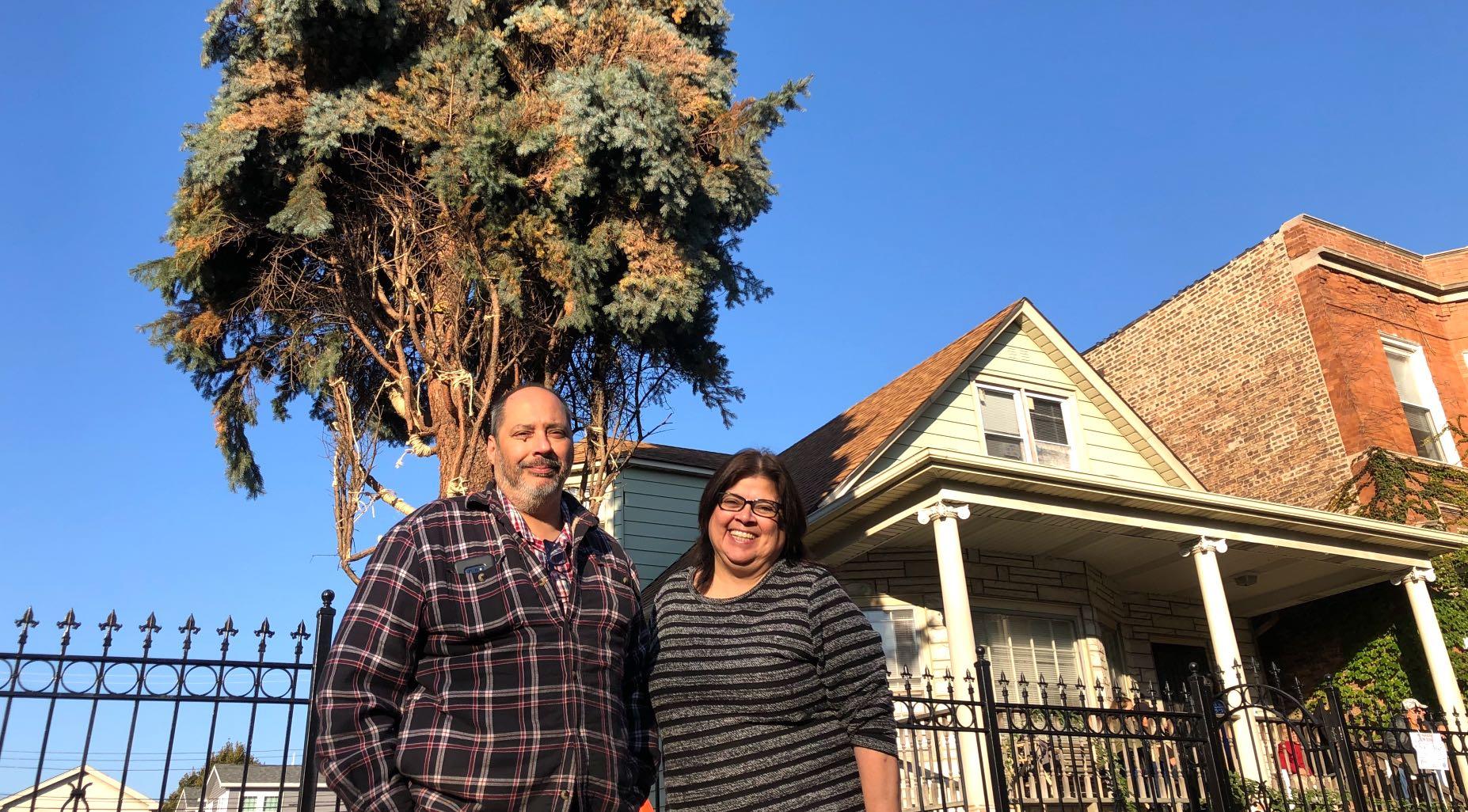 Mario and Noemi Benavides spend a few last moments with their blue spruce. (Patty Wetli / WTTW News)
As a crowd lined up on the sidewalk across the street, cellphones drawn to capture the moment in photos and video, Elvia Basilio brushed away tears.
Basilio is the Benavides' neighbor to the south, and the spruce has been her companion for nearly 30 years.
"It's emotional, I feel something inside my heart," she said. "Bittersweet is the perfect word. It's bitter and it's sweet. Everybody is going to get joy from the tree, but I'm going to miss it."
The Benavides said they had become concerned in recent years about the height of the tree, which towers over the block's modest homes. 
"It's just really tall in a small neighborhood. We were afraid it might fall," Noemi said. "When there was a lot of wind, I saw it swaying. That's what triggered me. You always see where a tree breaks and falls on a house."
Whoever the next owners of the home are, whenever that may be, the Benavides said they were certain the tree would be torn down, and they wanted to give it a far more celebratory send-off.
In 2020, when the city sent out an open call for potential Christmas tree candidates, Noemi submitted the spruce. A tree in Morgan Park was tapped instead, but this year, the Benavides received the nod.
"Things like this don't happen to families like ours from the city," Noemi said. "To be part of this ... I can't believe it."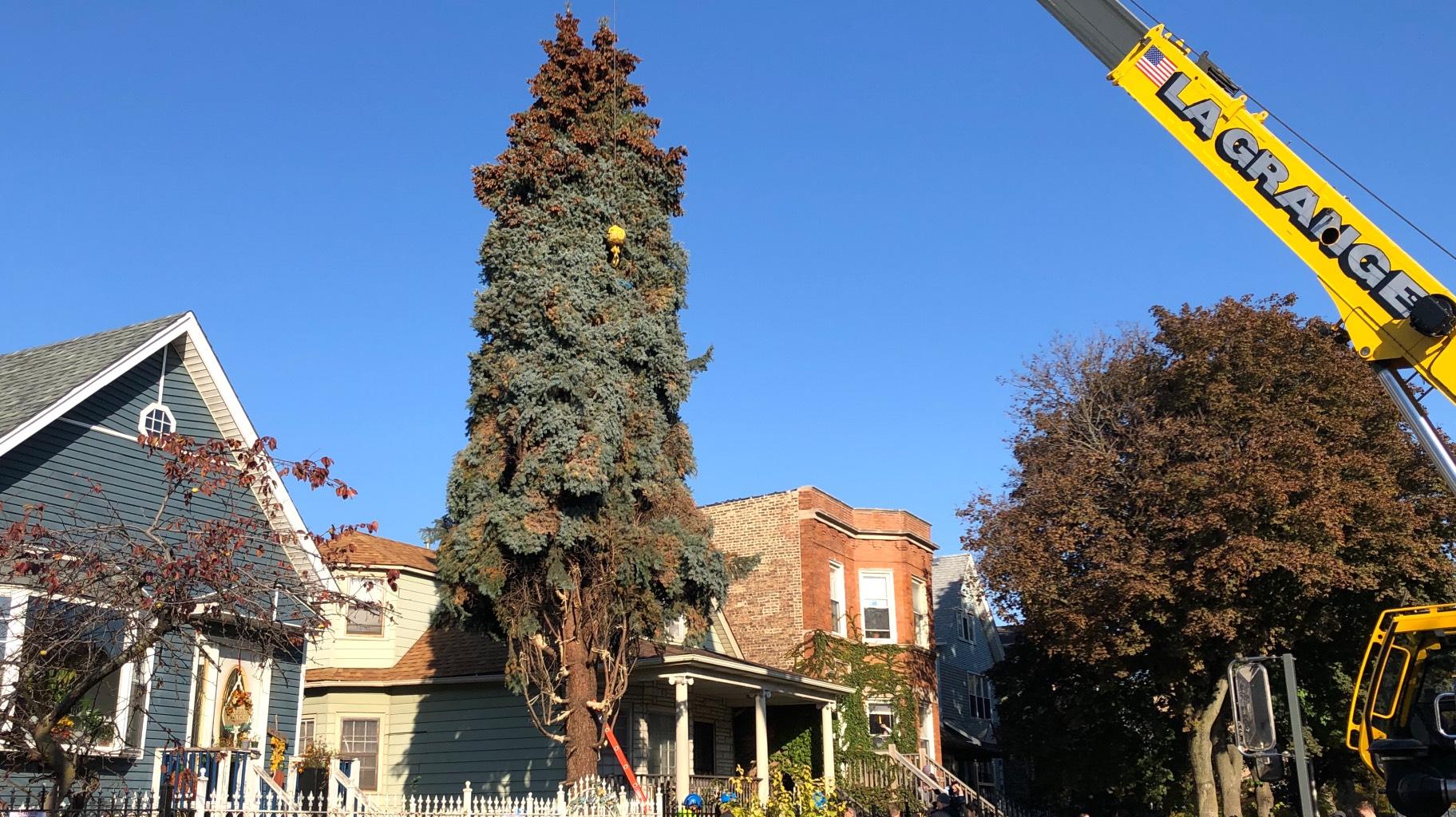 The 51-foot spruce towered over homes on the block. (Patty Wetli / WTTW News)
To choose the 2021 tree, city officials revisited runners-up from 2020, when some 50 trees were submitted.
"This one stood out because of its great size," said Nancy Villafranca, deputy commissioner for programming with the Chicago Department of Cultural Affairs and Special Events.
Following a year in which holiday celebrations were virtual, the city is making up for lost time in 2021, with expanded programming, according to Villafranca. Friday's tree removal is a symbolic kickoff to what the city hopes will be a season of "magic and wonder," she said.
"It's extra special, because we're returning to traditions," she said.
The tree lighting ceremony gets underway at 6 p.m. Nov. 19 and will be followed by fireworks and a concert featuring singer-songwriter Brian McKnight. Multiple viewing screens and concessions will be set up around Millennium Park to allow people to spread out.
Weather permitting, the McCormick Tribune Ice Rink will also open Nov. 19 and an art market in the park will run Nov. 19-21. Weekly holiday sing-alongs at Cloud Gate are scheduled for Fridays at 6 p.m., starting Nov. 26 through Dec. 17, with a bonus event on Dec. 12 at 4 p.m.
"It's a chance for people to reconnect with their city and return to holidays as we knew them," said Villafranca.
Logan Square resident Rita Shulda said she plans to be among those reveling in the Christmas spirit and visiting the neighborhood's famous tree to see it all lit up for the season. 
Shulda and her husband live in the two-flat on the north side of Benavides' home. The couple got married on the stoop in December 2020 and as she flipped through their wedding photos recently she came across pictures of the newlyweds on their big day, with the spruce in the background.
"It's nice to feel part of a little piece of Chicago history," she said.
Contact Patty Wetli: @pattywetli | (773) 509-5623 |  [email protected]
---