Surrounded by Roseland, Auburn Gresham, Beverly and Morgan Park, some residents say Chicago's Washington Heights community often goes overlooked. Located on Chicago's Far South Side, it's a predominantly African American community. It has a significant population of older residents, and a strong faith community, with many churches lining 95th Street and surrounding streets.
Interactive map: More from our community reporting series
One of those churches is Trinity United Church of Christ  — Oprah Winfrey and former President Barack Obama have been members of this congregation. The former president split from then-Rev. Jeremiah A. Wright Jr. during his 2008 campaign.
Trinity is an anchor in Chicago, and has members around the country and globe. It just began hosting in-person services at the end of August, with precautions in place to keep everyone safe.
"We wanted to make sure that we decreased exposure, so it's no more passing baskets for offering, no more passing baskets for communion. Everything is prepackaged and you have to pick those things up when you're going to worship. We even have QR codes on the back of our pews so that people can take a picture using their smart phone so they can pull up the bulletin and they can also do their giving as well," said the Rev. Stacey Edwards-Dunn of Trinity United Church of Christ, who is the church administrator and executive minister of community engagement and transformation.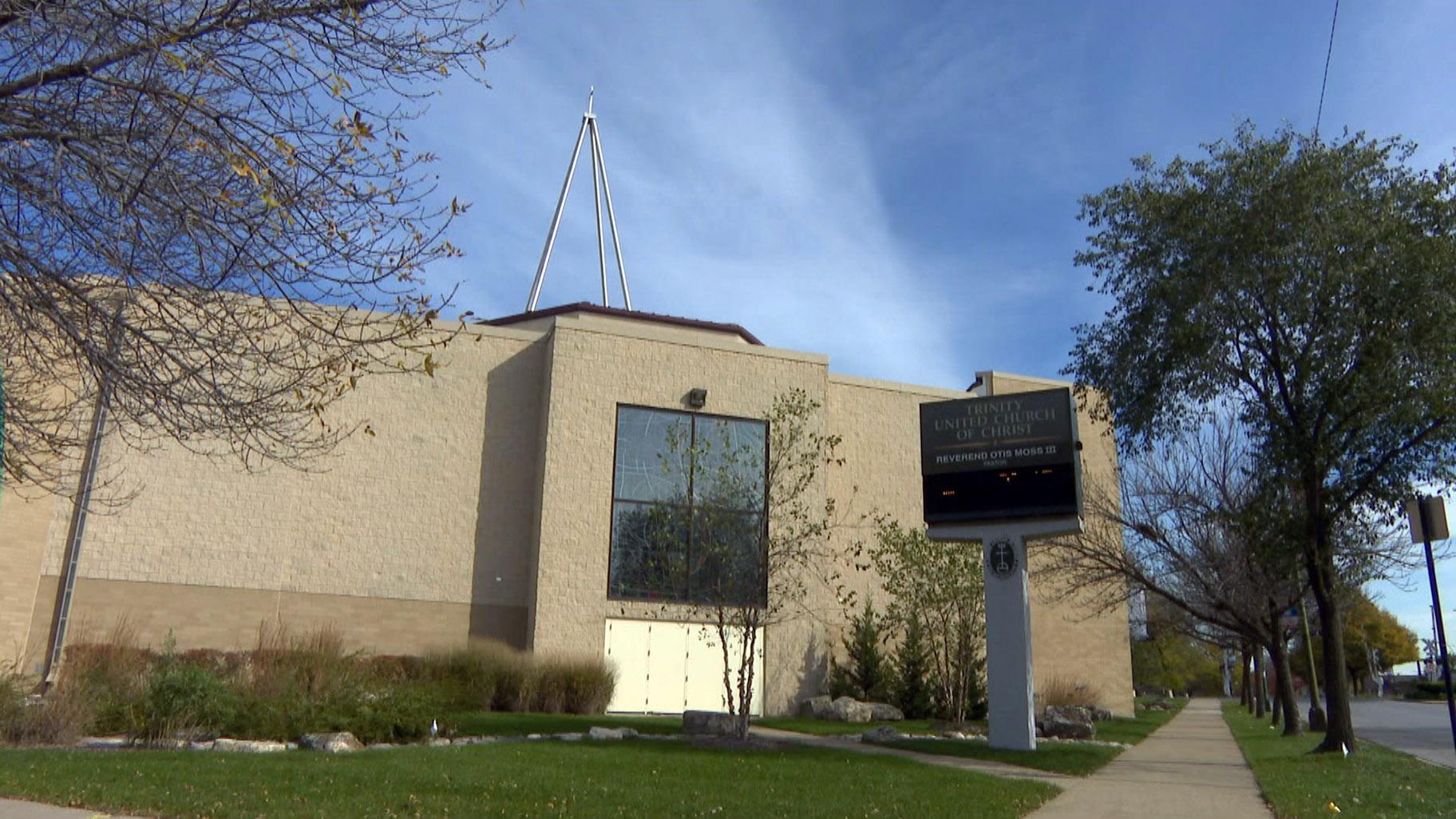 Trinity is an anchor in Chicago, and has members around the country and globe. It just began hosting in-person services at the end of August, with precautions in place to keep everyone safe. (WTTW News)
The church is known for its social justice work. The nonprofit Endeleo Institute is a part of this. It focuses on addressing needs in the community related to health, education and economic development.
The organization has several projects underway, thanks to a handful of grants it has received, including a coffee shop and laundromat called Café DuBois and a community-owned grocery store. Both will be on 95th Street, which the nonprofit is working to transform into a health conscious corridor.
"One of the chief issues is the presence of food and nutrition insecurity," said Melvin Thompson, executive director of Endeleo Institute. "Washington Heights, like many other Black and brown communities in Chicago, have few healthy food options, caused by decades of disinvestment. For decades we have had liquor stores practically on every other corner … We are trying to replace those liquor stores with healthy foods."
Another project Thompson and the Endeleo Institute have been working on is the Carter G. Woodson Regional Library. The library underwent renovations in 2018, and is up for a grant that would expand its children's library or its makerspace.
Video: Watch our full interview with Melvin Thompson
---
Woodson is home to the Vivian G. Harsh Research Collection, the largest collection of African American history and literature in the midwest.
"We receive appointment requests on a regular basis from scholars, from documentary makers, from reporters all over the world that are doing research on African American authors, scholars, looking for details about their lives and about their work, and they can find that here," said Veleda Simpson, regional director at the Woodson Regional Library. 
The library is a community hub, Simpson said. It brings people together, from students for homework help to adults who need to access computers.
The area's alderperson has also been working on bringing people together.
Ald. Howard Brookins (21st Ward) grew up in Washington Heights. He says crime is a top concern of his. He has been working to form "strong block clubs" as a way of helping fight crime in Washington Heights.
"There have been too many instances where something could have been avoided, a house being broken in, etc., if people were looking out for each other," Brookins said. "If I see somebody going into your house, I know who your kids are, and this person is not one of your kids, but why are they carrying out a television? ...That is what strong communities are."
Video: Watch our full interview with Ald. Howard Brookins 
---
Washington Heights Schools
Washington Heights also has several schools, including Chicago International Charter Schools Loomis Campus. It's a public charter school, and was remote throughout all of last year. It started in person schooling this fall.
"[The students] were running through our doors; they're still running through our doors. They come to school every day as fast as they can. They're here early and their parents are so excited to have them here. Teachers are glad to have them back in person. Our students belong in school," said director of K-5, Lindsey Girard.
Another school in the area is Larry's Barber College. It's based in Washington Heights, but has other locations in the area, including in Cook County Jail and in Chatham's Walmart.
Owner Larry Roberts Jr. says he encourages his students and barbers to be entrepreneurial as soon as possible.
"We are preparing them to be shop owners, to be school owners," Roberts said. "There's enough for everybody. I tell them to incorporate yourself now while you're here in school. Start your own corporation … get a tax number … We teach them all of these things, start a vision board, see where you want to end up."
---
Community Reporting Series
"Chicago Tonight" is expanding its community reporting. We're hitting the streets to speak with your neighbors, local businesses, agencies and leaders about COVID-19, the economy, racial justice, education and more. See where we've been and what we've learned by using the map below. Or select a community using the drop-down menu. Points in red represent our series COVID-19 Across Chicago; blue marks our series "Chicago Tonight" in Your Neighborhood.
---