For over four decades, seeing the Moreno name has been a sign that you're in Little Village.
"When you think of 26th Street and you think of the different signs or understandings of what is 26th Street, people think of the arch, and they think of Moreno's Liquors."
Mike Moreno Jr. is the third generation of his family to set up shop in the community. His grandfather Jose owned two grocery stores in the neighborhood, and his father Mike Sr. opened the first Moreno's Liquors store in 1977.
Little Village is renowned for being a deeply Mexican American community today, but that wasn't always the case. It was largely populated by Eastern Europeans until a wave of Mexican American migration to Chicago in the 1960s gave it the Chicano flavor we know today. Mike Moreno Sr.'s family brought him to Chicago as a young boy during that time.
"People talk about gentrification and stuff but when my family moved into Pilsen it was primarily Yugoslavian and Czechoslovakian, a sprinkle of Polish. And so was Little Village," he recalls. "When I opened up on Harding in 1977, there was no Mexican liquor stores and so we started bringing in all the Mexican product so that our community could enjoy that."
Naturally, that included Mexico's best-known spirit: tequila. Moreno's Liquors has become well-known even outside of Little Village for its hand-curated selection of tequilas and mezcals.
"Tequila has really become a global player when it comes to spirits," says Moreno Jr. "People are looking for unique, they're looking for obscure, they're looking for products that have unique finishes."
Moreno Jr. says the store's tequila and mezcal collection includes over 900 varieties, which the family hand-selects.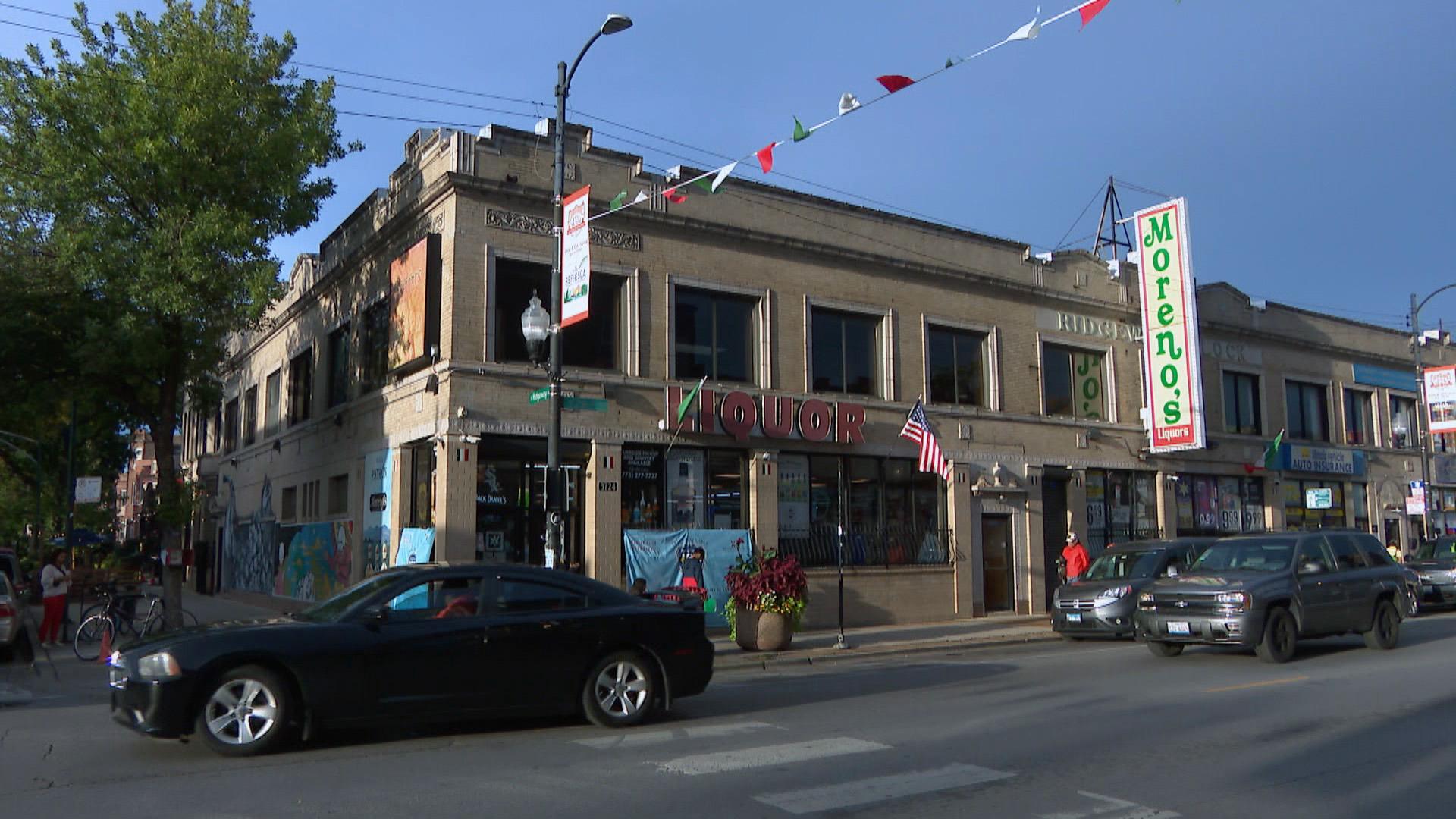 (WTTW News)
And as you're browsing the store, if you take a left at the craft beer section and look for the neon chihuahua, Moreno's Liquors also offers a portal into some boozy Chicago history.
"This building right here was a bar in the late 1800s and early 1900s but shut down due to Prohibition," says Moreno Jr. as he points to a blacked-out window that testifies to the building's time as not only a speakeasy, but an underground gambling den.
"They were gambling on the Hawthorne racecourse over in Cicero and who ran all the gambling rings in Chicago, and who lived in Cicero? Al Capone. So although I could never prove that Al Capone was ever in this bar, I guarantee all the money here went back to Al Capone."
When the space behind Moreno's became available, Mike Jr. saw an opportunity to fill a niche in Little Village, which is both the densest and youngest population in Chicago. In 2019, he opened a cocktail bar in the former speakeasy named for his beloved dog Osito.
"There was a demand for something like this in this community for a while, but no one was providing that outlet. It's important to remember the history of the neighborhood as well as where we're going. So that's the whole premise of the bar itself, is a mix of that old world Chicago vibe, but with that modern Latin feel."
Under the leadership of bar manager Denisse Soto, Osito's Tap offers a heavy pour of Mexican culture with a Midwestern twist.
"I was raised and born in Mexico and I love all the flavors. Everything that I remember that my palate is craving, I always tried to mimic as much as I can the flavors here and have a twist on cocktails based on that," said Soto. "So this is really cool, I have no ending how creative I can get.  I can just showcase who I am and the city that I fell in love with, which is Chicago, and what I love to do."
Both Morenos — Junior and Senior — say the Little Village community can expect to see the signs of their family holding down 26th Street for many years to come.
"It's our community," says Moreno Sr. "We just like to bring to the table what the table gives us.
---