It's one of the priciest and fastest developing communities in the city. The West Loop is known for its trendy Michelin-rated restaurants and lively nightlife scene. It's located, not surprisingly, just west of the Loop, and construction cranes dot the sky.
But the neighborhood, like any other, had to adapt to the shutdowns – and it did in a big way, closing off entire sections of Fulton Market and parts of Randolph so restaurants could build structures for outdoor dining. That, along with federal relief aid, kept most of these establishments in business.
Interactive map: More from our community reporting series
Restaurant owner Donnie Madia, whose One Off Hospitality runs places like Publican and Avec, says the challenge now is getting the workers back to meet the demand from customers.
"Everybody's striving for the same person – not just restaurants, but other industries," Madia said. "We're inching closer to filling those desperate needs, but we still need a few more people."
And that's not the only issue. Manish Mallick, who owns progressive Indian restaurant ROOH, says food and supply costs are up 20-30%. But he doesn't want to have to raise menu prices, which makes day to day cash flow hit or miss – especially in the West Loop.
"Popular neighborhood means higher costs. When we don't have guests coming in to dine, our costs aren't going away, so the risk is higher," Mallick said. But he notes there's one bright spot.
"Staffing, like, the rest of our colleagues in the industry, is our number one challenge. However, we've noticed in the last couple weeks since Labor Day things have started to improve."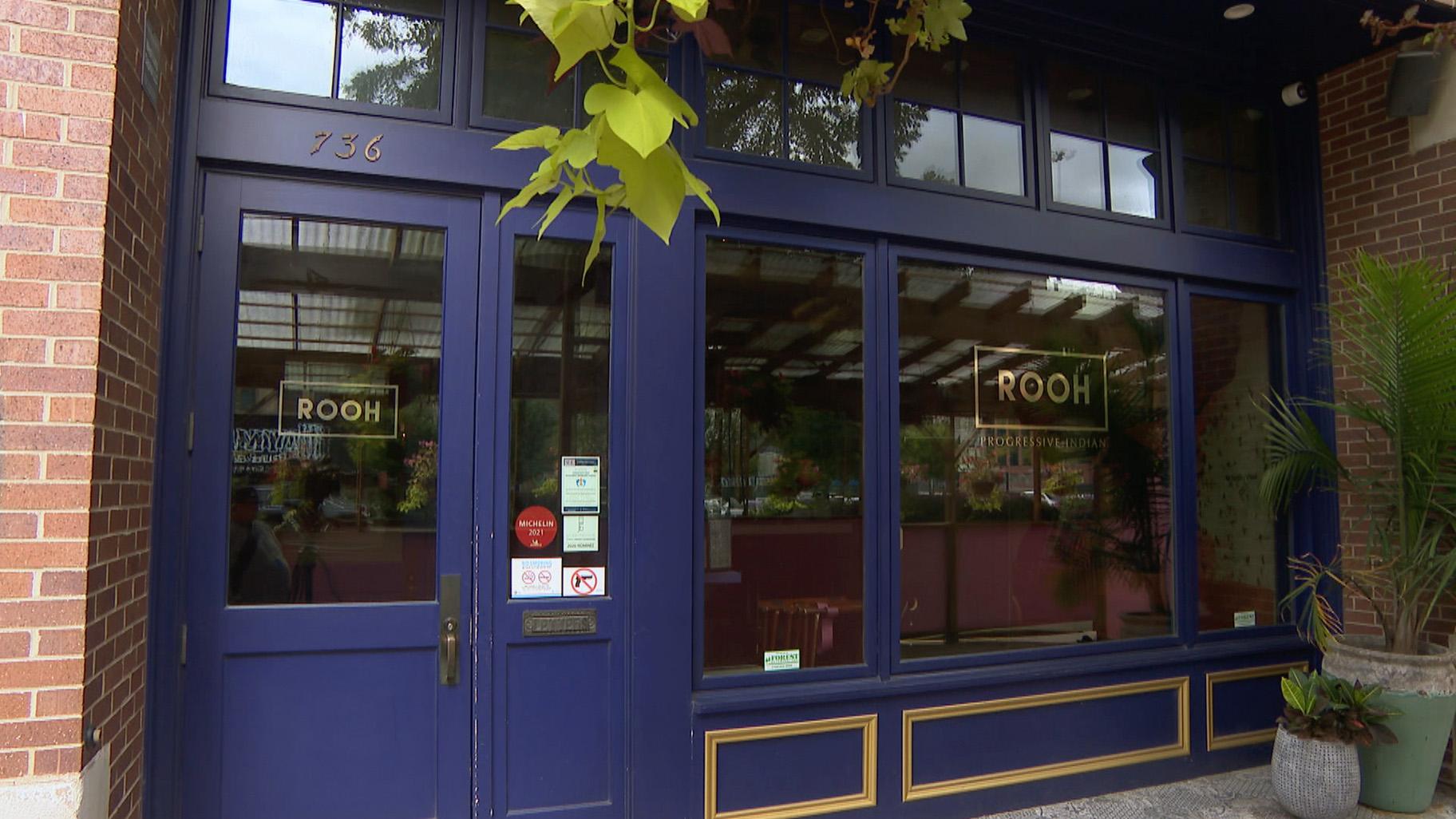 Manish Mallick, who owns progressive Indian restaurant ROOH, says food and supply costs are up 20-30%. But he doesn't want to have to raise menu prices, which makes day to day cash flow hit or miss – especially in the West Loop. (WTTW News)
Many longtime businesses have had to get creative to make ends meet. Chicago has been back to full capacity for more than three months, but that doesn't mean businesses have seen 100% of their pre-pandemic levels return.
Susan Rothman, owner of Pure Barre West Loop, says the bills have stayed the same but the money coming in is still not what it was in 2019. She says she paid her rent on this pricey block in full, but started to feel the strain at the beginning of this year.
"I went to my landlord and said because of the length of this, I need some relief," Rothman said. "It's hard hearing some of the stories and some of the discrepancies – some landlords are really willing to work with people and others are playing hardball. To be honest, looking at the commercial space available throughout the city, it doesn't seem like now is the time to play hardball, especially with small and medium businesses that provide a lot of variety and vibrancy."
Rothmann is also on the West Central Association Chamber of Commerce, a chamber in a neighborhood with the level of development that many areas would envy. She acknowledges there can be a tug of war with residents who want the development but are wary of impacts on the neighborhood and rising costs. Rothman says public engagement processes have led to changes to projects "in order to fit into the neighborhood better, to give back to the community, whether that's in green space or money that goes into certain funds. That is a really encouraging and productive dialogue in terms of residents, businesses, developers, and the city."
Ald. Water Burnett, whose 27th Ward includes the West Loop, says despite the pandemic and last year's civil unrest, business has been booming – including with some covid-era outdoor dining adjustments that proved popular becoming a regular fixture.
"We allowed them to come outside off of the sidewalk into the street (last year) and now we allow them to keep it like that," Burnett said. "Fulton was designed to have a pedestrian feel to it so people can walk and eat. This area has been sustaining itself – and also it has been helping to sustain the city of Chicago with economic development, because building has still been going on in this area in spite of everything."
Video: Watch our full interview with Ald. Walter Burnett
---
West Loop is also home to the venerable nonprofit Open Books, a used bookstore that takes its proceeds to provide books, as well as reading and writing education, to under-resourced students throughout Chicago. The pandemic put a damper on the in-person work they could do, but now that school is back in class, they are back delivering books to the classroom and to the home.
"The research shows the more books you have within the home, and in all places where reading can happen, the more the child is going to be engaged in reading," said Open Books executive director Eric Johnson. "We also, during this pandemic, have more and more begun to give books directly to homes. To have books in classrooms, books in homes, and books even in unusual places (like) nooks in small businesses … the greater the likelihood we're going to have more and more kids that are going to be readers, and lifelong ones."
In the midst of all the development, there's also the question of affordable housing. Carla Agostinelli of the West Loop Community Organization says the development boom is contributing to projects citywide and in the area.
"Out of 50-plus projects that have been built in the West Loop, we've had $113 million go towards Invest South/West and $4 million stay here. That's an incredible amount, but what this opportunity does allows affordability throughout the entire city of Chicago. What we're doing here in working closely with the developers and the alderman is to bring more affordable units here to the West Loop. We want to have this be an opportunity for everyone to come and play and live and work here," Agostinelli said.
Video: Watch our full interview with Carla Agostinelli
---
Community Reporting Series
"Chicago Tonight" is expanding its community reporting. We're hitting the streets to speak with your neighbors, local businesses, agencies and leaders about COVID-19, the economy, racial justice, education and more. See where we've been and what we've learned by using the map below. Or select a community using the drop-down menu. Points in red represent our series COVID-19 Across Chicago; blue marks our series "Chicago Tonight" in Your Neighborhood.
---