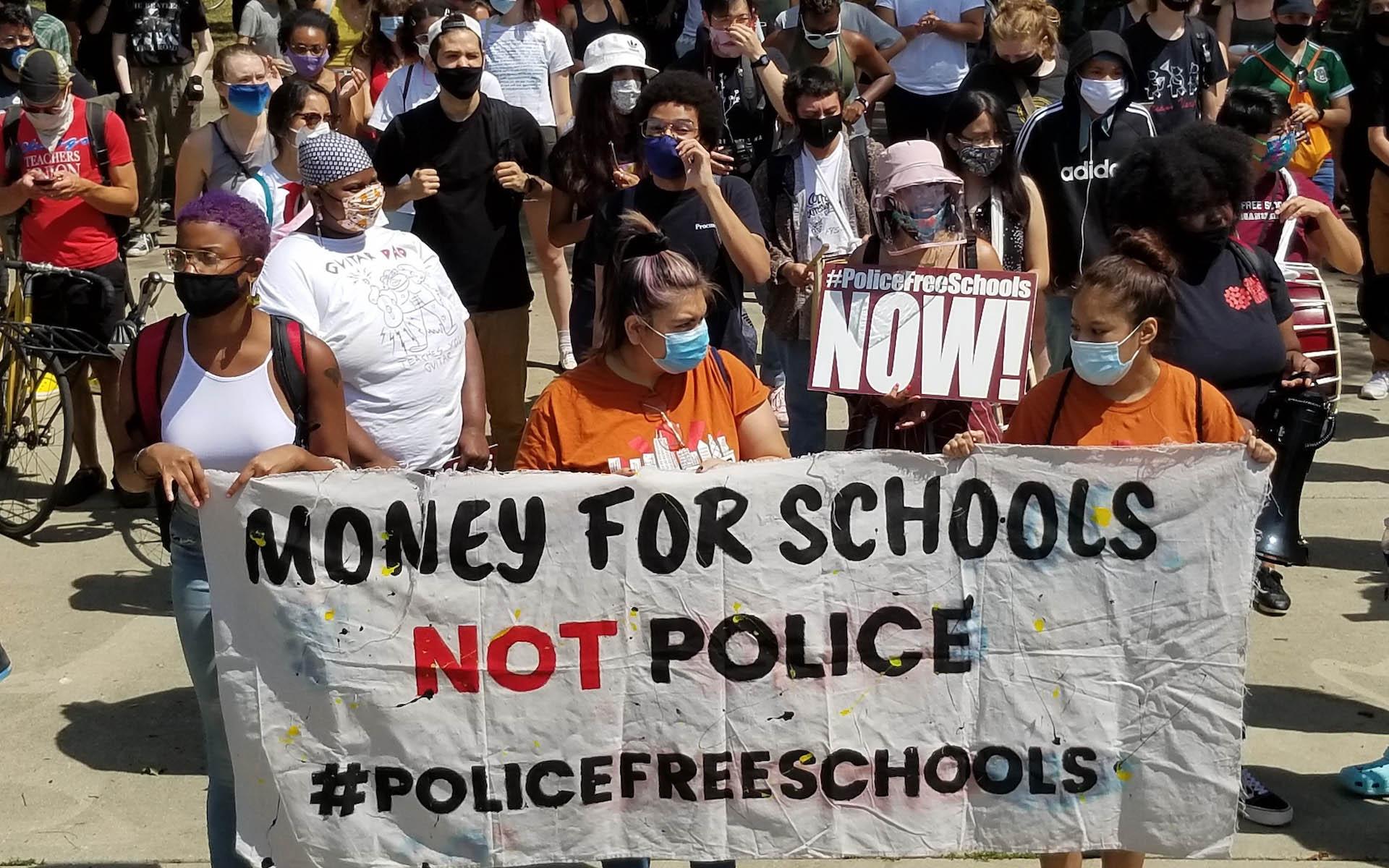 Youth activists organized a peaceful march to Mayor Lori Lightfoot's home on Aug. 13, 2020 to demand the removal of resource officers from Chicago Public Schools. (Matt Masterson / WTTW News)
Resource officers will remain inside some Chicago Public Schools for the next year, under an $11 million intergovernmental agreement between the district and the Chicago Police Department that will be voted on this week.
The Board of Education on Wednesday will consider a one-year, $11 million extension to continue its school resource officer (SRO) program despite an ongoing push from some students and advocates to have police removed from schools.
In a statement, CPS said there are "no substantive changes" between this latest agreement and the previous one with the police department.
"Although there has been a reduction in SROs being used at district schools, the value of the SY2021-22 contract is similar to the previous year's contract as it reflects more attendance/in-person days versus the previous year, plus it accounts for increased wages stemming from the recently ratified CPD-FOP contract," the district said.
The 2020 police killing of George Floyd in Minneapolis sparked a push to reform policing across the country, including in Chicago, where youth led several protests calling on CPS to terminate its existing SRO contract with the police department.
The board instead voted last year to continue the agreement, though the price tag dropped from $33 million in 2019 down to $12 million last year, and now $11 million as some local school councils have voted to remove the officers from their buildings.
However, CPS said it will not be billed for any resource officer services from the 2020-2021 school year, which was largely spent in remote learning due to the COVID-19 pandemic.
Some reforms have been put in place, giving principals more control over the selection of officers in their schools and requiring officers to undergo specific trainings on implicit bias and how to interact with certain student populations.
Mayor Lori Lightfoot and former CPS CEO Janice Jackson were adamant last year that any decision to keep or remove SROs should be left to local school councils rather than a districtwide mandate.
Per CPS, of 53 schools that had SRO programs last year, 24 have voted to keep only one of two resource officers in their schools, while nine others voted to remove both SROs. The remaining 20 schools voted to keep both their SROs.
Pedro Martinez, who will officially become the new CPS CEO later this month, said policing in schools is a "tough conversation" but one that's necessary. He said officers should never be used for "disciplinary actions" at schools, but he did not say whether he was in favor of removing SROs more broadly.
The Board of Education is scheduled to meet at 10:30 a.m. Wednesday.
Contact Matt Masterson: @ByMattMasterson | [email protected] | (773) 509-5431
---