The vibrant Little Village community has been bustling with Mexican Pride as celebrations are in full force for Mexican Independence Day. Nearly 84% of Little Village's population is Latino or Hispanic.
Interactive map: More from our community reporting series
In previous years, Alberto Gomez and his mother sold merchandise down 26th Street starting a week or so before celebrations began. Gomez says despite the parade being cancelled, people are coming out and interacting with the community. 
"I'm proud because of my roots and where I come from. That's what makes it beautiful, and I'm proud of my culture," said Alberto Gomez in Spanish.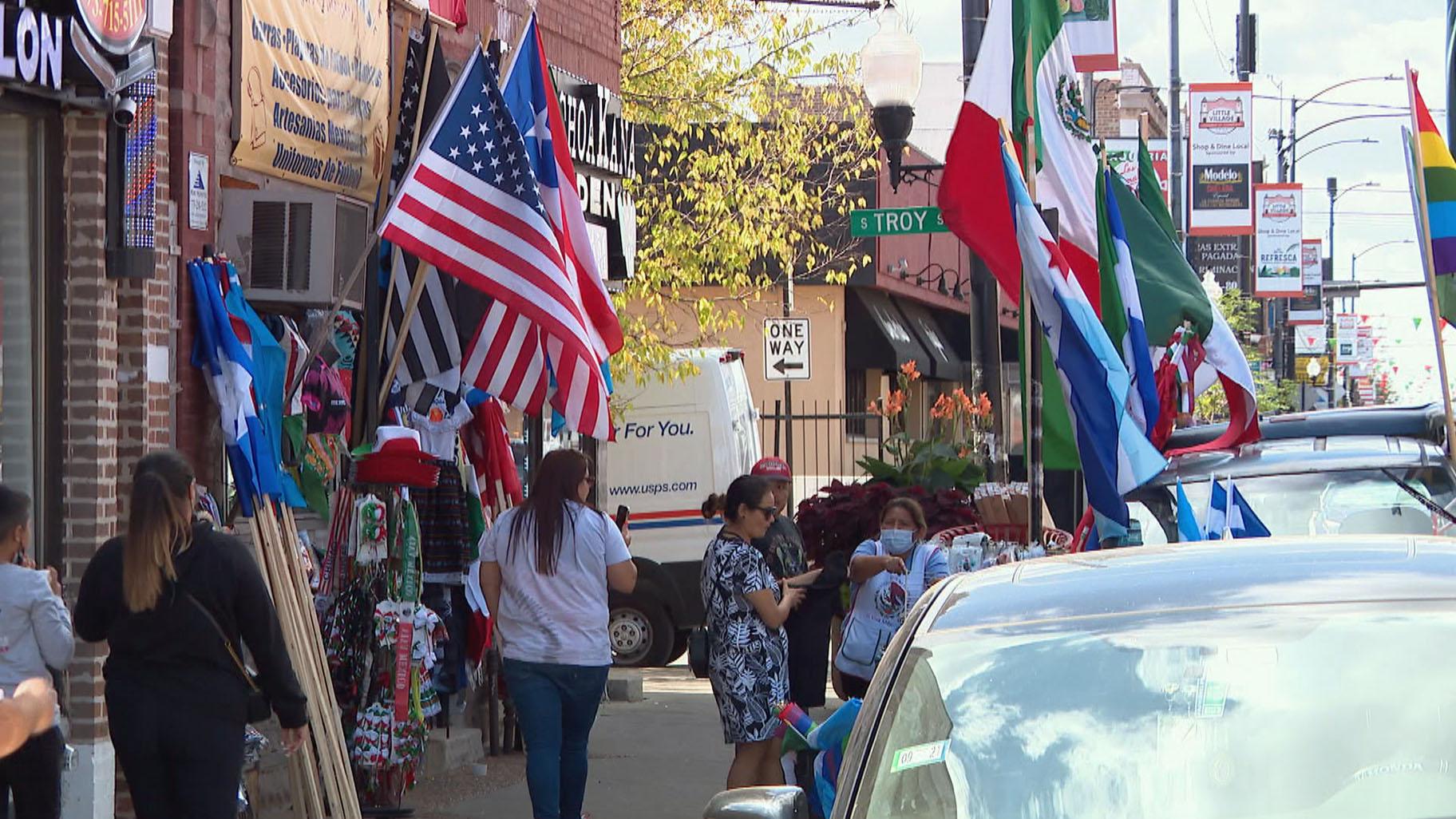 The vibrant Little Village community has been bustling with Mexican Pride as celebrations are in full force for Mexican Independence Day. (WTTW News)
Over the years residents in Little Village have faced many challenges, from fighting to close two power plants, to demanding resources and programs to uplift and support the community.
"Little Village has many immigrants that don't have paperwork, and the government does not help them so we found the way through this to help the community,"  said Jorge Rivera, President of the Ministry of Evangelization to the Community. 
Rivera has partnered with the District 10 Chicago Police Department to hand out hundreds of food boxes to area residents. 
Also advocating for immigrants in this community is the Little Village Community Council, who have been pushing for non-citizens to be able to vote in Illinois school board elections.
"It's important because the student body in CPS is majority Latino, Spanish speakers," Baltazar Enriquez, president of the Council. "If we don't have a seat at the table, then it's not fair because then they don't want to talk about our issues, our people, our history ... we're already tired of being ignored."
Video: Watch our full interview with Baltazar Enriquez
---
Meanwhile, Kimberly Wasserman, executive director of the Little Village Environmental Justice Organization has dedicated 20 years of her life to advocating for a healthier community. And now, after years in the making, a community farm of about 1.3 acres is coming to La Villita Park.
"Over the next couple of Saturdays we're going to have community members coming here to help design what part of the farm should look like. We already know people want orchards, they want apple trees, they want agriculture classes to learn how to grow food in the farm and home and we're also going to have a worker owned cooperative which will allow people to come together to sell their produce to the open market."
Mike Torres, mentoring coordinator at New Life Centers of Chicagoland, has also spent many years mentoring middle and high schoolers through sports. He says sports have served to bridge a gap within Little Village.
"Sports can provide that sense of resilience, to persevere, to help you do what you need to do to get something done," Torres said. "Sports is an easy bridge between differences of opinion or beliefs. A lot of our youth are there to play. Being even from different cultures and then understanding, 'Oh, this person is just like me.'"
Video: Watch our full interview with Mike Torres
---
Just steps from La Villita park stands the Discount Mall, a place that has been a staple of the community for decades. A mall that has given hundreds of Mexican immigrants an opportunity to start a business.
 It's been over a year since Novak Construction took ownership of the plaza and vendors say they still have no idea what the company has planned for the mall. One of their biggest concerns is facing displacement.  
"This place is part of our culture, and they'll take part of our hearts because the people who come here to visit are always amazed because places like this one are rare," said Bendito Arroyo, a Discount Mall vendor, in Spanish. 
The vibrant Little Village community has been bustling with Mexican Pride as celebrations are in full force for Mexican Independence Day. (WTTW News)
Kocoy Malagon has been seeking answers, but says Novak Construction has not responded to any of her requests.  Last year the company released a statement that they were working on understanding the market and neighborhood better and there weren't yet any concrete plans.
"I want to stay here, and I recognize this building is old and needs renovations and yes, Novak is the owner and we need to pay rent. We have no problem with that, and we want to be part of the process," Malagon said.
As this community celebrates Mexican Independence Day, Wasserman feels the occasion — marking Mexico's declaration of independence from Spain — resonates with the struggles the neighborhood faces.
"Unfortunately, it seems all we do is fight but we're fighting for a better neighborhood and we're fighting to stay in this city and neighborhood that we love. I'm hopeful that one day we will stop fighting but until then we're going to continue to fight like hell," Kimberly Wasserman said.
Novak Construction declined WTTW's request for comment. Alderman Cardenas' office said they have reached out to Novak for updates on the mall and stated that once they have new information, they will plan a meeting with the community.
---
Community Reporting Series
"Chicago Tonight" is expanding its community reporting. We're hitting the streets to speak with your neighbors, local businesses, agencies and leaders about COVID-19, the economy, racial justice, education and more. See where we've been and what we've learned by using the map below. Or select a community using the drop-down menu. Points in red represent our series COVID-19 Across Chicago; blue marks our series "Chicago Tonight" in Your Neighborhood.
---