Footwork is an art form that consists of both music and dance, and it's brought people together from around the world. 
Now it's bringing folks downtown to see animated projections on the Mart — the building formerly known as the Merchandise Mart.
"Footwork is not just a dance; it's a music as well," said Brandon K. Calhoun, who produced "Footnotes" along with Wills Glasspiegel. "It's fast-paced with an electric sound. It's almost futuristic to me. There are drum bases and patters in triplets, so it's a lot of energy in the music. So music is a thing outside of the dance as well that people enjoy who don't necessarily dance."
"Footnotes" co-producer Brandon K. Calhoun talks about the art of footwork. (WTTW News)
Chicago footworker PTop says you can't have one without the other.
"It went from house, to ghetto house, to juking to footworking. Footworking is not an easy thing, but it's not hard," PTop said. "It came from a community, from us expressing ourselves at dance parties. When we didn't have programs and anything to do all summer … it's like creating your own thing."
That's why footworking is about more than the art form. The dancers say it's about the communities it's not only saving, but creating.
"Due to life situations and becoming a young father, I didn't have another outlet to release stress or escape anything," PTop said. "So when I did see that, footworking became the biggest outlet for me."
"It saved a lot of people, so the future of that — especially in these impoverished neighborhoods — the more funding for it, the more outreach we've got to kids and schools," Calhoun said.
"Footnotes" co-producer and director Glasspiegel says that's why the Art on the Mart projections are imperative in giving the community and the craft the flowers it deserves.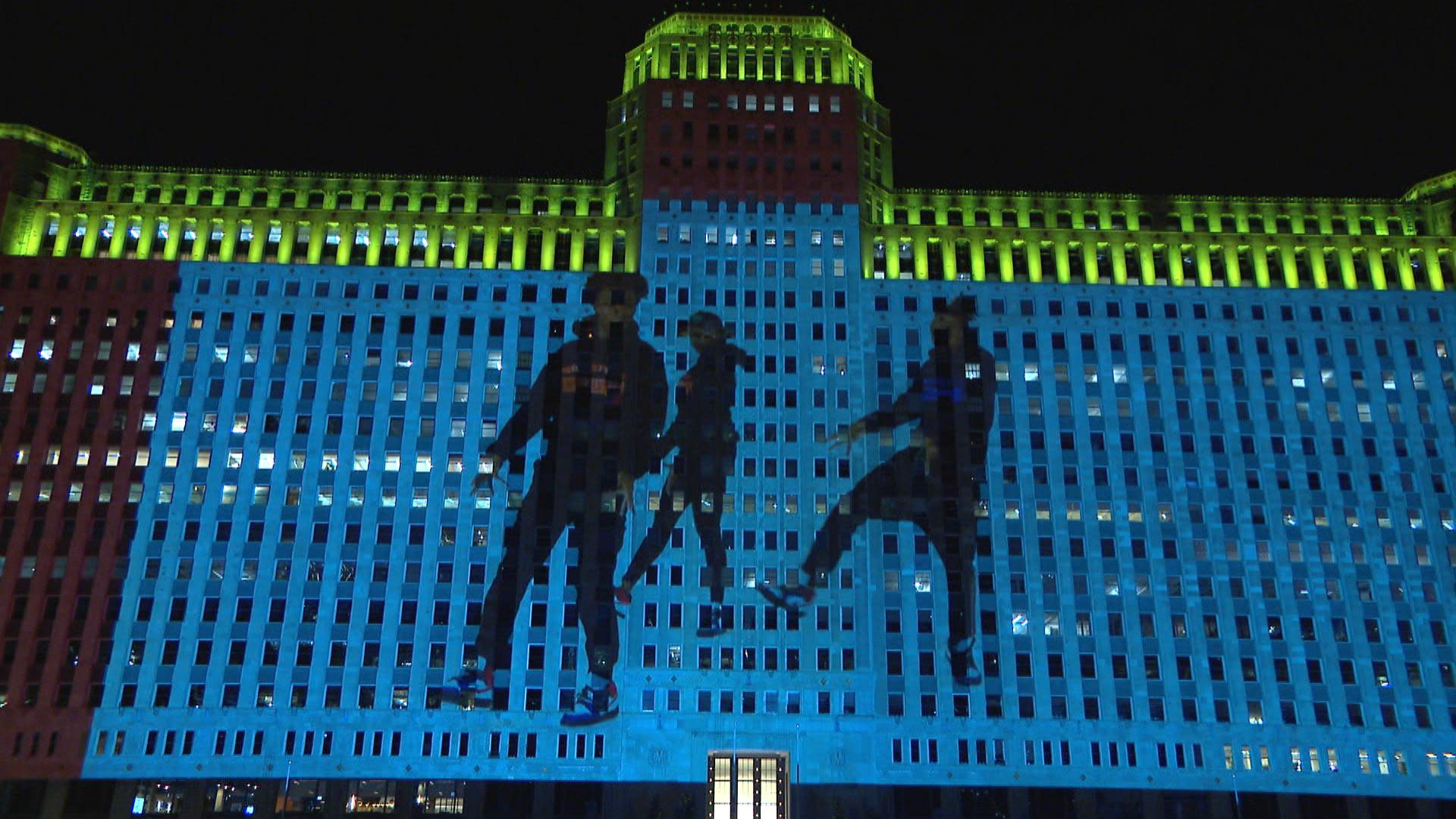 The animated projections of "Footnotes" appear downtown as part of Art on the Mart. (WTTW News)
"It became much more than about the music and the dance, but addressing inequalities in the city where people are facing the most dire consequences, especially Black communities," Glasspiegel said. "So that caused me to question the appropriation of footwork outside of the city, and think about how I can help as a white person to make sure the people who created this style continue to be recognized."
"It's a whole Chicago culture into one," PTop said. "You have Bucket boys, you have a DJ, a singer, a dancer. It's a good mixture of everything. It's important for all generations to see this, because you're inspiring and paying homage to the people before us."
Follow Angel Idowu on Twitter: @angelidowu3
---
Angel Idowu is the JCS Fund of the DuPage Foundation Arts Correspondent.
---