One person can make an impact in a young person's life.  
Just ask Sgt. Jermaine Harris, one of the co-founders of Chicago Westside Sports, an operation in which police officers, local churches and community leaders come together with a common goal: to build community. 
"There was projects around with police and youth, with baseball programs, and there was a grant that was attached to it … but the grant ran out," Harris said. "So in 2019 there was a lot of brainstorming and ideas of like, 'We've got to bring this back.'"
Harris joined forces with Stephanie Marquardt, executive director of community resource organization City of Refuge, to offer the program for free to kids wanting to play baseball, basketball and learn archery.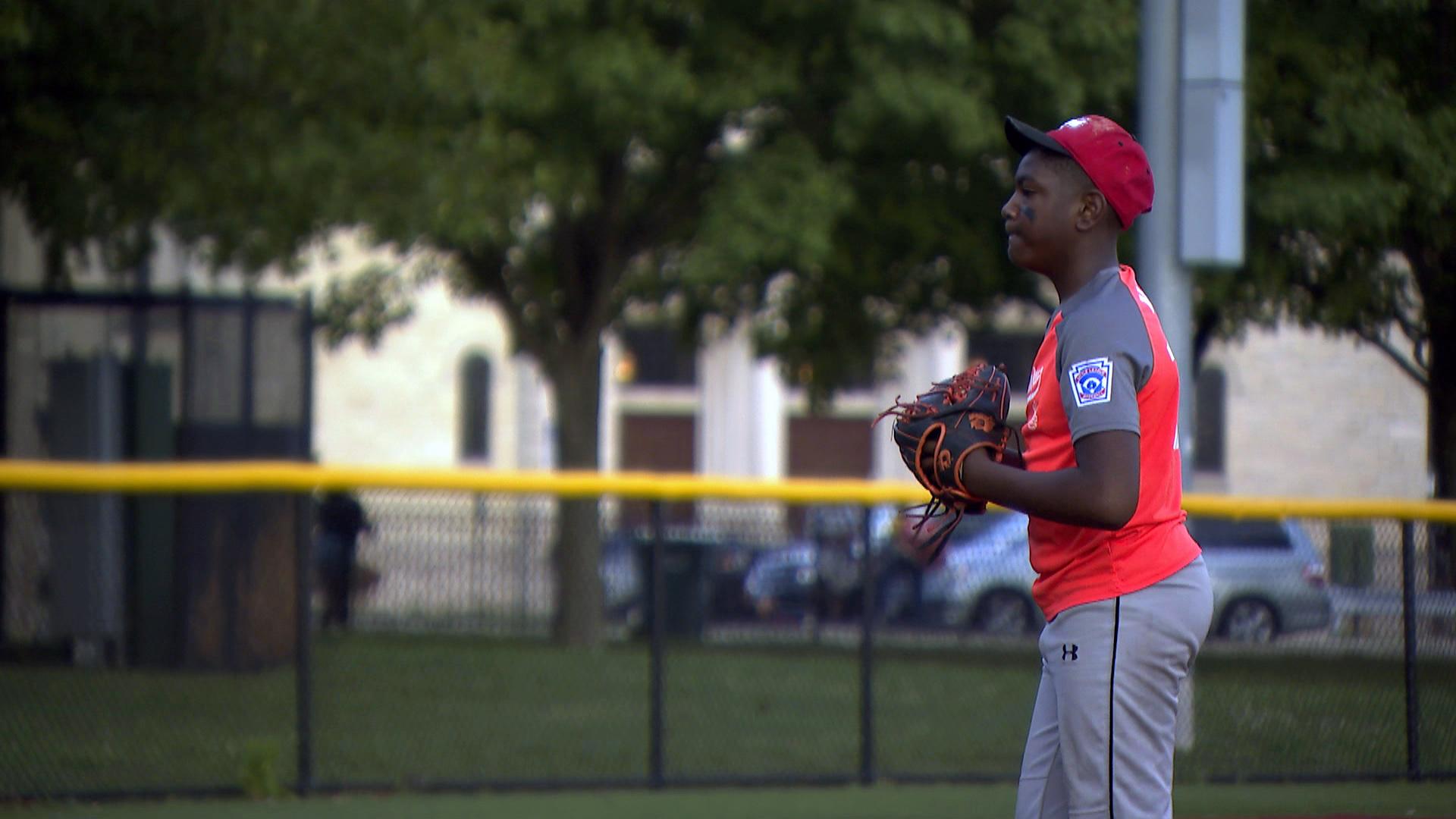 Chicago Westside Sports in action at Columbus Park. (WTTW News)
On a recent August day, more than 20 kids from across the West Side came together to play baseball at Columbus Park.  
"I like the sportsmanship and the competitiveness. I like being able to play against our friends," said 13-year-old Avion Tart, who has been participating in the program since it relaunched.
"It makes us feel loved and cared for," he said.
Tart is one of about 250 kids involved in the program.
"One of the things that have come out of this is the children and the police officers are having conversations that there's no other space for that to happen," said coach Akin Akinlawon. "Some of the kids are coming with chips on their shoulders, maybe they had family members who had bad interactions with the police. Some of the police officers are coming with chips on their shoulders because maybe they've been in this neighborhood for a long time and they've seen some of the worst aspects of people."  
Harris says the program, which is run by volunteers, gives kids a safe space to not only have fun and improve on the field but also develop life skills.  
"Just to come out here, and see a smile, and see a kid say, 'Hi, coach,' give you a hug, look forward to you … all of those little interpersonal activities that go on between youth and police and between our community and our young people — it's just so inspiring," Harris said.  
Harris has been an officer for 18 years and says the initiative has helped him navigate his own mental health, from the time when he began coaching his son years ago.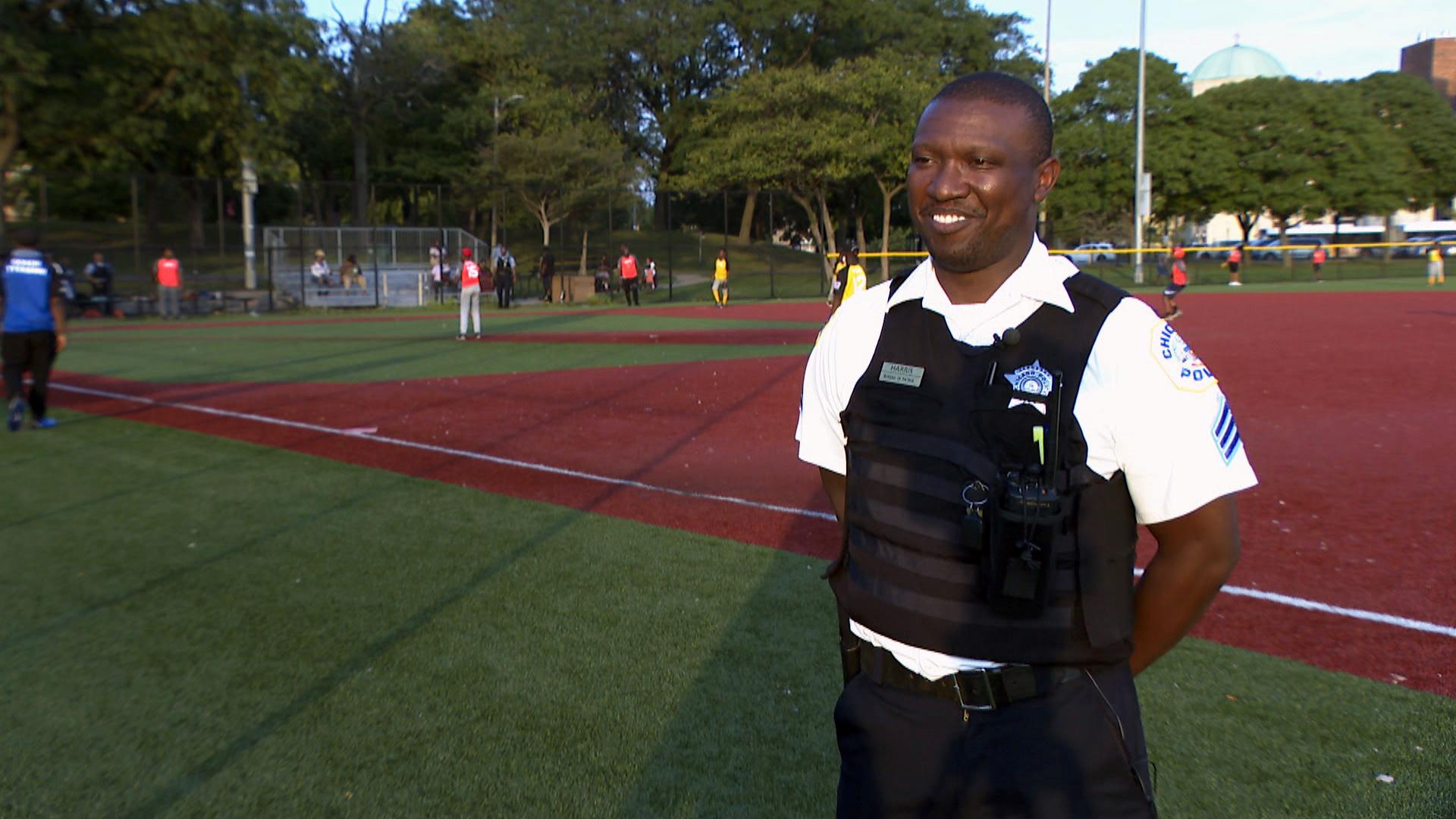 Chicago police Sgt. Jermaine Harris (WTTW News)
"I realized that looking back that those summers and the time I spent with kids who were doing the opposite of what I saw at work — they were happy, they were smiling, they were laughing, they weren't victims of crime  — and that gave me balance. What I really wanted to do was provide an opportunity for younger officers to get that same thing I got."
Through sports, education and mentoring these volunteers are hoping to give kids the opportunity to dream beyond their community.  
"I like that they protect us, they're trying to keep us safe," said a young participant.
Harris would like to see the program expand citywide one day. In the meantime, he's focused on getting even more kids from the neighborhood to participate.  
"We want the kids to be able to come to this space and be safe so that they can be vulnerable, to be loved, to be supported, to develop friendships," he said.
Avion Tart, left, talks to "Chicago Tonight: Black Voices" about Chicago Westside Sports. (WTTW News)
For Avion Tart's mother, it's a way for her son to stay on the right track.    
"I've seen him grow tremendously," said Andrea Adeyera. "I've seen him make friends. I've seen him grow in the classroom because of the discipline that he's gained on the field — it transfers over into school."  
Some of these young players already have dreams of making it big one day.
James Myles says he wants to make it to the MLB so he can help his family.
---
More on this story
The program runs year-round and those participating are getting ready to start basketball season. For information about registration, visit the Chicago Westside Sports website.
---