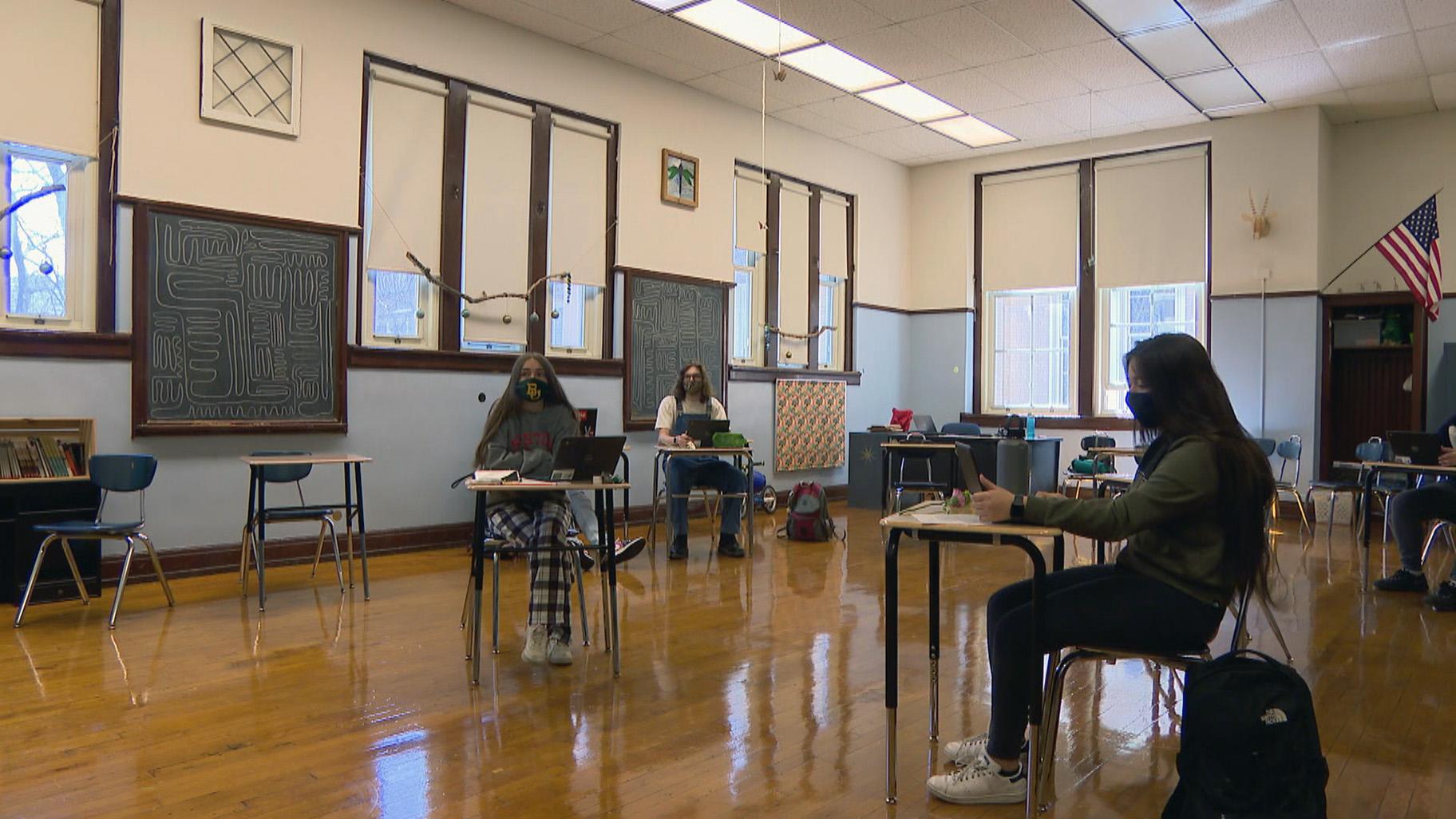 Students sit masked and socially distanced in a CPS classroom. (WTTW News)
Chicago's interim schools chief said that despite a broken relationship with the Chicago Teachers Union, he believes the two sides are "very close" to reaching a safety agreement just days before hundreds of thousands of students are set to return to their classrooms.
With the new school year set to begin Monday, Chicago Public Schools has updated its guidance for parents, and interim CEO Jose Torres said he believes the district has done enough to protect both students and staff amid a surge in the number of COVID-19 cases driven by the more transmissible delta variant.
But as negotiations over a reopening deal with the CTU continue, Torres said his efforts to get union leadership to stand with him and assure families that in-person classes will resume on Aug. 30 have been rebuffed.
"We will begin (the school year) with some of the fears that CTU has planted, frankly," he said during Wednesday's Board of Education meeting, adding that it "has taken years" for the relationship between CPS and CTU "to be broken to this level."
Even so, Torres said he believes the two sides are "very close" to an agreement.
Union President Jesse Sharkey said his members are not trying to block schools from resuming in-person learning next week, but are instead "sounding an alarm" over additional measures CPS must take to protect against COVID-19.
After Torres' comments, Sharkey tweeted that he told Torres "that we should get an agreement on key areas before we started planning joint announcements."
Specifically, Sharkey expressed concerns over the ability to meet social distance guidelines inside schools. CPS has required that all students and staff stay at least 3 feet apart wherever possible, but Sharkey said that could be virtually impossible inside some overcrowded classrooms.
"CPS is doing 3 feet where convenient," he told the board. "There are many steps that we could be taking but aren't."
According to Sharkey, those include keeping class sizes smaller, moving bigger classes to larger classrooms, scheduling certain arts classes into blocks so students can rotate through them each quarter and allowing more students to eat lunch outside, weather permitting.
Torres on Wednesday acknowledged that there's excitement, but also anxiety among parents and students for the start of the school year. He said the only certainty about the pandemic is uncertainty, so CPS is prepared to continue modifying its health and safety requirements as necessary.
The district has already required all employees to get fully vaccinated by Oct. 15 and said everyone must wear a mask while inside buildings this school year.
CPS on Wednesday also updated its parent guidance, announcing it will hold simultaneous remote-learning classes for students who are forced to quarantine due to a positive COVID-19 test. The district is also dropping a daily health screener for students, replacing it with a daily at-home health questionnaire.
Parents won't have to submit the results of this questionnaire to CPS, but they will be required to run through a checklist of health questions with their kids, self-report any positive COVID-19 tests to CPS and commit to keeping their children home if they are sick.
"Why would we do that?" Torres said. "Well, because we trust our families and we trust the community to take care of each other."
In a bargaining update published Tuesday, the union said: "CPS is relying on families to do their own screening at home and insists students' presence at school means they've passed. That's not just crazy, it's dangerous."
Contact Matt Masterson: @ByMattMasterson | [email protected] | (773) 509-5431
---