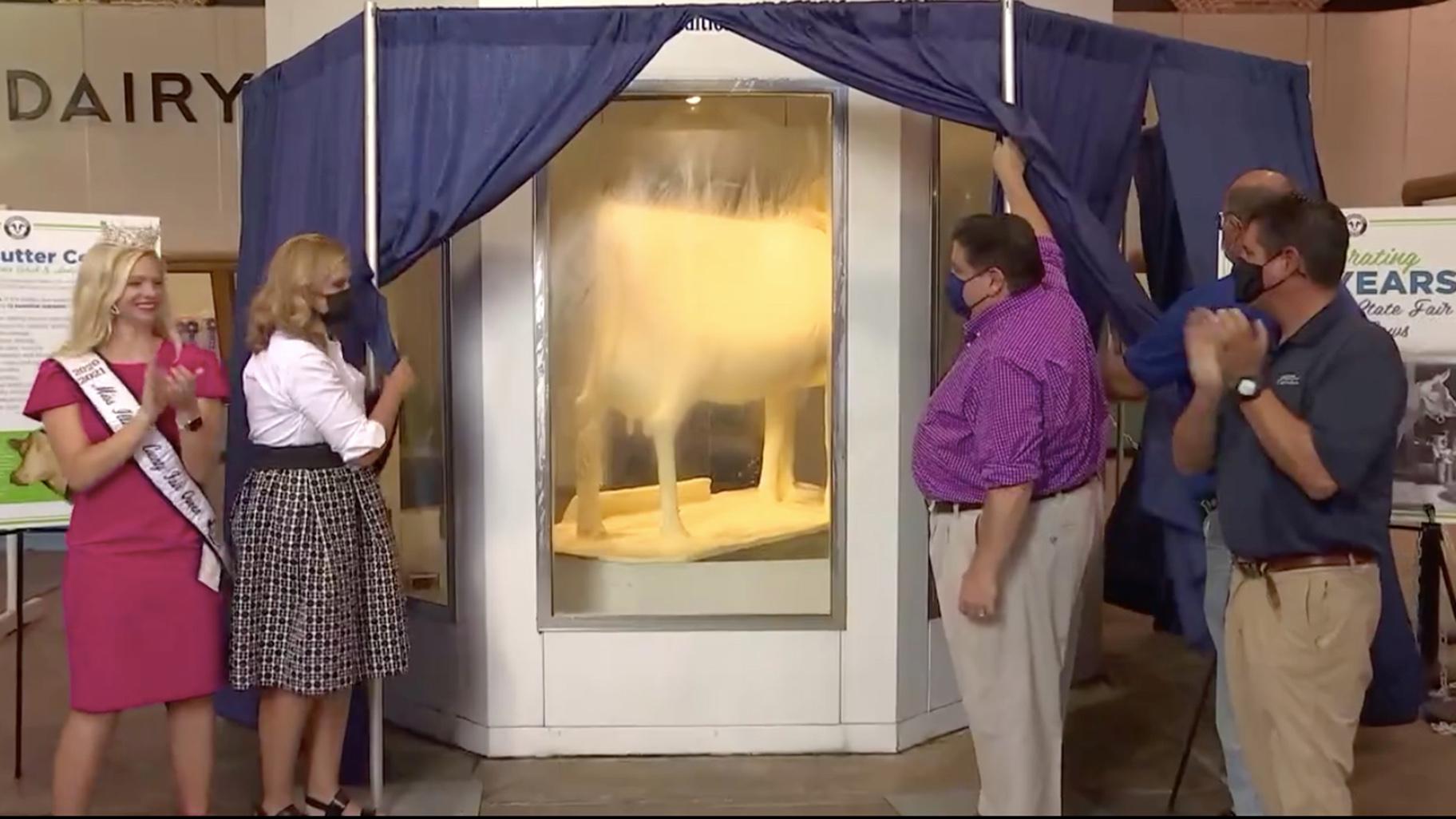 The Illinois State Fair Butter Cow is revealed on Wednesday, Aug. 11, 2021. (State of Illinois livestream)
With a "three-two-one" countdown, Gov. J.B. Pritzker and First Lady MK Pritzker unveiled the Illinois State Fair's 100th Butter Cow in Springfield on Wednesday afternoon.
The cow didn't exactly cooperate.
Its refrigerated glass-sided case was fogged up with condensation in the sweltering heat, obscuring the view of the 800-pound bovine, which was barely visible to those tuning in via livestream on the Butter Cow webcam. (Find other state fair webcams here.)
Photos snapped by those on the scene confirm the creation by sculptor Sarah Pratt is indeed udder-ly moo-ving — to borrow a couple of puns from Kelsi Kessler, state fair queen — in that it depicts a young woman nuzzling the cow in keeping with the theme of "embracing tradition."
The cow and her companion will be on display in the Dairy Building during the fair, which kicks off Thursday and runs through Aug. 22. Visitors should pay close attention: Pratt has hidden 13 hearts in the sculpture's design, representing the 13 nutrients found in a glass of milk.
The butter, officials noted, is all homegrown from Illinois dairy farms, and it's salted, should anyone wonder.
The fair gets underway just as concerns are growing over the spread of the more transmissible delta variant of COVID-19.
Mitigations in place at the fair include: mask mandates at indoor venues, and proof of vaccination or a negative COVID-19 test for ticketholders in the grandstand track. The Illinois Department of Public Health will have six vaccination sites at the fairgrounds.
Asked, "Should we even be here?" Pritzker responded that the conditions in 2021 aren't comparable to 2020, when the fair was canceled.
"The big difference is we have vaccines," the governor said, "and the vaccines work."
Sarah Pratt sculpted the cow for the 7th year using Prairie Farms salted butter and included more than a dozen hearts. pic.twitter.com/TSmGPmyIjw

— Steve Bridge (@steventbridge) August 11, 2021
---
Contact Patty Wetli: @pattywetli | (773) 509-5623 |  [email protected]