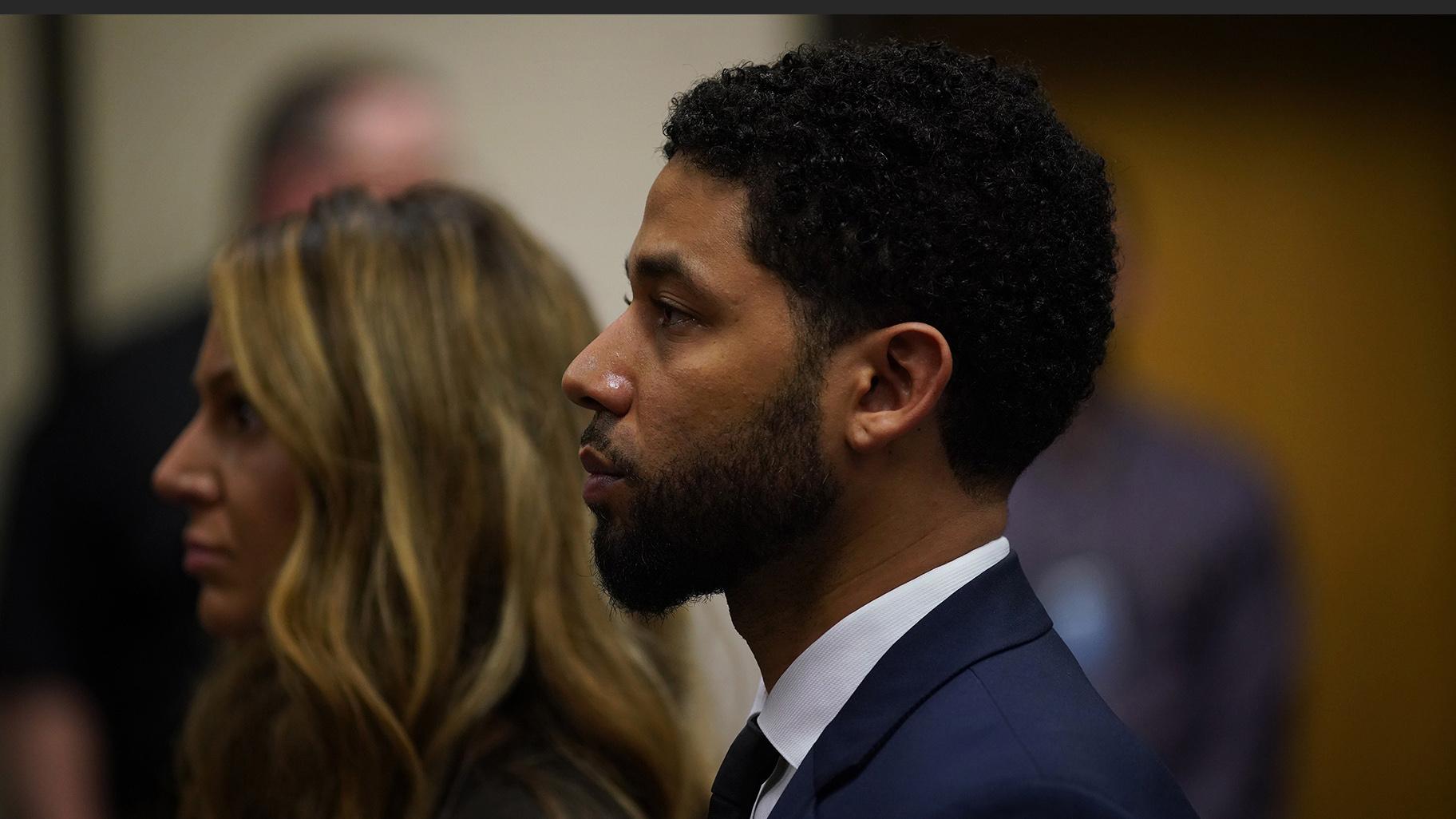 Jussie Smollett pleads not guilty at Leighton Criminal Court Building, Thursday, March 14, 2019. (E. Jason Wambsgans / Pool / Chicago Tribune)
Former "Empire" star Jussie Smollett will be allowed to retain his lawyer of choice to represent him in his criminal matters, following questions of a possible conflict of interest between the attorney and two key witnesses in the high-profile case.
In a 10-page ruling filed Thursday, Cook County Judge James Linn ordered that Smollett may continue using attorney Nenye Uche to represent him in the actor's disorderly conduct case, despite a push from Special Prosecutor Dan Webb to have Uche removed.
Those efforts came following allegations of a conflict of interest between Uche and Olabinjo and Abimbola Osundairo, the two brothers Smollett allegedly hired to carry out a hoax attack against him in January 2019.
"The court firmly believes that the interest of Mr. Smollett to have the lawyer of his choice when his liberty is at stake outweighs any other valid and good faith concerns of the (Office of Special Prosecutor) and the Osundairo family witnesses," Linn wrote in his ruling.
While Uche can stay on the case, Linn ruled that some other member of Smollett's defense team must cross examine the Osundairo brothers if they are called to testify at trial.
Gloria Rodriguez, the attorney representing the brothers, has claimed her clients spoke about the case with Uche before Smollett's arrest back in 2019, and that any information shared — while privileged — could be used to damage them as witnesses at trial.
Uche strenuously denied having spoken to the brothers, but said he did receive calls from other members of the Osundairo family asking him to represent the brothers after they were brought in for questioning about the case.
But once Uche understood that the brothers had already retained Rodriguez, he said he refused to speak or meet with them.
Linn held an evidentiary hearing away from public view earlier this month to try and determine, after months of arguments, whether there was a conflict of interest between the Osundairos and Uche.
In his ruling, Linn found that "the totality of evidence shows clearly and convincingly" that Uche did, in fact, speak to the brothers and their mother, and discussed topics including: immunity, items seized during the execution of a search warrant, how to handle the media and the $3,500 check Smollett allegedly paid to the brothers to carry out the hoax attack.
But the judge found that the Osundairos never paid Uche, nor did they sign any contracts with him to retain him as an attorney. However, Linn ruled that due to the topics discussed, "the threshold for an attorney-client relationship" was met and "requires further analysis."
While he acknowledged that the Osundairo family still wants Uche removed from the case, Linn noted that Smollett is the only one on trial, and his right to select the attorney of his choice trumps the "good faith concerns" of Webb and the brothers.
Rodriguez issued a statement Friday afternoon saying the Osundairo family is "pleased" with Linn's ruling, and the brothers "look forward to testifying at trial."
Smollett was charged in Feb. 2019 after he allegedly falsely claimed to police that he'd been attacked near his Streeterville apartment by two men who yelled racist and homophobic slurs at him. Chicago police detectives eventually determined Smollett had orchestrated the incident himself, claiming he paid the Osundairo brothers to help stage a fake attack.
The Cook County State's Attorney's Office dismissed those initial charges weeks later, but Webb and his team were appointed to reinvestigate the case and brought renewed felony disorderly conduct charges against Smollett early last year.
Smollett has pleaded not guilty and has maintained his innocence.
The parties are due back in court for a hearing Monday.
Contact Matt Masterson: @ByMattMasterson | [email protected] | (773) 509-5431
---