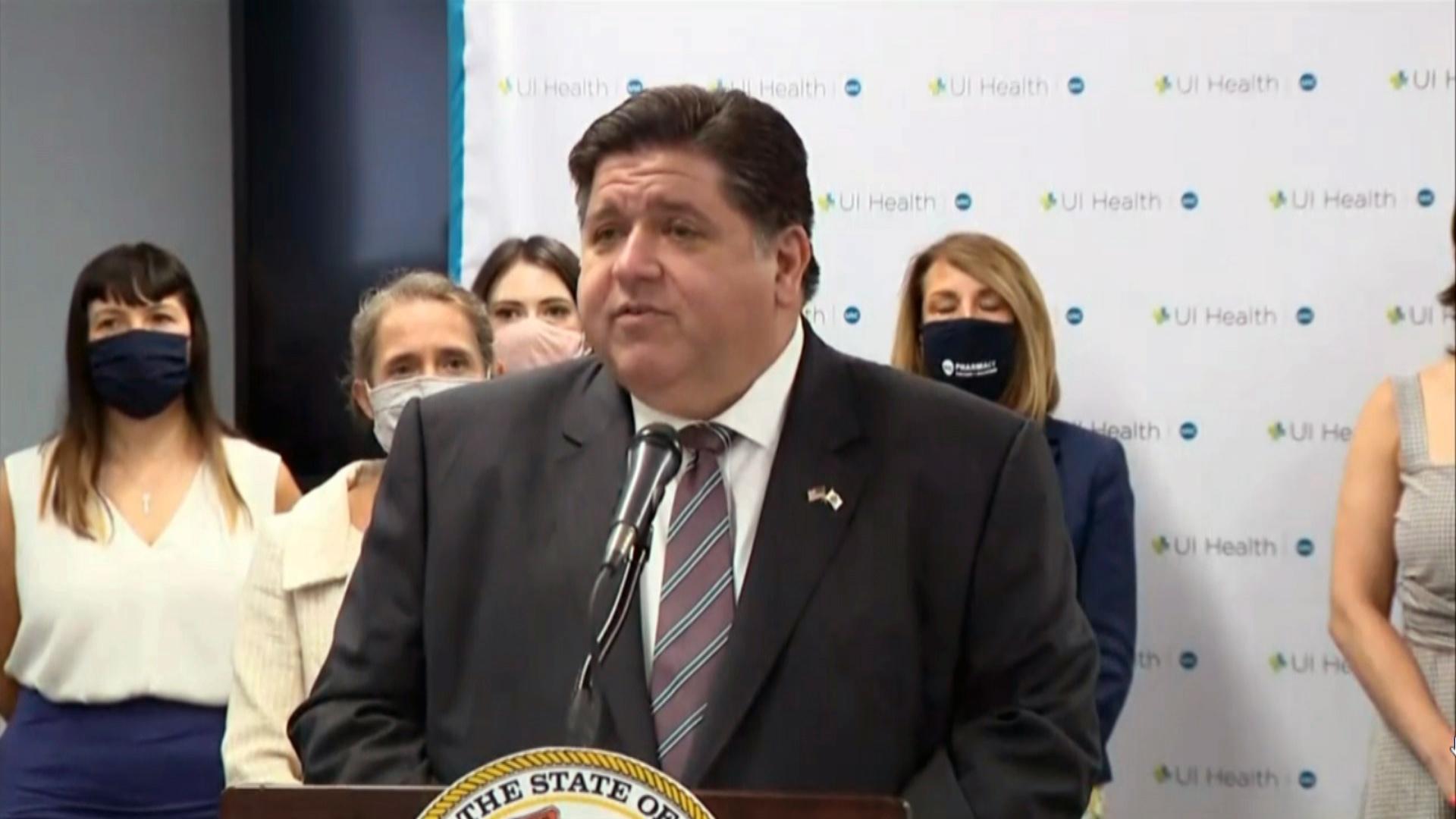 Gov. J.B. Pritzker talks about House Bill 0135 at a signing ceremony on Thursday, July 22, 2021. (WTTW News via Governor's Office)
Birth control will soon be available over the counter in Illinois, thanks to legislation signed Thursday by Gov. J.B. Pritzker.
House Bill 0135 allows pharmacists to provide 12 months of hormonal contraceptives like birth control pills, rings and patches without a doctor's prescription starting Jan. 1, 2022.
"Getting a prescription for birth control can take hours of doctors' appointments and cost hundreds of dollars," said state Sen. Melinda Bush, who was the chief Senate sponsor of the bill. "Access to birth control should never be determined by economic status, education or ZIP code. Birth control is a basic health care service. It should be treated as such and readily available for all."
Under the new law, pharmacists will be trained on how to counsel individuals on the types of birth control options available to them and will assess patients using the same screening forms a physician would use, according to officials.
"This is a common-sense approach to increase the number of trusted health care partners women can turn to for accurate information about what contraceptive method works best for them and their lifestyle," said state Rep. Michelle Mussman, who introduced the measure in the House of Representatives. "It increases access to convenient locations all around the state, reducing unnecessary barriers to timely and consistent use of these products which women rely on to self-determine when is the right time for them to become pregnant."
Illinois is the second state in the Midwest to offer access to birth control over the counter. Minnesota was the first, according to the National Alliance of State Pharmacy Associations.  
"Right now, in Illinois and in most states, a woman looking to access birth control has to navigate a maze of requirements, hunting down a doctor or a clinic, finding an appointment time that works for them," Pritzker said, adding that many women also live in health care deserts or face transportation issues. "I don't have to have been through all those challenges myself to know there's got to be a better way, and as of Jan. 1 there will be."
The bill will expand Medicaid to cover over-the-counter birth control costs for plans that currently cover physician-prescribed birth control. Insurance policies regulated by the state will also be required to cover birth control dispensed by a pharmacist, according to officials.
Pritzker also signed legislation Thursday that will increase access to telehealth services in communities across the state. House Bill 3308 prevents insurance plans from requiring a patient to attend an in-person visit before a telehealth service, while also requiring those plans to reimburse health care providers with the same rates as in-person care.
The bill, which takes effect immediately, prevents a gap in coverage by permanently extending the payment parity requirement for mental health and substance use disorder services, while also authorizing all other telehealth to be covered through 2027, according to officials.  
Contact Kristen Thometz: @kristenthometz | (773) 509-5452 |  [email protected]
---