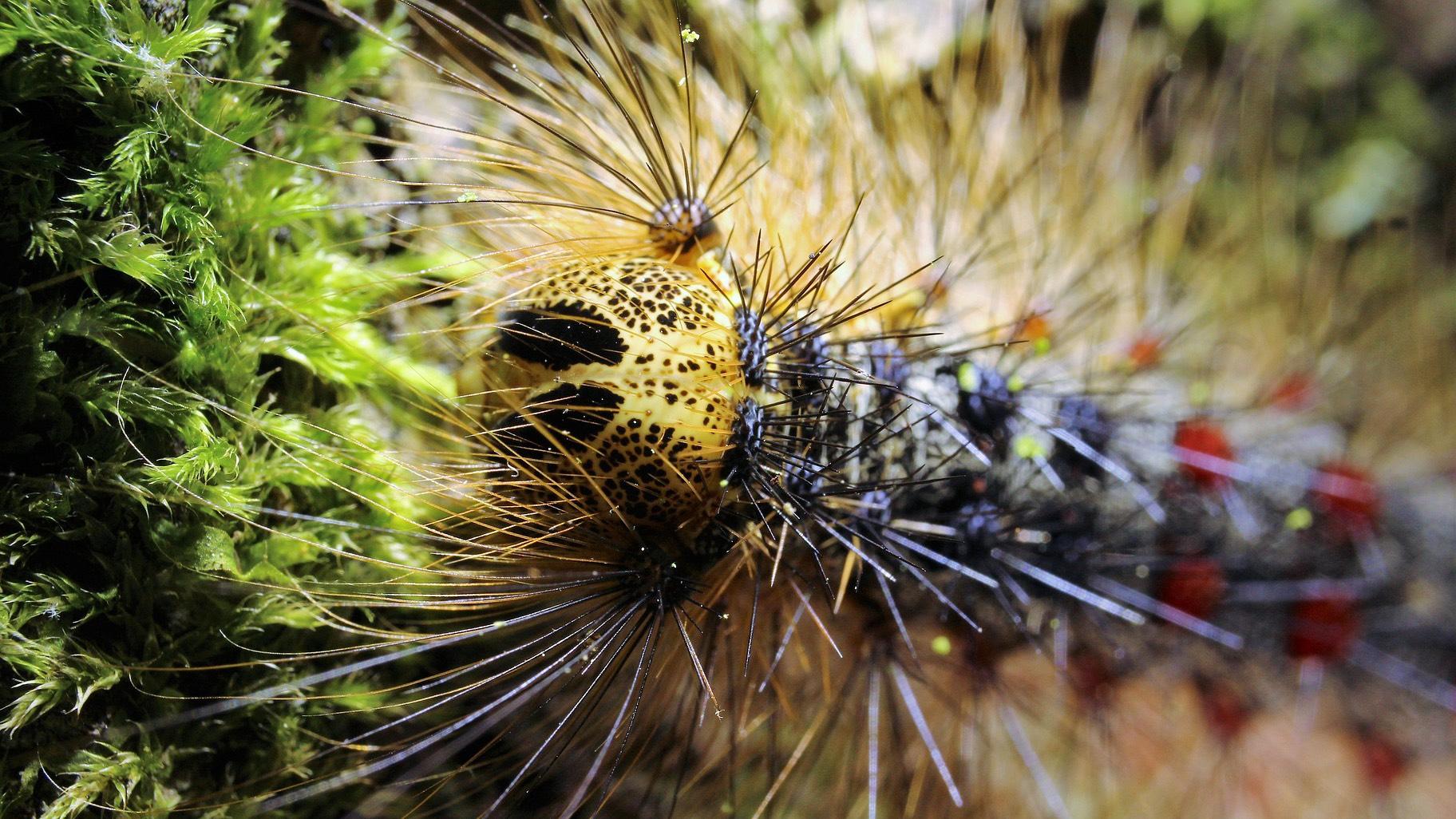 A lymantria dispar caterpillar, awaiting its new common name. (Feliciano Moya Lopez / Pixabay)
Though typically unappreciated and widely ignored, moths have been nabbing international headlines of late, thanks to a declaration earlier this month by the Entomological Society of America that the gypsy moth is no more.
To be clear, the destructive insect, which has defoliated 95 million acres of forest during a 100-year run, hasn't gone extinct. It's still chomping its way through North America's trees, with parts of the Midwest and Northeast currently in the throes of one of the moth's devastating cyclical outbreaks.
The ESA's announcement actually had to do with the pest's common name, which has now been mothballed. Until a new one is agreed upon, it will be known by its scientific moniker, Lymantria dispar. The gypsy ant's common name (Aphaenogaster araneoides) has also been removed.
The names were identified as containing a derogatory term for the Romani people, and the ESA governing board elected to scrub them from the organization's Common Names of Insects and Related Organisms list.
Through the recently launched Better Common Names Project, ESA is also seeking input from its members on other insect names that might be problematic, either because they contain a racial or ethnic slur or reference a group in a way that could stoke fear or prejudice. Additionally, new policies discourage names with geographic references, particularly when it comes to invasive species, as the practice can perpetuate discrimination, xenophobia and bias, ESA said.
In the case of Lymantria dispar, the origin of its common name is murky. The moth is native to Eurasia and was intentionally imported to North America in the 1860s by a fellow from Massachusetts who had an eye toward silk production. As these tales so often go, the moth escaped and foresters have been waging a war of containment ever since. 
The use of "gypsy moth" goes back to at least 1908, and according to various theories, possibly alludes to the way the moth's larvae are blown on the wind or the way its caterpillars migrate each day from a tree's leaves to shady spots on its trunk. Those characteristics were in some way, seemingly, connected to wandering people.
The process of coming up with a new common name for Lymantria dispar is now underway, with a working group convened to propose an alternative that will wind its way through a number of steps before being considered for final approval. The ESA emphasized that it doesn't choose names, but rather recognizes and approves names submitted for use.
Where a species' scientific name is assigned according to a strict international code, common names — used colloquially to communicate with a general audience — have no such parameters. It wasn't until the early 1900s that entomologists in the U.S. began to wrangle insects' common names into a standardized list in order to avoid confusion. Other countries likewise maintain their own lists.
Among the ESA's guidelines: Common names should consist of three words or fewer and incorporate a descriptive term, such as a distinctive physical feature. The name should also be easy to pronounce and generally understood. 
Only ESA-approved common names can be used in papers published in ESA journals or used in ESA functions or other communications.
"We can't control what people call insects, and old names may persist in common usage," the organization said in a statement. "However, ESA is committed to leading by example and building community engagement for the adoption of new common names that the public will also adopt in time."
Contact Patty Wetli: @pattywetli | (773) 509-5623 |  [email protected]
---