The tradition of artists painting outdoors brings to mind pretty landscapes of lakes and gardens. We meet a Chicago artist who paints on location and finds beauty in the grit of the city. 
TRANSCRIPT
Marc Vitali: These are not the images of Chicago you'd see in a visitor's guide.
Still, the odd corners the paintings depict are as much a part of the city as Navy Pier or the Museum campus.
Artist Andy Paczos pedals a bike that hauls his canvas and supplies.
He heads to the same location he's worked at for months – a corner of the Van Buren Street bridge near Wacker Drive.
He sets up his easel. And gets to work on a highly detailed painting.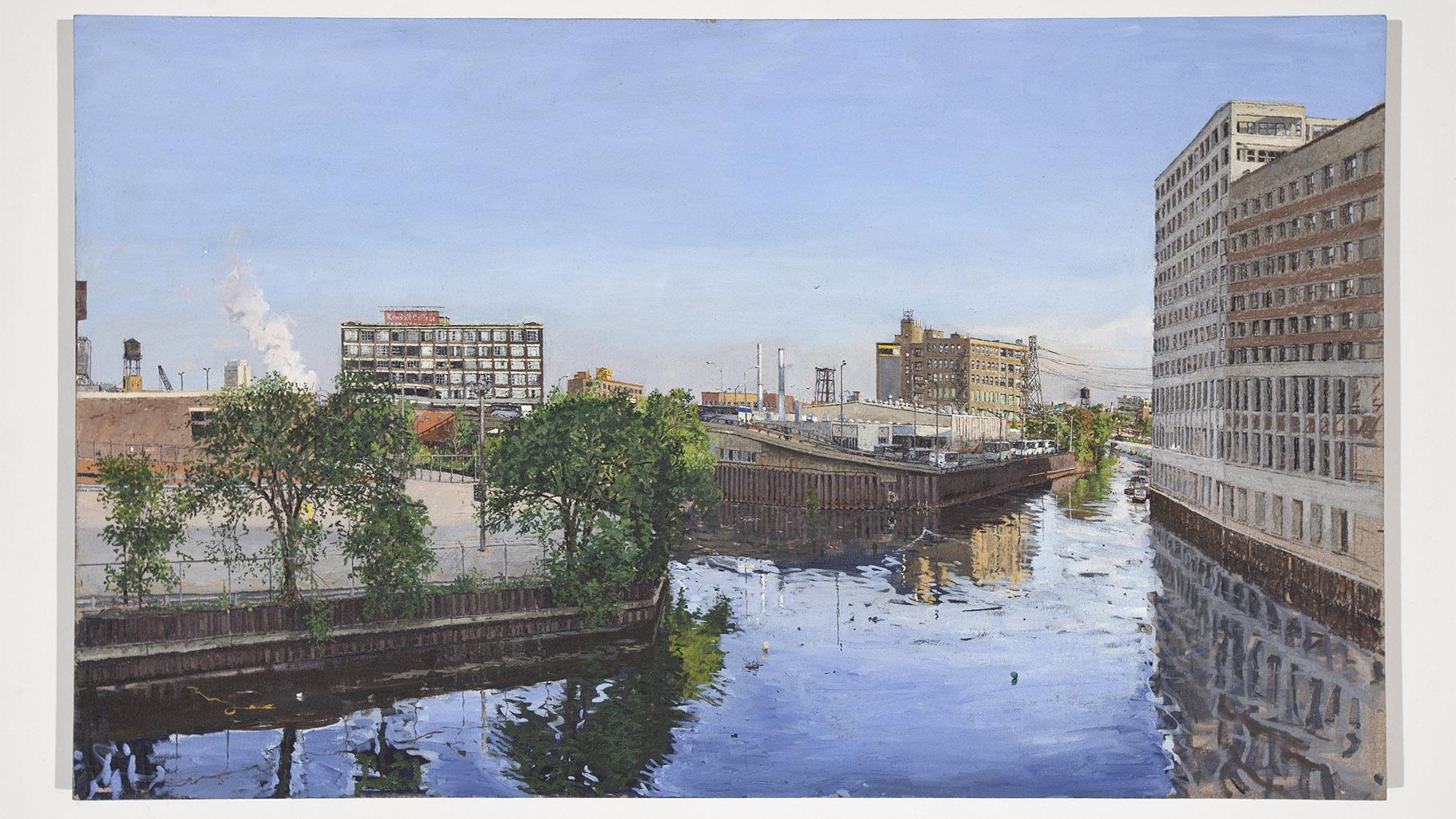 A painting of a fork in the Chicago river by Andy Paczos. (Photo by Dimitre Photography, Chicago)
Andy Paczos: I never spend long at a site when I first decide I'm going to paint here. 
I like the discovery, the examination, to come through the act of painting. 
There seems to be no end to the amount of scrutiny you can give something. But I have to stop. Sometimes you just have to say 'enough.'
Vitali: Paczos is attracted to things that are often overlooked.
Paczos: This site seems to have everything that an artist might want. What initially attracted me to this site was that wonderful curving piece of concrete that looked like a Richard Serra sculpture.   
Vitali: He works for two to three months on each painting. And when painting on location, it's a fight to the finish.  
Paczos: Degas was an impressionist painter who never painted outside because he said "Painting is not a sport," and I kind of equate what I do is to more like a boxing match because it's just a battle. There's so many things that are working against me, the wind, the changing seasons, the changing sun.
Vitali: We first met Andy Paczos in 2020 a few weeks after the shutdown.
He was doing a study for a painting beside an empty lot near the Western Avenue Metra station.
Months later, the drawing resulted in this painting.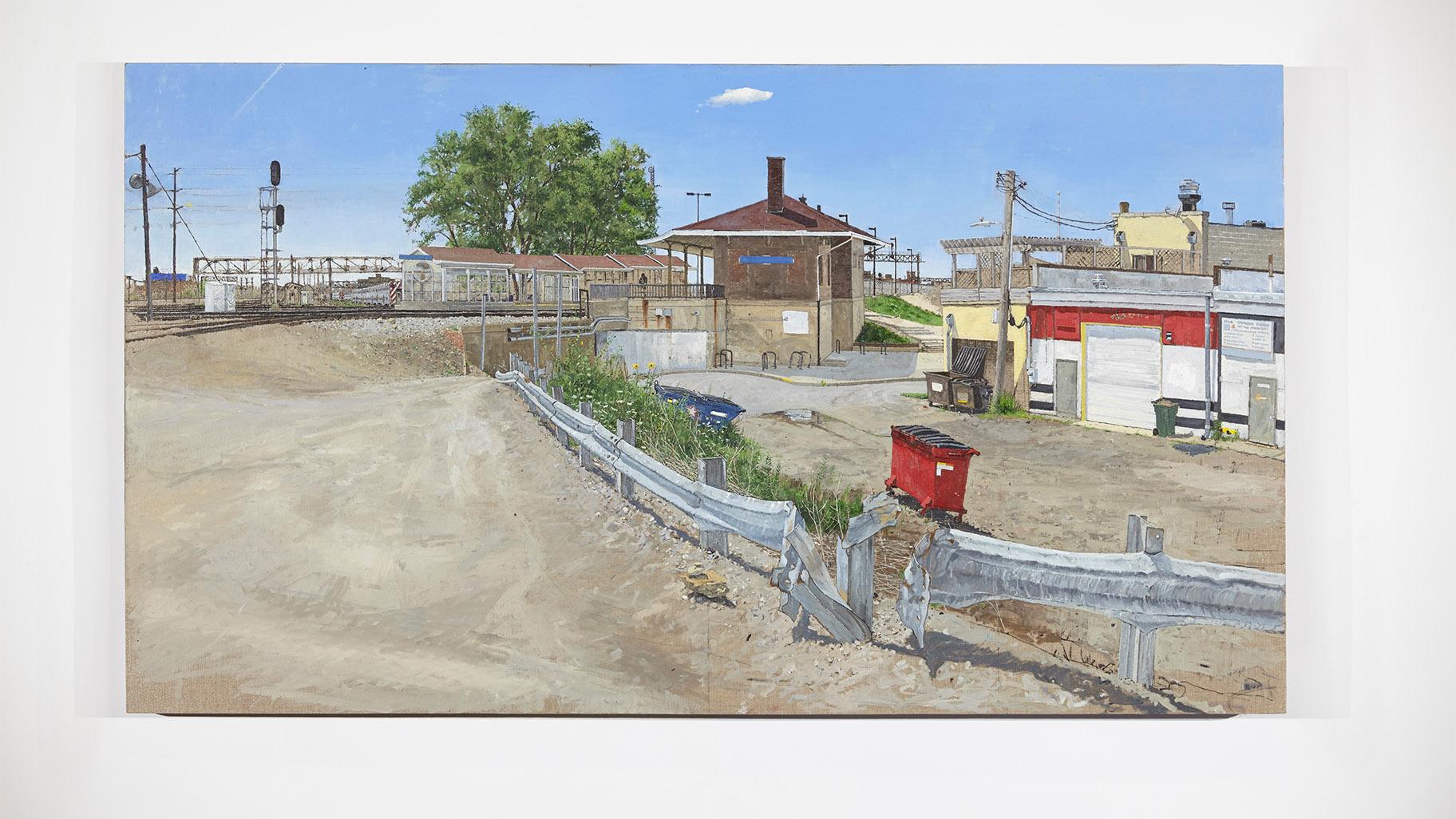 A painting of a Metra station by Andy Paczos. (Photo by Dimitre Photography, Chicago)
Paczos: I want to be very specific about everything I'm painting. That has to be galvanized steel. That's important to me. I have to be very specific about the material. It's not an impression. I want just the facts.
Vitali: Those facts don't include people. His paintings are unpopulated.
Paczos: Well, there's no people in my paintings. My paintings generally have a certain solitude about them. I'm just not interested in people that much. I mean, I love them, but I'm not interested in them as subject matter.
Vitali: And he might even listen to their advice.
Paczos: One time at Rainbow Beach last year this little girl came up and she's looking at the painting and she says 'Hey, you missed that. That's wrong right here.' And she's pointing out some angle, and I'm like, you know what? You're right! So I was very pleased that she noticed something that I didn't.
Vitali: Born in Detroit, Andy Paczos studied at the Art Institute with Chicago artist Ted Halkin.
Paczos works have been featured at the Hyde Park Art Center and the Ed Paschke Art Center – and the artist Chris Ware is a fan and owns a canvas.
With the amount of time and effort they require, the paintings don't come cheap.
Paczos: I don't make a lot of money but when I sell them, they go for between 8 and 10 thousand dollars, so if you figure it's a 6- or 8-week painting period I'm making about minimum wage.
Everything does change, even the same location, so I can come back and some of the tress that were there last year might not be there. I mean it's funny how you think things can be permanent.
---
More on this story
Andy Paczos continues to paint on the Van Buren Street bridge while scouting his next locations. See more of his work on his website.
---