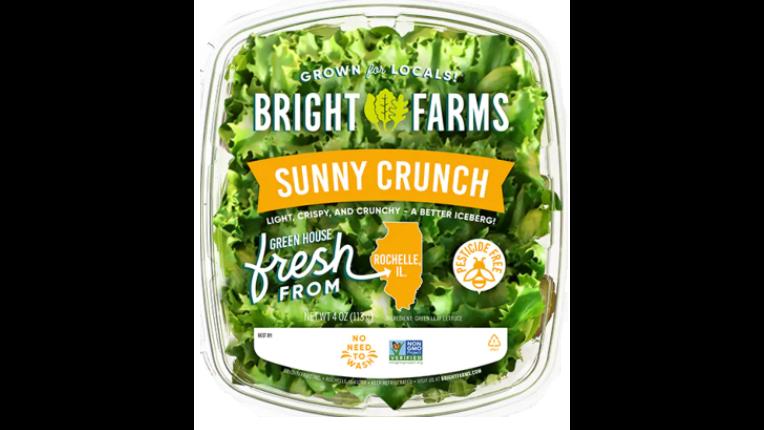 (Courtesy of the Food and Drug Administration)
State and federal health officials are investigating a multistate outbreak of salmonella typhimurium linked to BrightFarms brand Sunny Crunch salad produced in Rochelle, Illinois.
Eight people have been infected with salmonella typhimurium, with illness starting on dates ranging from June 10 to June 15, according to the Centers for Disease Control and Prevention.
Five people in Illinois have been infected, with cases reported in Cook, DuPage and McHenry counties, according to the Illinois Department of Public Health. Those infected in Illinois reported purchasing BrightFarms brand Sunny Crunch salad produced in Rochelle, according to IDPH.
The salads have been distributed to at least four states: Illinois, Indiana, Iowa and Wisconsin, according to the CDC, which has not issued a recall at this time.
But BrightFarms has announced a voluntary recall of its packaged salad greens produced in its Rochelle greenhouse farm and sold in Illinois, Wisconsin, Iowa and Indiana due to a potential risk of salmonella, according to a press release.
The company's voluntary recall includes the following BrightFarms' products with best by dates through July 29: Sunny Crunch, Nutrigreens, Butter Crisp, Harvest Crunch, Mighty Romaine, 50/50 Spring & Spinach and Spring Mix. More information about the voluntary recall can be found here.
State health officials are still investigating where the salad products were distributed in the state, so others could potentially be exposed in the state, according to an IDPH press release.
Consumers should not eat BrightFarms brand Sunny Crunch salad – nor should retailers sell it, according to officials. Health officials advise disposing of the salad even if they were partially consumed and no one became ill.
Anyone who purchased products affected by BrightFarms' recall should discard them or return them for a full refund. Consumers with questions about the voluntary recall can call 866-857-8745 between 9a.m.-10 p.m. CST, or send an email to [email protected] with the subject line: Recall.
Salmonella can cause symptoms such as headache, muscle aches, diarrhea, vomiting, chills, fever and dehydration. Anyone who experiences symptoms 12 to 72 hours after eating BrightFarms brand Sunny Crunch salad produced in Rochelle should contact a health care provider and tell them you recently ate Sunny Crunch salad.
Once products have been disposed of, be sure to clean any surfaces or containers that had contact with the salad using hot and soapy water, according to the CDC.
For more information and updates on the outbreak, visit the CDC's website.
Contact Kristen Thometz: @kristenthometz | (773) 509-5452 |  [email protected]
---