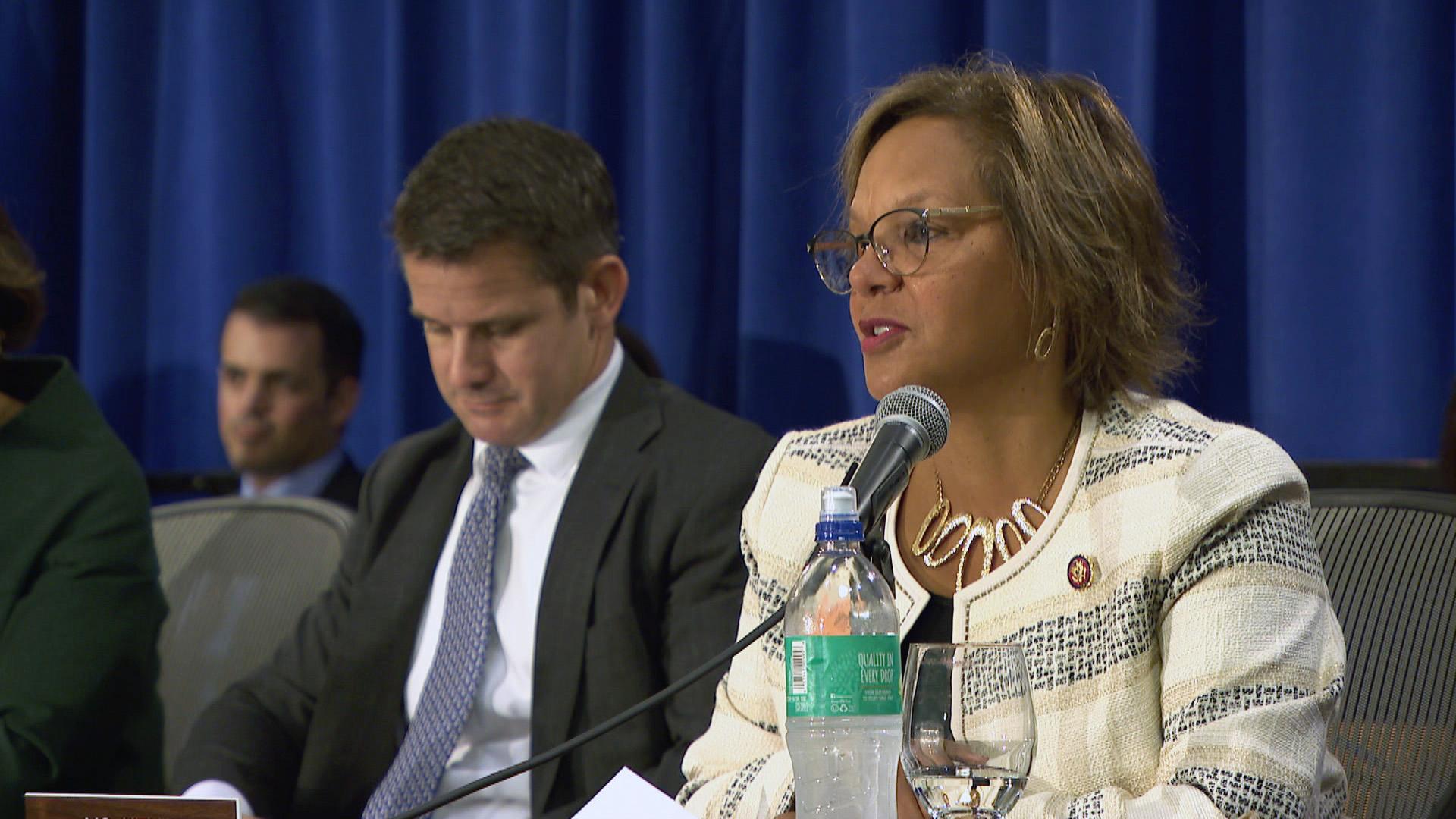 A file photo shows U.S. Rep. Robin Kelly. (WTTW News)
U.S. Rep. Robin Kelly cannot solicit campaign funds for candidates running in state contests as the head of the Democratic Party of Illinois, the Federal Election Commission ruled Thursday.
Instead, the party can create a separate committee to seek campaign cash, the commission decided in a 5-1 vote. Kelly, who represents a congressional district that stretches from Chicago to suburban Matteson, can have no role in creating or overseeing that committee, according to the ruling.
The ruling resolves the issue that complicated Kelly's upset win over Ald. Michelle Harris (8th Ward) in March after former House Speaker Michael Madigan resigned amid a wave of scandal. As a federal elected official, Kelly is prohibited by federal election laws from raising or spending money for state or local races unless those activities follow restrictive federal laws.  
During the contest, Kelly vowed to overhaul "the autocratic model" imposed by Madigan on the state party. Instead, Kelly promised to create a "more inclusive decision-making model" that would ensure she complied with federal law.
The ruling by the commission Thursday will allow Kelly to do just that, she said in a statement.
"As the first woman and first woman of color elected to chair [the Democratic Party of Illinois], I believe that a broader coalition of perspectives can only strengthen our party and help us elect more Democrats up and down the ballot," Kelly said.
In the coming days, Kelly said she would ask the state party's Central Committee to approve her plans to create the Building Leadership, Unity, and Equity Illinois Fundraising Committee, to be known as BLUE, "which will have complete responsibility for the state account's operations and activities, including the state account's fundraising and spending," according to a statement from party officials.
Kelly can still raise money for Democratic candidates for the U.S. House of Representatives and the U.S. Senate.
Even though he voted in favor of the ruling, Commissioner Trey Trainor, of Texas, said he thought it was "very significant that we are excluding the first African American woman to ever hold this position in Illinois from engaging in" fundraising efforts.
"Essentially, what we're doing in this advisory opinion is turning the party chairmanship in Illinois into a purely honorary role, without the power to direct a very large portion of the activities that the Democratic Party of Illinois engages in," Trainor said.
Commissioner Ellen Weintraub cast the lone vote against the decision, saying a federal office holder should not lead an organization that raises funds in a way that does not comply with federal regulations.
"I believe there are certainly many ways that the congresswoman could serve her party and be actively involved in most aspects of its activities," Weintraub said.
Contact Heather Cherone: @HeatherCherone | (773) 569-1863 | [email protected]
---