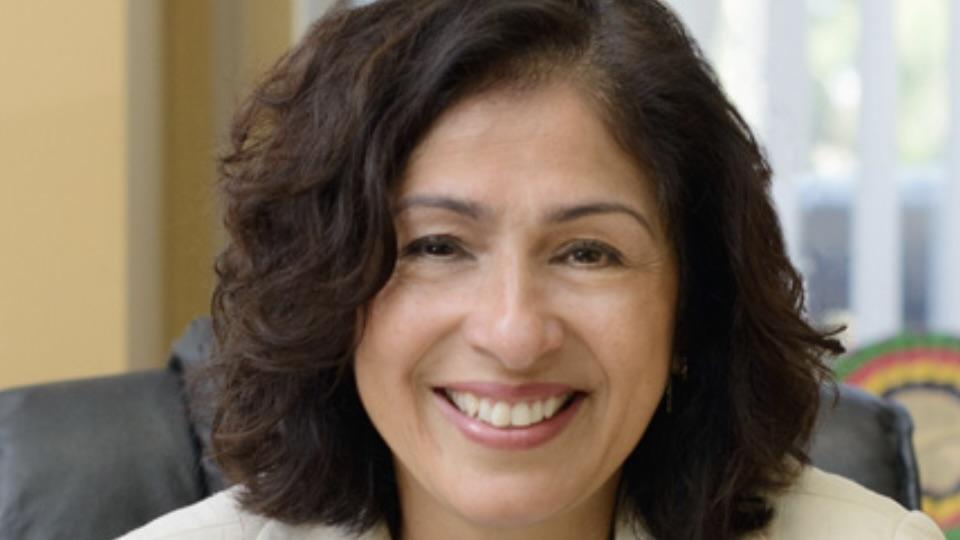 State Rep. Elizabeth "Lisa" Hernandez. (Provided)
State Rep. Elizabeth "Lisa" Hernandez (D-Cicero) is set to be elected the next chair of the Democratic Party of Illinois on Saturday, becoming the first Latina elected to lead the state party after a bruising contest against U.S. Rep. Robin Kelly, D-Matteson.
Kelly dropped out of the contest Friday afternoon, acknowledging her bid to serve a full four-year term as chair of the Democratic Party of Illinois, known as the DPI, "will come up just shy of the necessary majority."
"I was elected as the first woman and the first Black chair of the DPI because of my vision for an inclusive, diverse, and people-first party," Kelly said in a statement. "Serving as chair has been a true honor, and I could not be more proud of my staff, my supporters and all Democrats across the state who joined in building a stronger DPI."
Gov. J.B. Pritzker handpicked Hernandez to replace Kelly, saying she could not raise enough funds to compete with Republicans in November's general election.
Hernandez did not respond to requests for comment from WTTW News Friday.
Pritzker's victory in the race to lead the state party came 16 months after Kelly defeated Ald. Michelle Harris (8th Ward), the governor's choice to replace disgraced House Speaker Michael Madigan, who resigned amid a scandal that would eventually lead to his indictment on 22 counts of corruption.
Kelly, who had the backing of U.S. Sen. Dick Durbin, D-Illinois, and Mayor Lori Lightfoot, will not serve as federal co-chair of the party, and focus on candidates for federal candidates, as proposed by Pritzker, according to source familiar with Kelly's plans.
In a statement, Durbin praised Kelly and called Hernandez "a friend" and wished her well.
The intraparty dispute complicated efforts by Illinois and Chicago officials to convince the Democratic National Committee to pick Chicago to host the 2024 convention.
The decision by U.S. Rep. Jesus "Chuy" Garcia, D- Chicago, and state Rep. Delia Ramirez, D-Chicago, to announce Friday morning they would back Hernandez sealed Kelly's defeat.
Ramirez is the Democratic nominee in the race to represent the new 3rd Congressional District.
In a joint statement with state Sen. Christina Castro, D-Elgin, Ramirez and Garcia said they would back Hernandez because of her commitment "to building a party rooted in diversity and inclusion." Because of the share controlled by those three committepeople, Kelly could not prevail.
Castro was Garcia's initial pick to lead the state party in March 2021, but she bowed out and backed Kelly along with Garcia.
A member of Speaker Emanuel "Chris" Welch's leadership team in the Illinois House, Hernandez also had his backing.
Kelly's leadership of the Democratic Party of Illinois was complicated by a ruling by the Federal Election Commission prohibiting her from soliciting campaign funds for candidates running in state contests.
As a federal elected official, Kelly is prohibited by federal election laws from raising or spending money for state or local races unless those activities follow restrictive federal laws.
Kelly created a separate committee to raise campaign cash, and told reporters Tuesday that the system has been working well, and the party was prepared for the November general election.
But Pritzker — the party's largest donor — told reporters that system has created "challenges" and could complicate efforts to maintain the Democratic Party's supermajorities in the Illinois House and Senate while winning the two seats up for grabs on the Illinois Supreme Court.
Hernandez was elected with Pritzker's backing to the 34-member State Central Committee in last month's primary election.
That committee, which has one man and one woman from Illinois' 18 congressional districts, will meet Saturday to elect Hernandez, who is now the only candidate in the race. Each member has a share of the vote based on how many Democratic ballots were cast in their districts during the June 2022 primary election.
Contact Heather Cherone: @HeatherCherone | (773) 569-1863 | [email protected]
---