It's been widely reported that Black and brown communities have been disproportionately affected by COVID-19 — in both their physical and mental health. 
We take a look at the stigmas surrounding mental health in the Latino community, and what some people are doing to break those generational barriers.
TRANSCRIPT
Ozzy Gamez, Plant Shop Chicago: Growing up we didn't really speak out about how we felt or why you felt things, and often now, as a grown-up, I know I feel something, but I don't know what it is or don't know how to explain it to someone else.
Joanna Hernandez: For the last four years, Ozzy Gamez and his partner Juan Quezada have been running Plant Shop Chicago in the Albany Park neighborhood. Gamez was born in Belize, surrounded by nature, and came to Chicago as a child. He never imagined that 31 years later he would find his way back to his roots.
Gamez: I started going to garden centers and visiting their houseplant section … I saw that it helped me clear my mind, pause and leave work at work and come home to my home, to my family. I wanted to take that and put my own twist into it, recreate it and offer it to whoever wanted to come in.
Hernandez: Gamez says nurturing plants is a form of therapy for him, something he's also noticing among his customers: plants helping them with their mental health.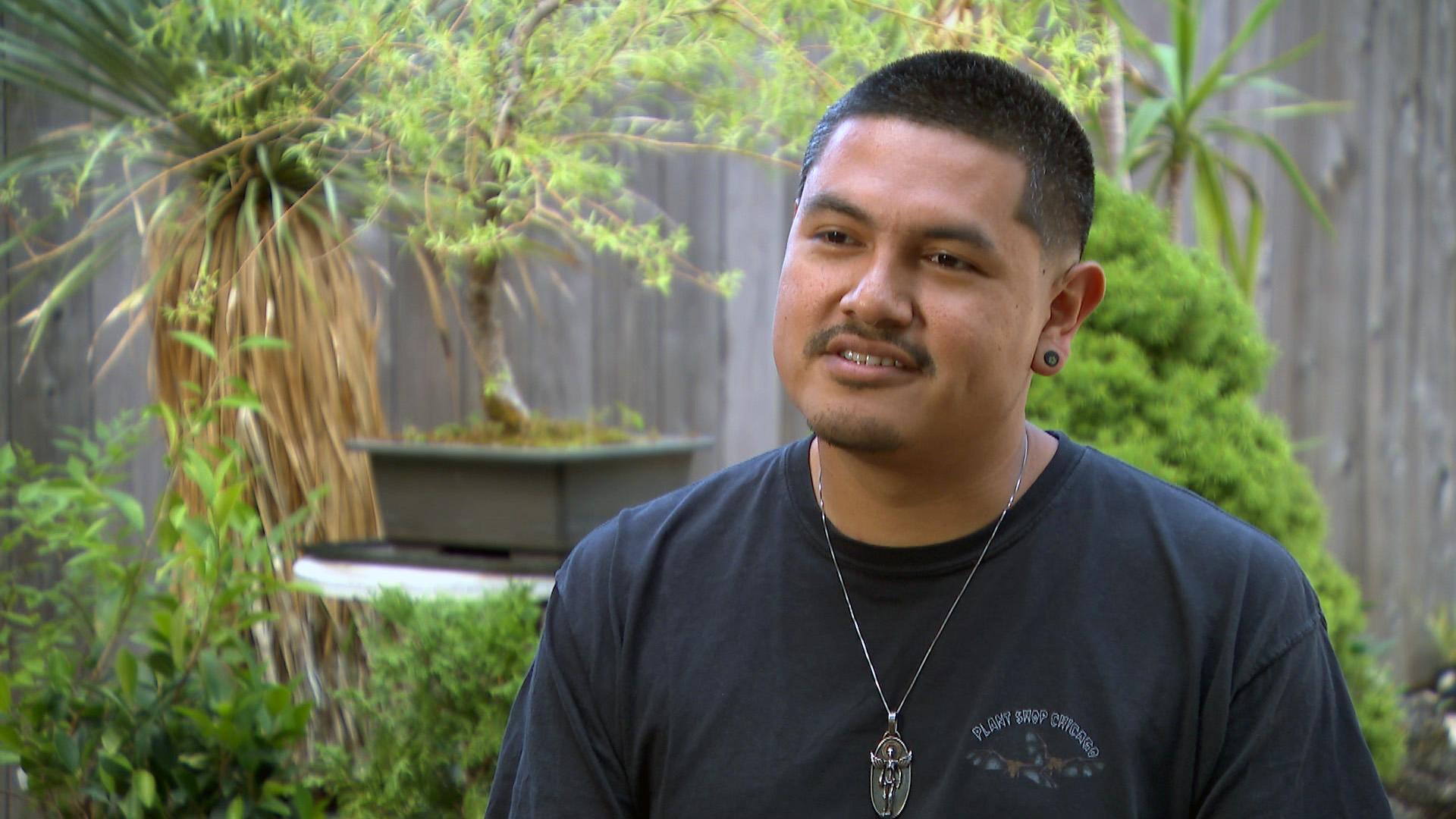 Ozzy Gamez of Plant Shop Chicago. (WTTW News)
Gamez: Now that things are reopening back up you see a new wave of people saying plants got them through quarantine … otherwise they don't know what they would've done, and having those conversations with people you hear stories and they tend to share things.
Hernandez: Ernestia Perez, a licensed clinical therapist, has made it her mission to help remove the stigma around Latino mental health.
Ernestina Perez, LCPC: A lot of it was not having the language to express what was happening. For example, if somebody is depressed maybe it's not seen as that — especially back then. There was no real language to say that I'm feeling stuck or sad or my mood is down because of something that happened to me.
Hernandez: Last year she founded Latinx Talk Therapy on Michigan Avenue where she also offers immigration evaluations with a team of bilingual therapists.
Perez: The idea is to really be able to reach out to the community and people be able to see themselves in us and say, "Oh maybe I could try it, that person looks like me or they can understand me," and then people will be more open to trying therapy.
Hernandez: About 16 miles from Perez's practice, Nestor Flores, director of behavioral health initiatives at the Pilsen Wellness Center, is also on a path to help others identify the signs and symptoms of mental wellness.
Nestor Flores, Pilsen Wellness Center, Inc.: In my family, there was a tragedy. When I sought services for myself and my son, we weren't able to find any culturally sensitive services where we felt supported, where we felt seen. That really started me on this journey.
Hernandez: According to the Anxiety and Depression Association of America, only 1 in 5 Latinos with symptoms of a psychological disorder approach a doctor, and only 1 in 10 Latinos approach a mental health professional.
Perez: What happens with later generations is that all of this gets passed on through belief systems that sometimes are verbalized and sometimes are not. 
Hernandez: Flores, who has worked in Pilsen for the last nine years, says he's slowly starting to see changes.
Flores: I would say that nine-10 years ago, that was the case. There was a stigma that it was considered a service that was only needed if you were really having a mental breakdown. Nowadays we're known in the community and they know if someone is struggling with any symptom of depression, anxiety, stress, behavior with children, they can come to us.
Hernandez: The center is going a step further by recruiting therapists from Mexico and Columbia in an effort to offer a broader spectrum of services to the neighborhood.
Flores: Don't be afraid to take the first step. There's no shame in that, there shouldn't be a stigma for that and we're here to support. You are going to meet people who share similar stories like you.
Hernandez: Gamez says his journey with mental health hasn't been easy but he is taking steps to unpack those traumatic experiences.
Gamez: It takes a lot of time to explore your mental health, to explore your feelings and what you want to explain about yourself to the world. Growing up in a country that you aren't native to, you fill those empty spaces with work.
Hernandez: Gamez is creating a space for others to learn about plants while discovering his own voice in a world where he once felt silenced.
Gamez: I'm a father. My daughter is four and I think having a child kind of helps with that. That something you're teaching them and it's something they're learning. 
---