Over the past year, a small group of people experiencing homelessness have established a tent encampment in a an Avondale park known as Fireman's Park. Last week, the group was given notice that the city planned to clean the park, leaving those living there — many of whom have ties to the surrounding community — concerned they would lose their belongings and their place to live.
Juan Carlos Aviles is one of the half-dozen people living at Fireman's Park. He says that even though the city said they only need to clean the park area, past experiences have left him worried that they will confiscate his property and leave him without shelter.
"We are going to have no place to stay, we'll have to sleep on the benches or the sidewalk," Aviles said. "We're not doing nothing bad. We're not stealing."
Ald. Carlos Ramirez-Rosa (35th Ward) says his office has worked to establish a process for cleaning homeless encampments, but that process was not followed at Fireman's Park, which falls in his ward.
"Normally the city's department reaches out to us and then we do outreach together. I will go to the encampment; we will produce notices that say that this is not to displace anyone, that this is simply about cleaning up the area. The folks can move their items and we can then power wash, folks can then bring their items back," Ramirez-Rosa said. "That's not what occurred here. Our office actually found out through encampment residents, through community leaders with Avondale Mutual Aid, who found out that two Saturdays ago the city of Chicago came out with two squad cars … and said you've got to go, and proceeded to put stickers on tents, which we're told by our partners at the Chicago Coalition for the Homeless is extremely unusual and is a tactic that they have not seen in several years."
The cleaning at Fireman's Park did in fact take place Friday and went smoothly, according to community members.
The Fireman's Park community is just one of similar encampments all over Chicago, and as Illinois' eviction moratorium is set to end in just a few weeks, the number of unhoused people is expected to grow. Chicago Coalition for the Homeless street outreach organizer Ali Simmons says his organization and other homelessness advocates want to see the city put more funding behind efforts to get people like Aviles into permanent housing.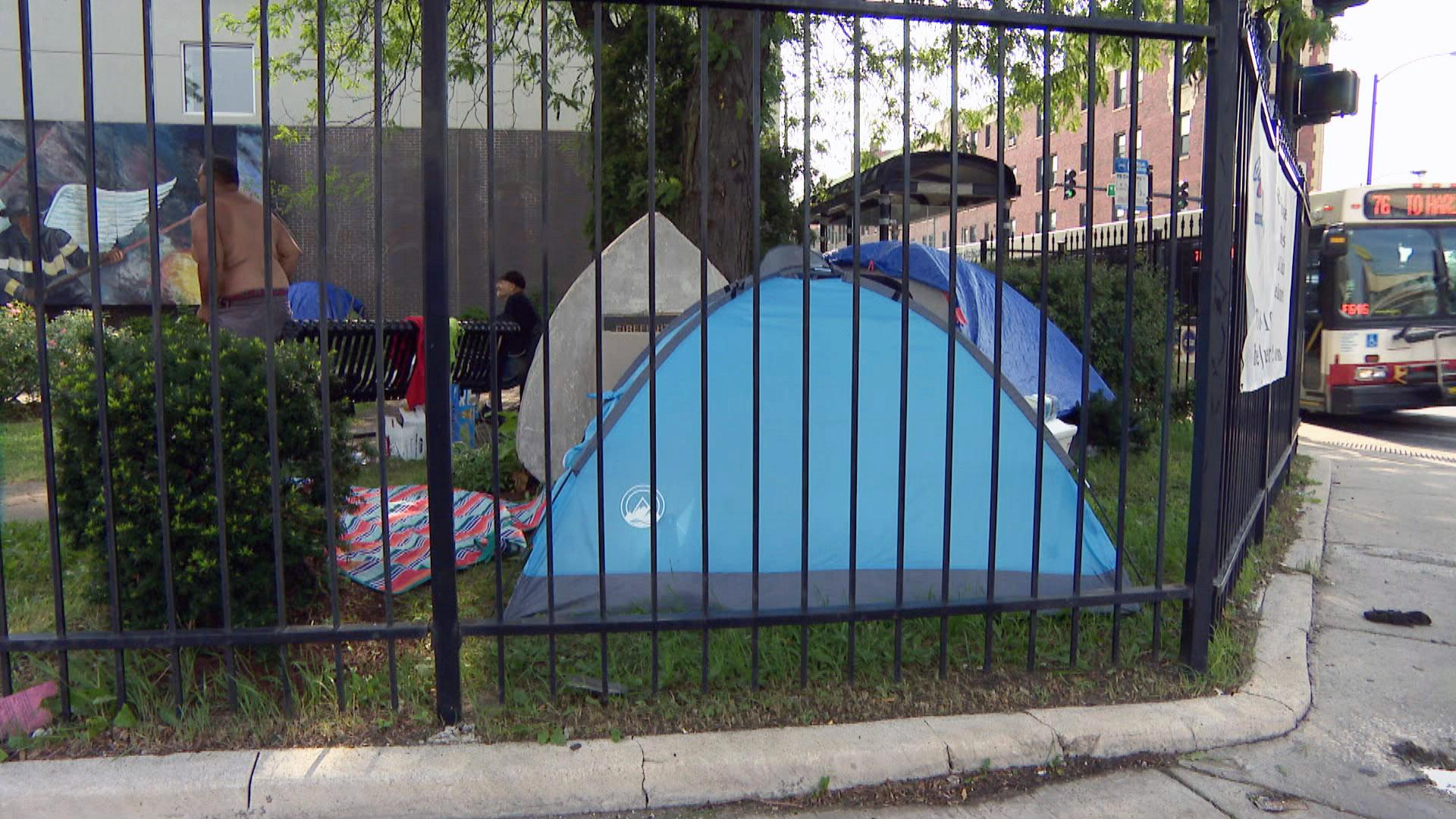 Fireman's Park in the Avondale neighborhood of Chicago. (WTTW News)
"We would like to see the city use some of the funds it received from the American Rescue Plan to rehab properties that create affordable permanent housing for people that are experiencing homelessness," Ramirez-Rosa said. "We're also trying to get a local funding stream going but dedicated specifically for 1000 people who are homeless and specifically asking that the city increase the real estate transfer tax on property … not only would it provide some type of relief in the short-term, but it's also a very plausible long-term solution to help."
The alderman says his office has had success working with the city administration to find permanent housing for residents of another homeless encampment in his ward at Belmont and Kedzie.
"The encampment used to have about 12 to 14 residents. And because of the relationships that we built, because of our ability to get DFSS out there to do concerted consistent outreach, because of the outreach from Avondale Mutual Aid that population at the encampment is now half of what it was a year ago, because people have been able to get into housing now," Ramirez-Rosa said. "The problem is that there's not enough housing available in the city of Chicago with little to no income and because some of these programs are federally funded as well, there are individuals that are undocumented that work as day laborers. They don't have a Social Security number and it becomes much harder for them to be able to get some of that housing that is available than it is out there."               
When asked what the city can do to help residents like him, Aviles puts it simply.
"We need housing. I don't got no income coming in, I don't got no money, I don't got no job. I got kicked out of the apartment that was I living in last year because I don't have the money to pay because of COVID," he said.
---