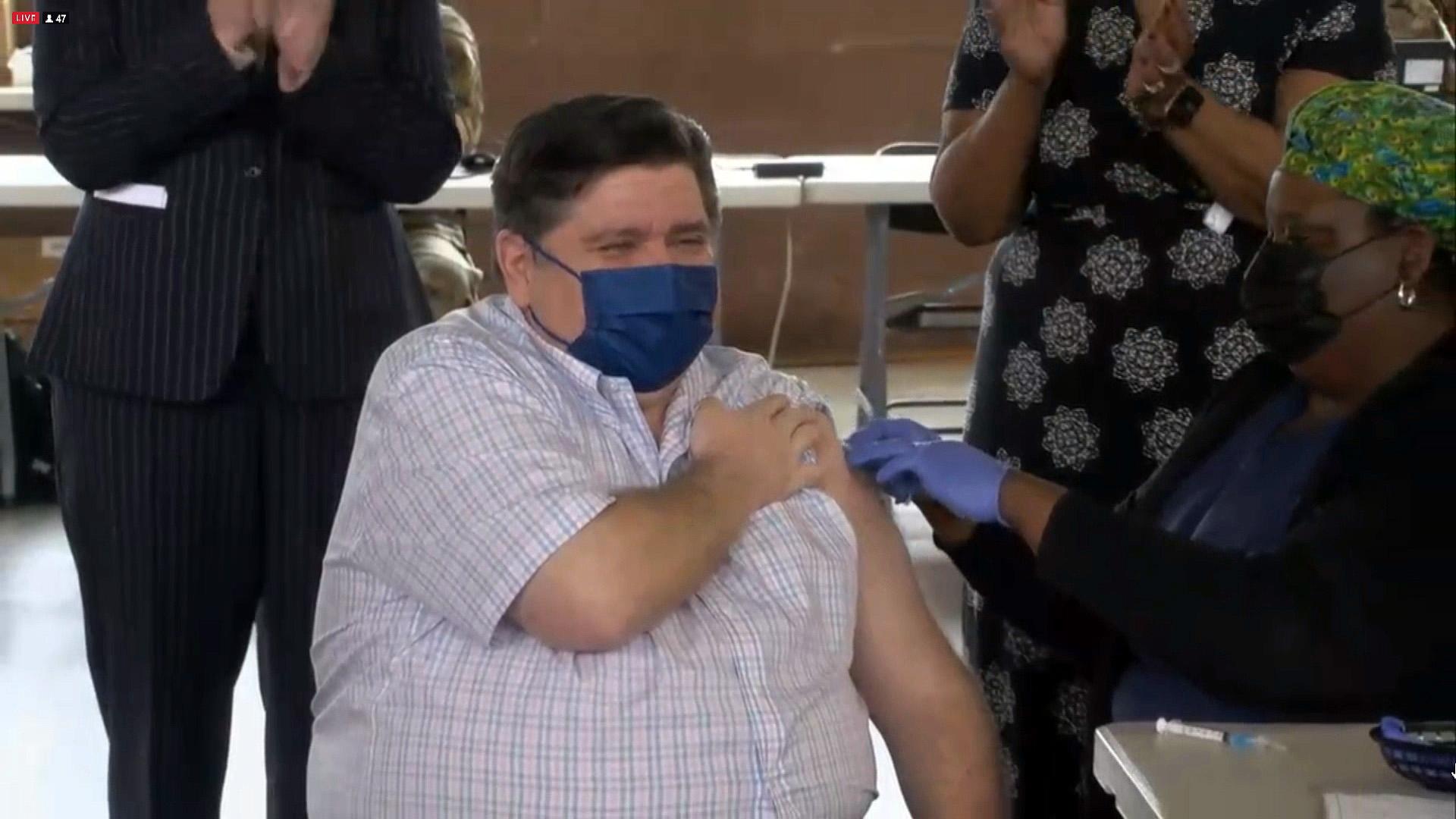 Gov. J.B. Pritzker receives the Johnson & Johnson COVID-19 vaccine on Wednesday, March 24, 2021 at a mass vaccination site in Springfield. (WTTW News)
Every Illinois resident who has gotten at least one dose of a COVID-19 vaccine will be eligible to win up to $1 million in cash or $150,000 in college scholarships, Gov. J.B. Pritzker announced Thursday.
More than 70% of Illinois adults have received at least one dose of the COVID-19 vaccine as of Thursday, according to the Centers for Disease Control and Prevention. Illinois is the first state in the Midwest to reach the goal set by President Joe Biden, who hoped to have 70% of Americans at least partially vaccinated by July 4.
Getting more Illinois residents vaccinated as quickly as possible will keep the Delta variant of the coronavirus, which was first discovered in India and believed to be highly transmissible and more dangerous, from spreading in the Land of Lincoln, Pritzker said.
Residents who receive at least one dose of the COVID-19 vaccine in Illinois will be automatically entered into the lotteries via a database maintained by the Illinois Department of Public Health, officials said. Everyone who gets jabbed will remain eligible until the lottery ends — or they win, officials said.
The first $1 million prize will be awarded July 8, along with three $150,000 college scholarships. To be eligible for that drawing, vaccinations must take place by July 1, officials said. As Illinois residents get vaccinated, they will be eligible for future drawings, officials said.
Weekly drawings will award $100,000 prizes, while regional lotteries will "ensure people from every part of the state are among the lucky winners," officials said. 
In all, the vaccine lottery will award 43 cash prizes — including three million-dollar jackpots — and 20 scholarship awards, officials said.
The final drawing on Aug. 26 will award two $1 million prizes and 17 scholarships.
Illinois residents ages 18 and older are eligible for the cash prizes, while those ages 12-17 are eligible for the scholarships, which can be used at any accredited college or university for tuition and expenses.
State employees and those who got their shots through a federal provider, like the Department of Veterans Affairs or Bureau of Prisons, are not eligible, officials said.
For more information, go to allin.illinois.gov.   
Contact Heather Cherone: @HeatherCherone | (773) 569-1863 | [email protected]
---