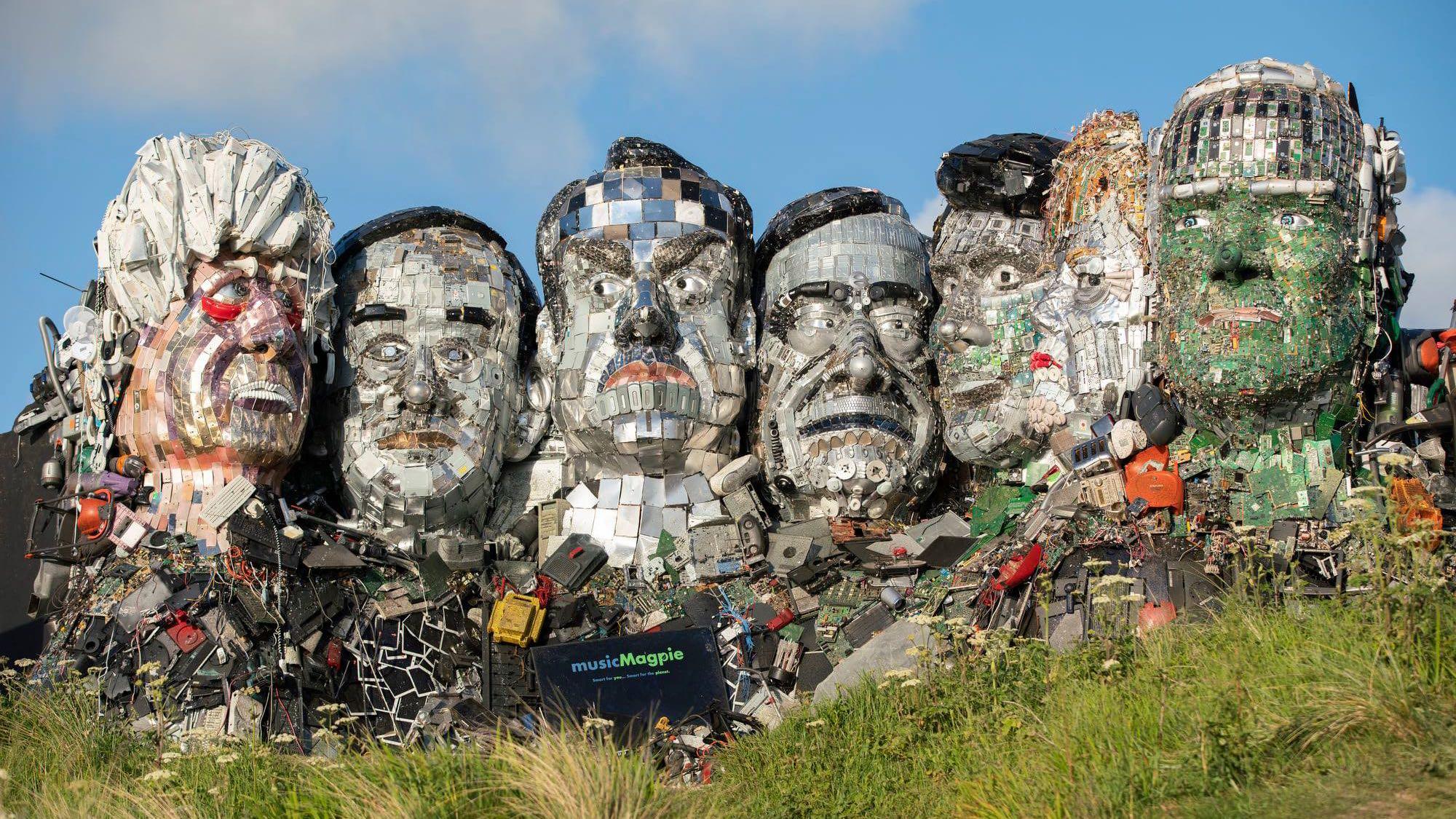 Mount Recyclemore G-7 leaders: Boris Johnson of the United Kingdom, Yoshihide Suga of Japan, Emmanuel Macron of France, Mario Draghi of Italy, Justin Trudeau of Canada, Angela Merkel of Germany and Joe Biden of the U.S. (Courtesy of musicMagpie)
Climate change is on the agenda for G-7 leaders as they gather for a summit this weekend in England, not that they could forget it, what with a giant reminder staring them in the face.
"Mount Recyclemore," a towering sculpture made from 12 tons of discarded electronic waste, has been constructed across the water from the Carbis Bay Hotel, where the summit is being held.
Each G-7 leader's head has been rendered out of e-trash, some 20,000 pieces in total. Kudos to the artists, led by Joe Rush and Alex Wreckage, for fashioning a close approximation of UK Prime Minister Boris Johnson's famously untamed thatch of hair, but Joe Biden more closely resembles the character Vision, from the Marvel Universe films.
The sculpture is a reminder that while technological innovation is often promoted as a solution to climate change, it contributes to the problem as well, whether through the mining of rare earth metals needed to build devices or the constant upgrades that render hardware obsolete.  
A UK company, musicMagpie, sponsored the sculpture. The company, which has a U.S. counterpart, Decluttr, has created a marketplace for reselling everything from CDs to gaming systems to smartphones. (Legos are now being accepted, too.)
The United Nations estimates that 53 million tons of e-waste are generated globally every year, a figure expected to double by 2050. The G-7 nations collectively produce 15.9 million tons of e-waste each year. The four worst offenders are: the U.S., 6.9 million tons; Japan, 2.9 million tons; Germany, 1.6 million tons; and the UK, 1.3 million tons.
Though "Mount Recyclemore" takes aim at G-7 leaders, artist Rush, who's collaborated with Banksy and Damien Hirst, among others, said the message is intended for everyone, not just the visiting dignitaries.
"It's not just a politicians' problem," Rush said of e-waste. "It's a problem the human race has to deal with."
Contact Patty Wetli: @pattywetli | (773) 509-5623 |  [email protected]
---