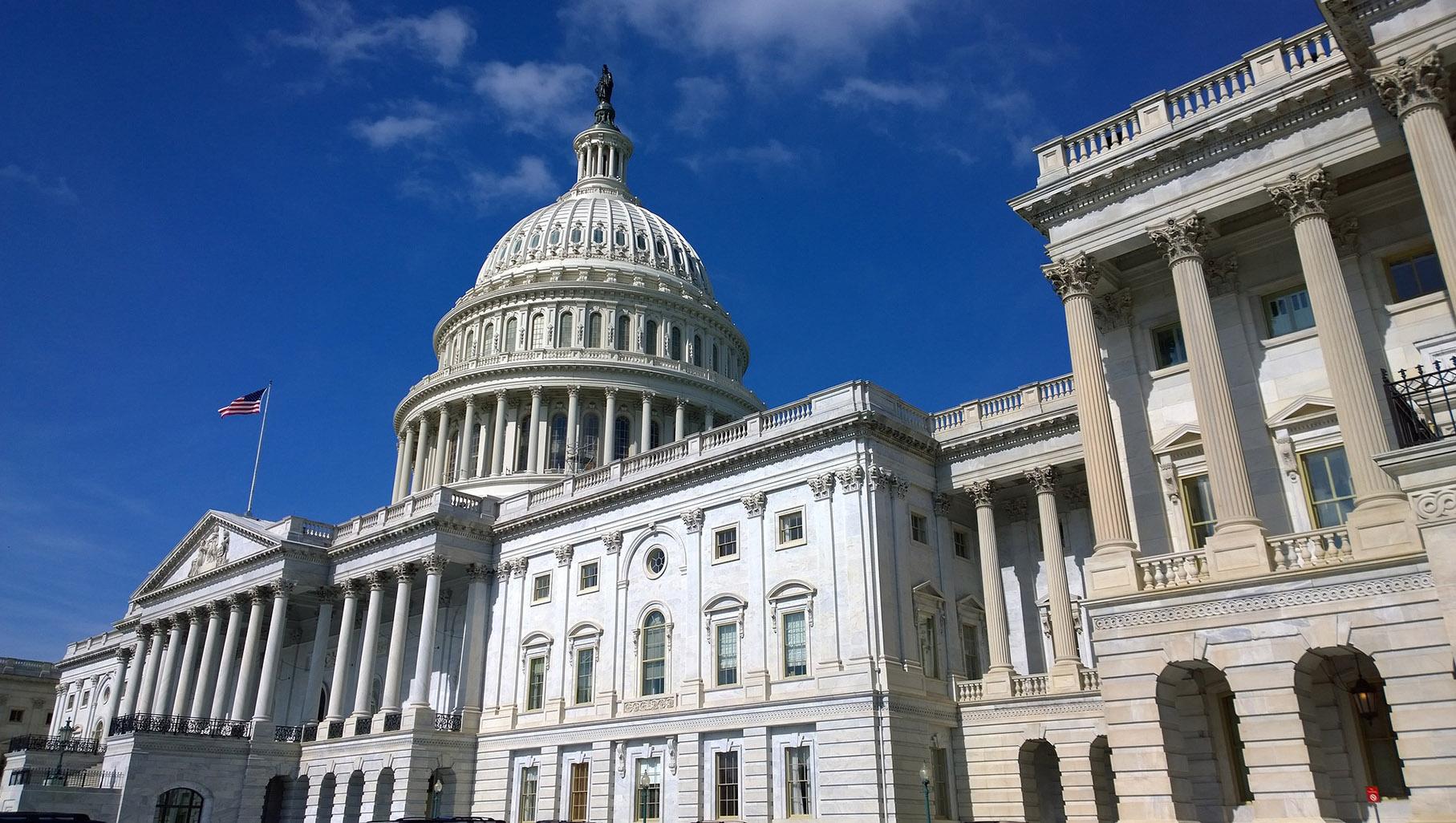 (MotionStudios / Pixabay)
A Chicago police officer is facing criminal charges in connection to the Jan. 6 insurrection at the U.S. Capitol after he allegedly sent pictures of himself from inside the office of a U.S. senator while wearing a Chicago Police Department sweatshirt.
Karol Chwiesiuk is facing five misdemeanor charges, including disorderly conduct, disrupting government business and entering a restricted building, according to a federal complaint filed Friday.
Chwiesiuk was arrested Friday morning and has been stripped of his police powers by the Chicago Police Department, his attorney said during a hearing Friday afternoon. During that same hearing, a federal judge also ordered that Chwiesiuk may not possess a firearm as part of his bond.
"The nature of the charges are very serious in my view," Judge Gabriel Fuentes said during the hearing.
According to a federal complaint unsealed Friday, FBI investigators learned a device associated with Chwiesiuk's personal Gmail account was present "near or inside" the Capitol between 2:37 p.m. and 3:24 p.m. on Jan. 6.
Geolocation data recovered by investigators shows Chwiesiuk traveled from Chicago to Washington, D.C. on Jan. 4 and was present there on Jan. 5-6 before returning to Chicago on Jan. 8, the complaint states.
In text messages to a friend on Jan. 3, Chwiesiuk said he planned to go to Washington, D.C. to "save the nation," adding that he planned to "f--k up some commies," according to the complaint.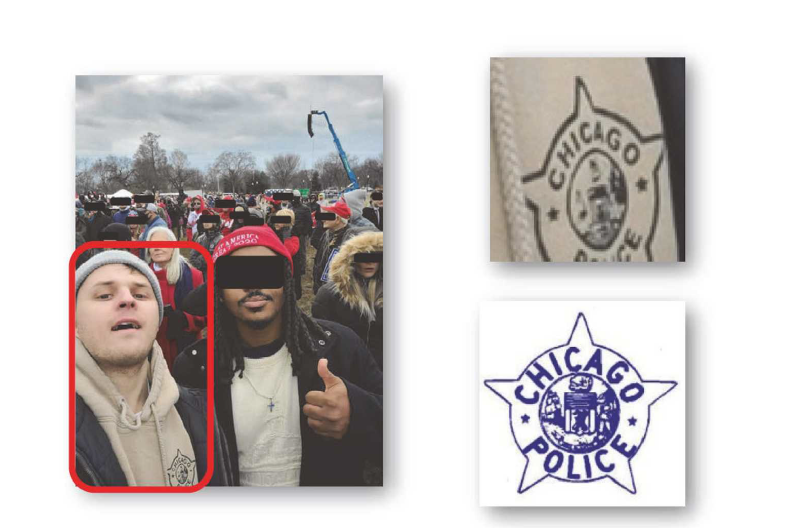 Karol Chwiesiuk in a photo he allegedly sent on Jan. 6, 2021. (U.S. Attorney's Office)
On Jan. 6, he texted the same friend that he was in D.C. and had "Knocked out a commie last night," the complaint states. Chwiesiuk also sent a photo to that friend in which he appeared to be wearing a CPD sweatshirt while standing outside.
In another text, Chwiesiuk said he "met j," which the FBI believes to be a reference to former President Donald Trump.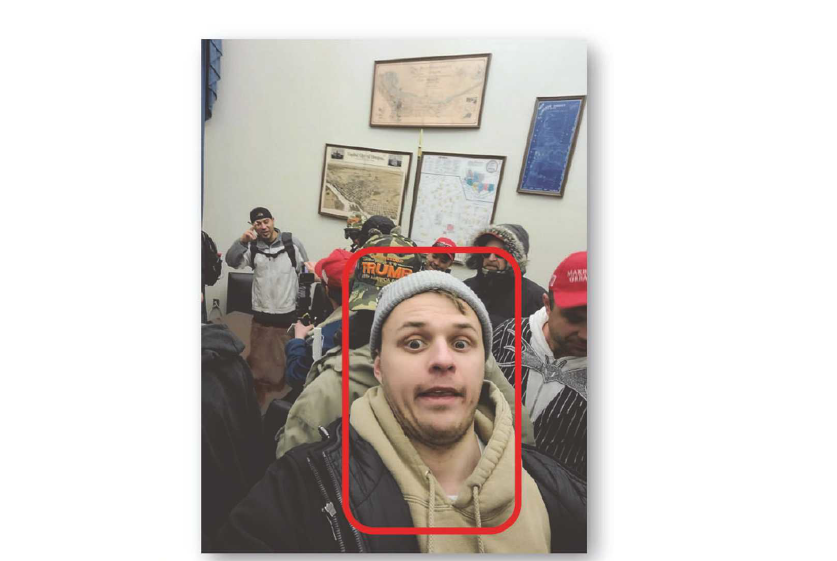 Karol Chwiesiuk in a photo he allegedly sent from inside the U.S. Capitol on Jan. 6, 2021. (U.S. Attorney's Office)
A short time later, Chwiesiuk sent a photo of himself inside the Capitol, telling the friend "We inside the Capitol lmfao," the complaint states. According to the FBI, the room Chwiesiuk took that photo in was an office belonging to U.S. Sen. Jeff Merkley, an Oregon Democrat.
Investigators also identified Chwiesiuk through surveillance footage taken throughout the Capitol building, according to the complaint.
More than 450 people across the U.S. are facing federal charges stemming from the riot. Two defendants have pleaded guilty so far.
Police Superintendent Brown confirmed that he stripped Chwiesiuk of his police powers on June 2, when he first learned of the upcoming criminal charges against the officer.
"What happened in D.C. on Jan. 6 was an absolute disgrace," he said during a press conference Friday. "The fact that a Chicago police officer has been charged in that attack on American democracy makes my blood boil, makes me sick to my stomach."
Chwiesiuk has been with the CPD for more than two years and earned $72,510 last year, according to city records.
Brown said Chwiesiuk was off-duty and on medical leave at the time of the insurrection. While the officer had no misconduct complaints in his short history with the CPD, Brown on Friday said Chwiesiuk was someone the department "never should have hired," during a hiring surge in 2018.
"If you harbor ignorance in your heart," he said, "you should take off your star now and find another line of work, or I'll do it for you."
Mayor Lori Lightfoot said she was "shattered" watching images from the Washington D.C. on Jan. 6 as "domestic terrorists … defiled our nation's Capitol building," adding that Chwiesiuk's alleged participation "brought a total disgrace" to the police badge.
"CPD should and must always hold officers accountable both on- and off-duty, and this time will be no different" she said. "This kind of behavior can never be tolerated here in Chicago, not in our police department nor anywhere else in our city. As I said before, hate has no home here. Period."
The Associated Press contributed to this report.
Contact Matt Masterson: @ByMattMasterson | [email protected] | (773) 509-5431
---