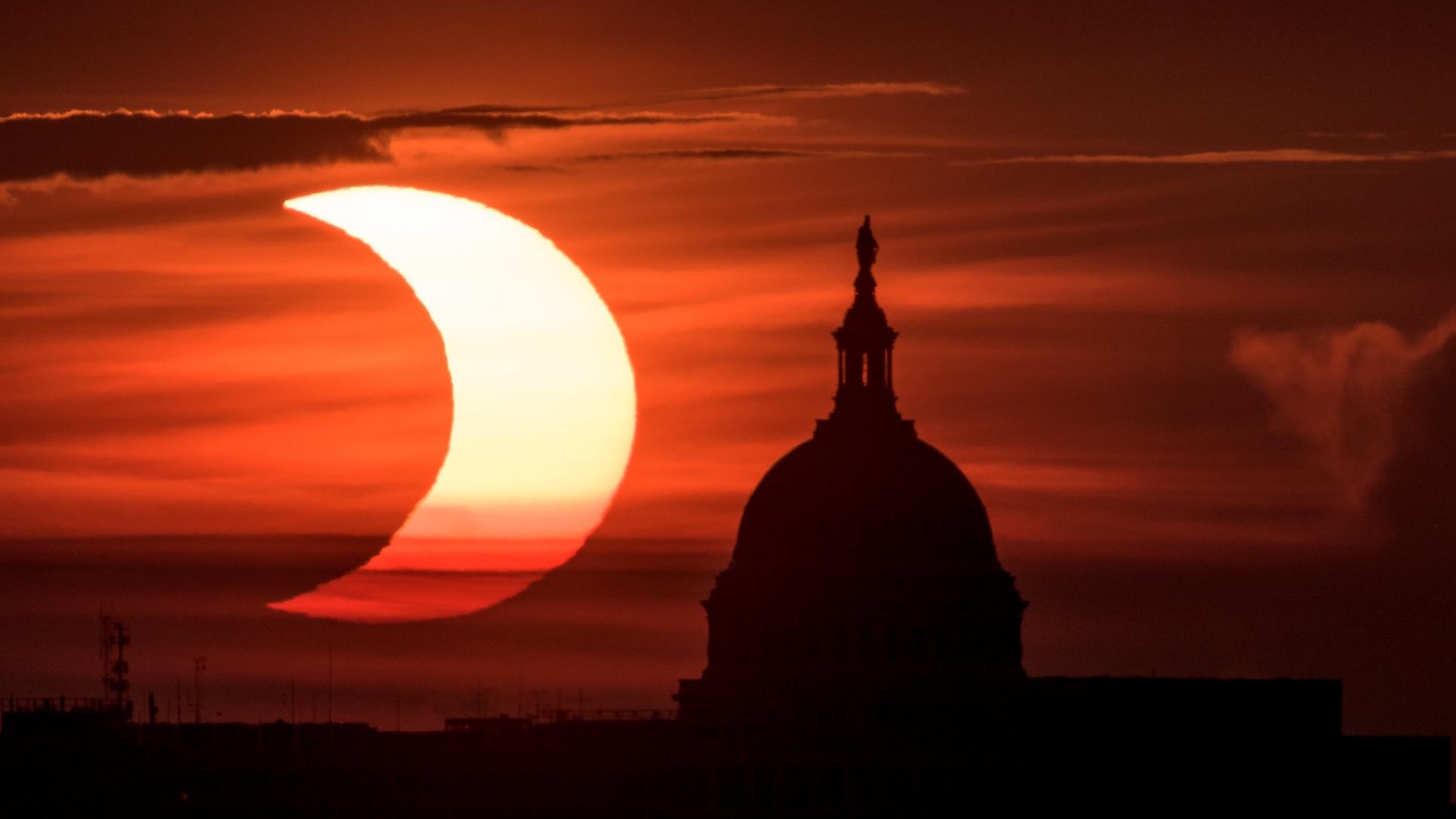 Partial solar eclipse, June 10, 2021. (Bill Ingalls / NASA)
Chicagoans' view of Thursday morning's "ring of fire" solar eclipse was over before most people were awake.
The moment of maximum eclipse — a partial 36% in the city — occurred at 5:18 a.m., and the eclipse ended here at 5:39 a.m. 
For those with a serious case of FOMO, don't worry, you weren't alone. The most dramatic "ring of fire" effect — when the moon blocks most of but not the entire sun, giving the appearance of, well, a ring of fire — was only visible to some people in Greenland, northern Russia and parts of Canada, according to NASA.
Elsewhere, people weren't so much stymied by the early hour as they were by the weather, awaking to clouds obscuring the show. Still, plenty of intrepid photographers around the world, professional and amateur alike, managed to capture at least the partial eclipse. 
The next solar eclipse will occur on Dec. 4, but the best views for that one will be in Antarctica.
Eclipsed Light House. This morning's partial solar eclipse in Chicago. #weather #news #ilwx #chicago #SolarEclipse pic.twitter.com/LB9f9Feenz

— Barry Butler (@barrybutler9) June 10, 2021
---
Today's stunning #SolarEclipse, seen just after sunrise behind the Mackinac Bridge in northern Michigan. pic.twitter.com/OSyv1Q6Iqb

— John Kraus (@johnkrausphotos) June 10, 2021
---
A few others from the annular solar eclipse as the sun rose behind the Statue of Liberty in New York City, Thursday morning. #newyorkcity #nyc #newyork @NYmediaBoat #RingofFire #solareclipse2021 #solareclipse @agreatbigcity pic.twitter.com/SY4v63y36y

— Gary Hershorn (@GaryHershorn) June 10, 2021
---
The max of the #SolarEclipse #Switzerland #Sonnenfinsternis #solareclipse2021 pic.twitter.com/LJbrOSOuws

— Blixbuller (@Skysurfer77x) June 10, 2021
---
A bit cloudy here in the UK to see today's eclipse but it's just about visible #Eclipse2021 #SolarEclipse pic.twitter.com/bQAL1Bg1Dl

— Jasper Renow-Clarke (@femtosonic) June 10, 2021
---
Contact Patty Wetli: @pattywetli | (773) 509-5623 |  [email protected]