A contest meant to inspire civic pride gets knocked off course after accusations of political scheming. But hey, this is Chicago.
Our resident crooner Geoffrey Baer is here with more on the city's rocky search for an official song in this week's Ask Geoffrey.
---
When Mayor Jane Byrne was in office, I composed a song for an "anthem" contest held by the city. Last year, I created a new arrangement and recording to give Chicagoans a boost during the pandemic. What can you tell me about the original contest, and the search for a "Chicago anthem?"
– M.J. Bergart, Edgewater
All of this started when M.J. Bergart, our question-asker, sent in a re-recorded track that he had originally written for a short-lived gem of Chicago history: an anthem contest, held in the early 1980s.
The story of the anthem contest begins in 1982, when 36th Ward Ald. Louis Farina stepped up to the podium at an official city luncheon. Since the city had no anthem, the walk-up music chosen was Frank Sinatra's rendition of "My Kind of Town" setting a sort of nightclub tone. The embarrassed Farina decided the city needed something a little more "dignified."
He was so passionate about it that he pushed a resolution through the City Council to launch an official search, which was backed by then-Mayor Jane Byrne.
After Byrne took over the contest, she assembled a search committee of 20 local composers, musicians, TV personalities and philanthropists – and put up a $5,000 prize from her campaign fund. The rules were simple: write a song that embodies the history of Chicago. The winner would get to perform in front of the City Council, and have their anthem immortalized at city luncheons and events for years to come.
The city got an overwhelming response. After extending the deadline to June 1983, the committee ended up receiving more than 2,000 submissions, spanning from polka to mariachi to blues songs – and apparently, there was quite the range in quality as well.
"About a third of them are good studio quality," The Associated Press quoted contest coordinator Anne Rashford as saying. "But some of them – we can't tell if the people have been drinking or if they're just not capable of singing plainly."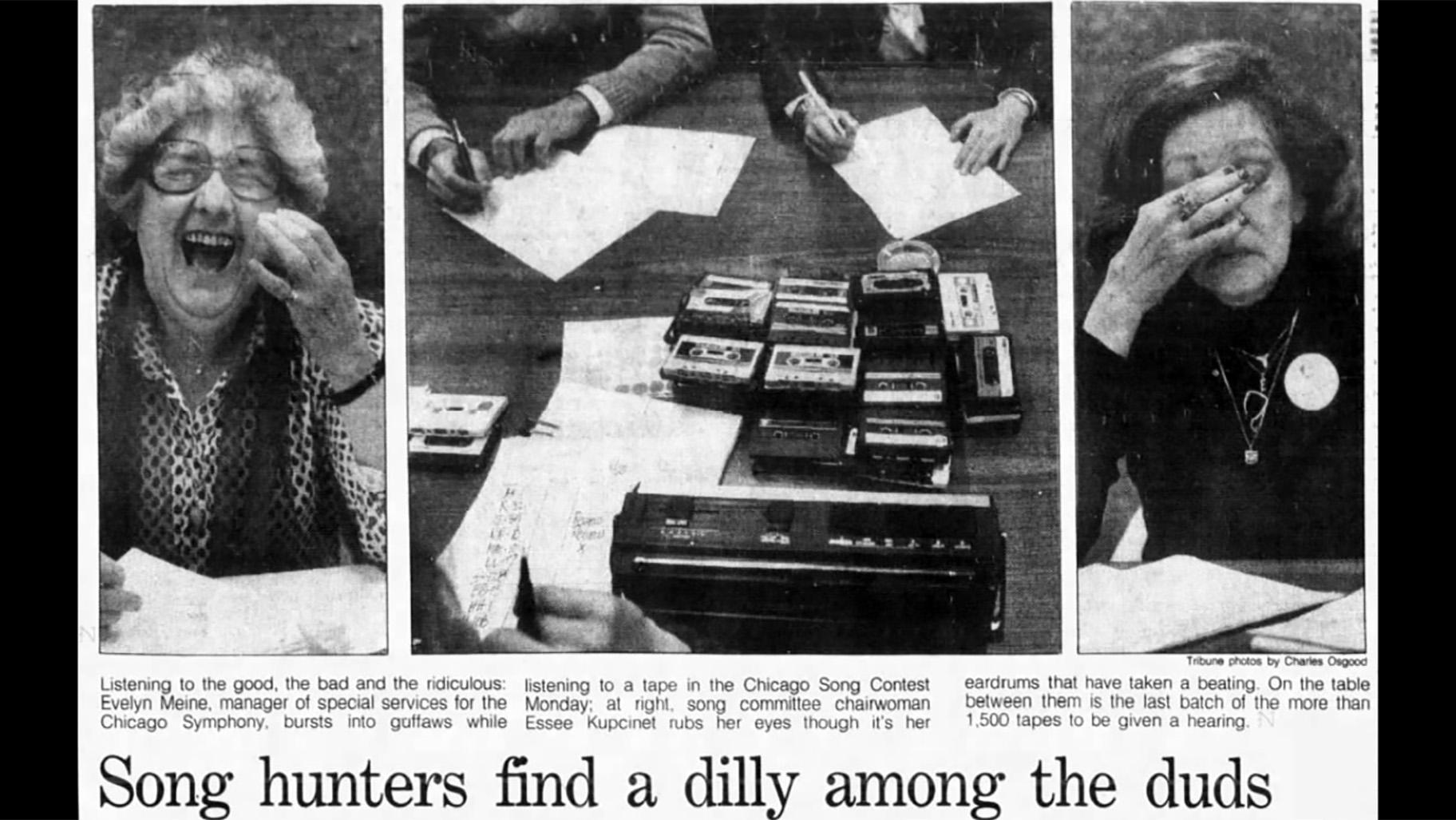 There have been several attempts to establish Chicago's anthem, none have stuck. (Courtesy Chicago Tribune)
Finally in July 1983, the judges named a winner: a freelance musician from Evanston named Jeff Jacobs, for his entry called "Song of Chicago Alive." After publication of this story, Jacobs reached out to WTTW News and sent a recording of the song. You can listen to it here:
The song ends with these lines: "Stand with the strength of the old water tower/Through hardship and victory. Tall as her skyline in pride and in power/Chicago is home to me."
But this wasn't the end of the story – this is Chicago, after all, where everything – even a feel-good song contest – seems to become political.
One challenge was that the original sponsor of the whole thing – Ald. Louis Farina – was convicted of extortion in 1983 and spent 13 months in jail.
A bigger one was that Jane Byrne lost reelection that same year to Harold Washington, Chicago's first Black mayor. The contest transferred into his administration, and according to newspaper reports at the time, Washington wasn't a fan of the winning song. After hearing it twice, he reportedly said, simply, "I am not moved," and the song was discarded.
The mayor's press secretary told The New York Times that Washington wanted a song to capture Chicago's history and diversity, specifically wanting to hear a mention of Jean Baptiste Point du Sable, Chicago's first non-native settler and a person of color.
But the contest's now jilted winner Jeff Jacobs speculated the decision was politically motivated: one of the anthem's defenders was none other than Ald. Ed Burke, one of the ringleaders of the Council Wars that pitted 29 white aldermen against Washington's entire agenda.
After that, most of the contest's judges resigned in protest, but Jacobs' song did get played on the radio as far west as California. And Jacobs says after more than a year of "wrangling with the city," he did receive the $5,000 prize money.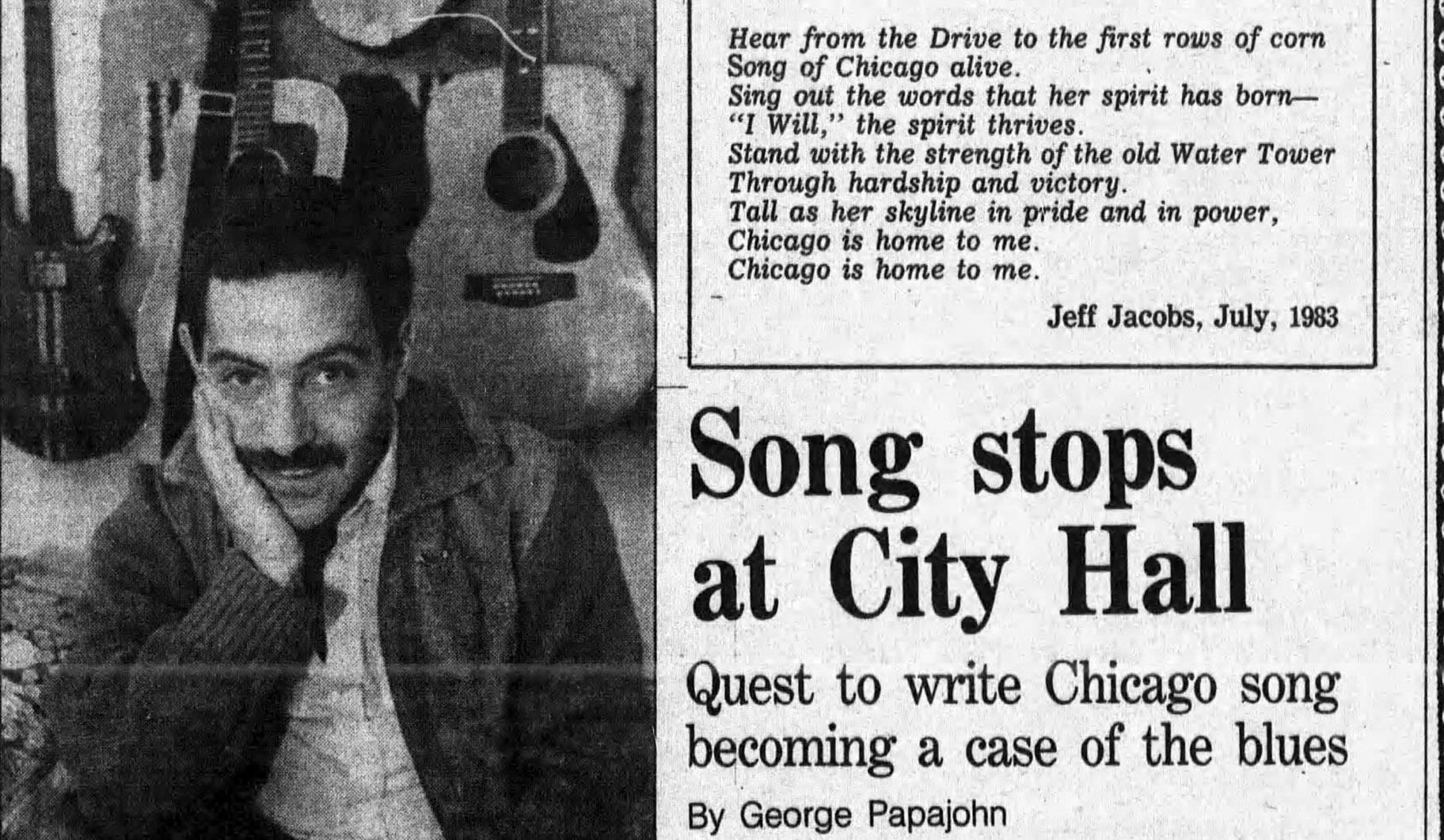 One challenge was that the original sponsor of the whole thing – Ald. Louis Farina – was convicted of extortion in 1983 and spent 13 months in jail. (Courtesy Chicago Tribune)
But this wasn't the first or last search for a Chicago anthem.
In 1921, The Herald and Examiner newspaper ran a contest searching for a city song. The winner of a $2,000 prize was something called "Hail Chicago," but it never really caught on.
And in 1985, Chicago's tourism board sponsored a contest of their own. The winner, titled "Calling Me Home, Chicago," by Paul David Wilson received substantial radio play as a single – and was even featured in a city commercial starring the one and only Rock Hudson.
There were several other attempts to establish a song after that, mostly going nowhere. But if the city decides to look again, maybe they'll give our questioner M.J. a call. And if you'd like to hear our questioner's submission for yourself, you can find it below.
---
NOTE: An earlier version of this story made an incorrect statement about the prize money awarded to Jeff Jacobs. The story has been corrected.
---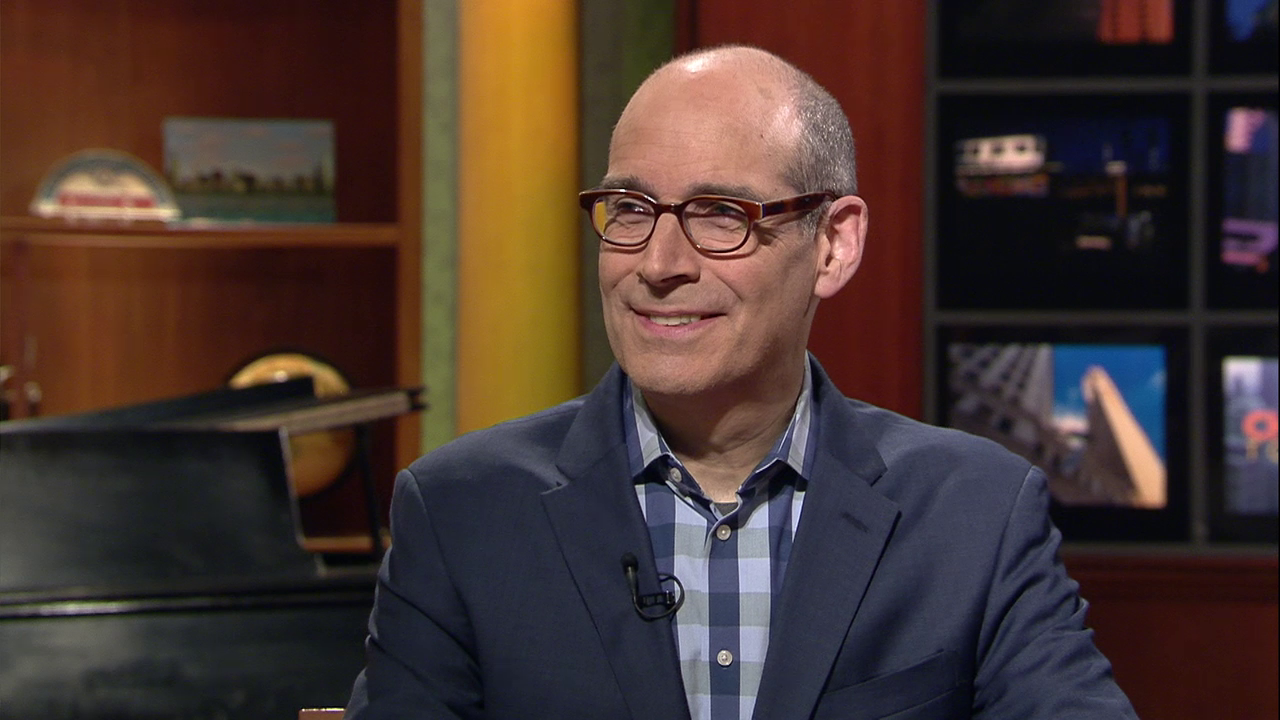 Did you know that you can dig through our Ask Geoffrey archives? Revisit your favorite episodes, discover new secrets about the city's past, and ask Geoffrey your own questions for possible exploration in upcoming episodes. Find it all right here.
Do you have a question for Geoffrey? Ask him.
---