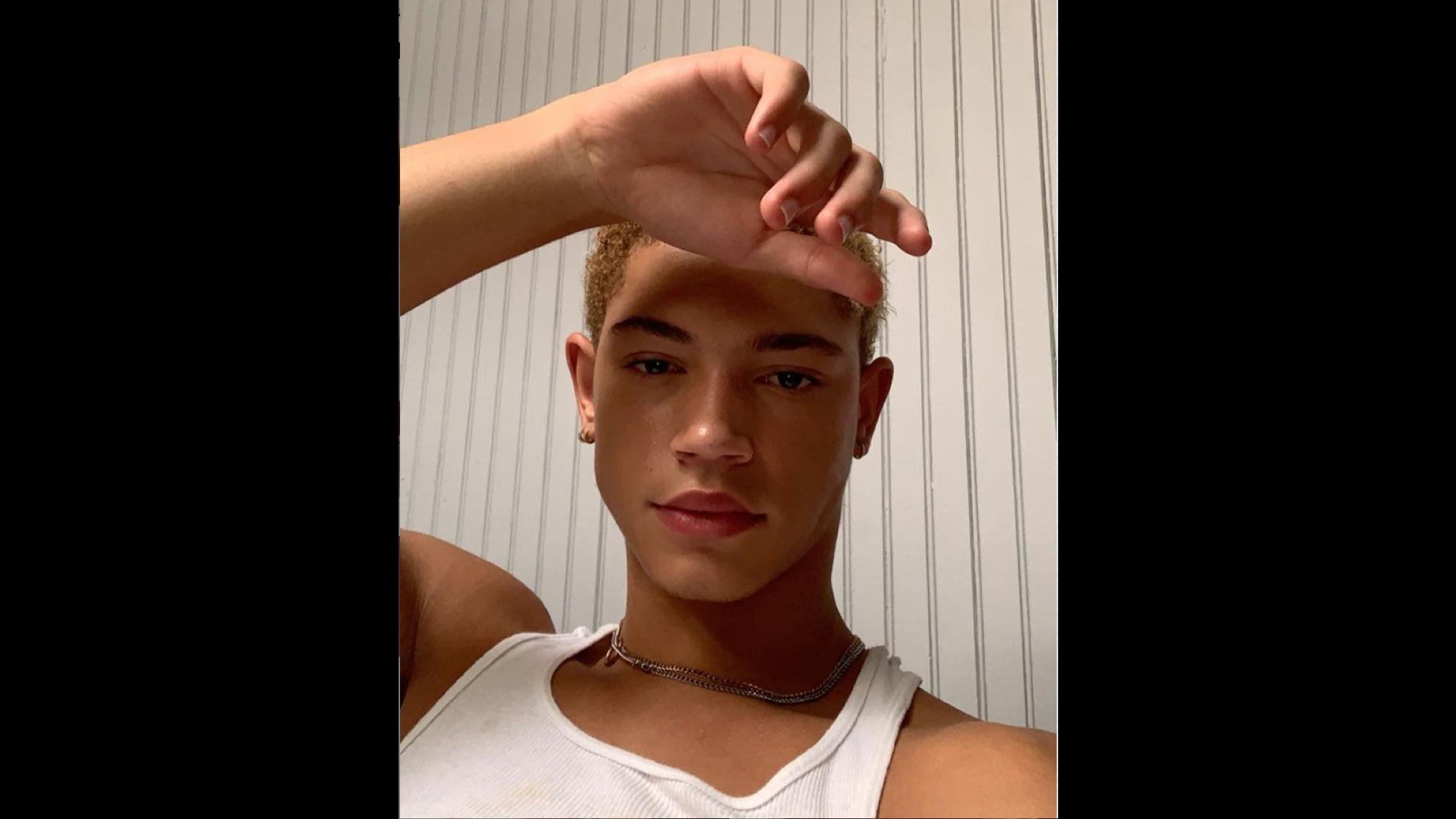 Khalil Beth, a 17-year-old model, is part of a public education campaign to address vaccine hesitancy in Cook County. (Credit: Khalilbeth / Instagram)
When Hyde Park resident Khalil Beth, a 17-year-old Ford Model, decided to get vaccinated against COVID-19, he posted a video on Instagram telling his 210,000 followers why he wanted to get the shot.
"I'm a very sociable person. I don't like not being able to hang out with people I want to hang out with," Beth told WTTW News. "I want to get to have the privileges of hanging out with other people again and getting back to normal. The only way to do that is promoting this vaccine and getting people vaccinated."
Beth is one of roughly 50 social media influencers using their platforms to share information about the COVID-19 vaccine and their own experiences getting vaccinated as part of Cook County's "My Shot" campaign targeting 18- to 34-year-olds, who are among the most hesitant to get vaccinated. 
"We were really deliberate in choosing folks who had ZIP codes inside Cook County because the hope is that their followers are primarily in the same geographic areas and live in the same neighborhoods and experience the same things every day," said Caryn Stancik, chief communications and marketing officer of Cook County Health. "That was really important to us and it's perfectly fine if they have influence beyond Cook County."
To help with the effort, Beth includes links on his Instagram page to resources about the COVID-19 vaccine so his followers can learn more about them. He even invited his followers to join him last Saturday to get vaccinated.
"I know some people wanted to meet me (and the vaccination event gave them) an opportunity to meet me and get vaccinated," said Beth, who documented his experience receiving the Pfizer vaccine on Instagram. "Most of my followers range from 13 to 28 and I just felt I … could help get people vaccinated."
Beth says that while many of his followers praised his decision to get vaccinated, some 2,000 people unfollowed him on Instagram as a result. "Losing the followers doesn't matter to me," Beth said. "I'm still promoting what I think is right."
Another local influencer sharing his story is McKinley Nelson, a 24-year-old Auburn Gresham native who founded Project sWish in 2018 as a way to curb violence and provide resources by hosting basketball games in high-crime neighborhoods.
During the pandemic, those games were paused to stop the spread of COVID-19.
"I know during this time – during the pandemic – a lot of participants in the program didn't have anywhere to go," Nelson said. "Unfortunately, we lost a lot of kids in the program due to violence."
Getting back to normal and resuming programs for 14- to 25-year-olds was Nelson's main motivation for getting vaccinated.
"I want to do my part to get back to normal, to get back to a place where we can get in the gym and we can continue to save these lives," he said. "It hurt me speaking at funerals. (Getting vaccinated) felt like I was doing my part to come back into being normal."
Nelson, who now lives in the West Loop, also looks forward to socializing at bars and clubs. "I want to hang out with people, and I want everyone around me to be safe," he said.
Like Beth, Nelson plans to share a video of his May 12 vaccination on social media. (He got the Johnson & Johnson single-dose shot.)
"I know especially for the demographic of people in Project sWish that follow me (they're) skeptical of getting the shot," Nelson said. "I wanted to lead and show them I got my shot."
By having people like Nelson and Beth share their own experiences getting jabbed, officials hope youth and young adults will be inspired to roll up their sleeves, too.
"People may say, 'If it's good enough for my friends, it's something I'll take a look at it,'" Stancik said. "The goal is to provide people with accurate, timely information so they can make the best decision for themselves."
Officials also hope their efforts to educate people about the vaccine and its possible side effects will eliminate barriers.
"One of the biggest barriers to this group is they simply don't know where to find the shot. That's part of it, educating on where to get it and vaccine side effects," she said. "Our kind of angle is the side effects of COVID are far worse than the side effects from the vaccine."
Both Beth and Nelson said they experienced minor side effects after getting vaccinated, including soreness and headache.
Nelson's message for those who haven't gotten a shot yet: "Just go do it."
Getting vaccinated is about more than about your own health, he said. "A lot of my peers, if they got (COVID-19) they'll be fine or they think they'll be fine," he said. "But they're not thinking about those around them (or) the impact of bringing it home to families and people who are older or elderly – they have a lot greater risk."
In addition to working with social media influencers, Cook County officials partnered with the Chicago White Sox to host on-site vaccinations, held ticket giveaways for Six Flags Great America and hosted college vaccination days.
The $1.5 million "My Shot" campaign launched earlier this year and is slated to run through August, but could be extended, according to officials who expect to be reimbursed for the campaign via federal funds.
Suburban Cook County residents interested in getting vaccinated against COVID-19 can go online to make an appointment or find a walk-in opportunity or call 833-308-1988 to do so.
Chicagoans can find an appointment or walk-in opportunity on the city's calendar or by calling the city's vaccine hotline at 312-746-4835.
Illinois residents can also call the state hotline (833-621-1284) to make an appointment.
Contact Kristen Thometz: @kristenthometz | (773) 509-5452 |  [email protected]
---