Illinois has a state pie (pumpkin), a state mineral (fluorite) and a state exercise (cycling). Now it has an official state microbe.
By unanimous vote, Penicillium rubens (strain NRRL 1951) was added to the State Designation Act during the latest legislative session.
Though it may have been one of the quirkier bills passed by the General Assembly, the designation recognizes the role Illinois played in the development of one of the world's great "wonder drugs," which seems particularly fitting in a year that's seen the fastest rollout of a vaccine in history.
Before the discovery of antibiotics, a harmless nick of a shaving razor could result in a deadly infection. Actually, even after the discovery of penicillin, the same was still true because the drug defied attempts at mass production.
The turning point came during WWII, when British scientists turned to their counterparts in the U.S. for help cracking the penicillin production problem. The challenge was taken up by the National Center for Agricultural Utilization Research (aka, the Ag Lab) in Peoria, where a pair of serendipitous discoveries were made.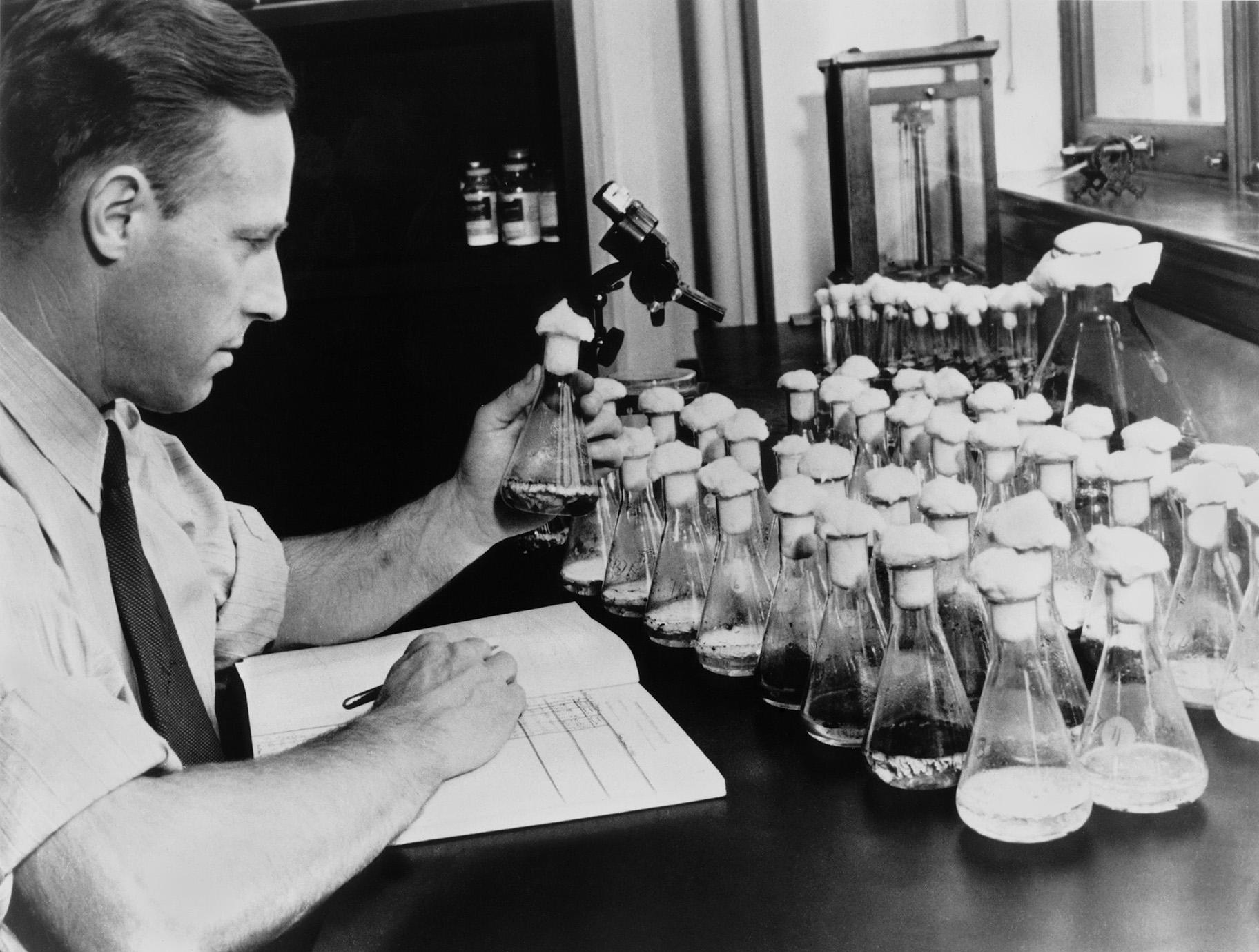 Andrew Moyer, in his Peoria laboratory, discovered the process for mass producing penicillin. (Credit: The Agricultural Research Service, U.S. Department of Agriculture)
A moldy cantaloupe, purchased at a Peoria market, contained the ideal strain of penicillium scientists had been seeking. The strain was then paired with a unique growing medium — vats of corn steep liquor, a distilling byproduct. The combination of the Penicillium rubens strain with the corn steep liquor method resulted in faster growth and larger amounts, creating the hoped-for volume of penicillin.
Production was quickly scaled up, and enough penicillin was available by D-Day in 1944 to treat wounded Allied soldiers.  
According to the USDA, the acceleration of penicillin production is still considered one of the most successful achievements of American chemists and chemical engineers.
Illinois State Rep. Ryan Spain, R-Peoria, celebrates the passage of House Bill 1879, which designates Penicillium rubens the official state microbe of Illinois, on the floor of the Illinois House of Representatives on the last day of session at the Illinois State Capitol. pic.twitter.com/HEny7Xpp0H

— Justin L. Fowler (@justinlfowler) June 1, 2021
---
Author Bill Bryson brilliantly described in "The Body" why Penicillium rubens deserves the state distinction. It's a literal life saver. It begins with moldy fruit in a Peoria lab. "Every bit of penicillin made since that day is descended from that single random cantaloupe." https://t.co/FJQvX9cjxf pic.twitter.com/W7ihRaZFjj

— Amanda Vinicky (@AmandaVinicky) June 1, 2021
---
Contact Patty Wetli: @pattywetli | (773) 509-5623 |  [email protected]