Ald. Patrick Daley Thompson (11th Ward) pleaded not guilty Thursday to seven charges that he lied to federal bank regulators and filed false tax returns in connection with a federal probe of Washington Federal Bank for Savings, a Bridgeport bank that failed in 2017.
U.S. District Judge Franklin Valderrama ordered Daley Thompson, the grandson of former Mayor Richard J. Daley, and the nephew of former Mayor Richard M. Daley and Cook County Commissioner John Daley, released on a personal recognizance bond of $4,500.
Daley Thompson did not speak during the hearing conducted by telephone because of the COVID-19 pandemic except to answer direct questions from the judge with a yes or no.
However, Chris Gair, the alderman's attorney, said he was eager "to get to trial and clear Mr. Thompson's name as soon as that is possible."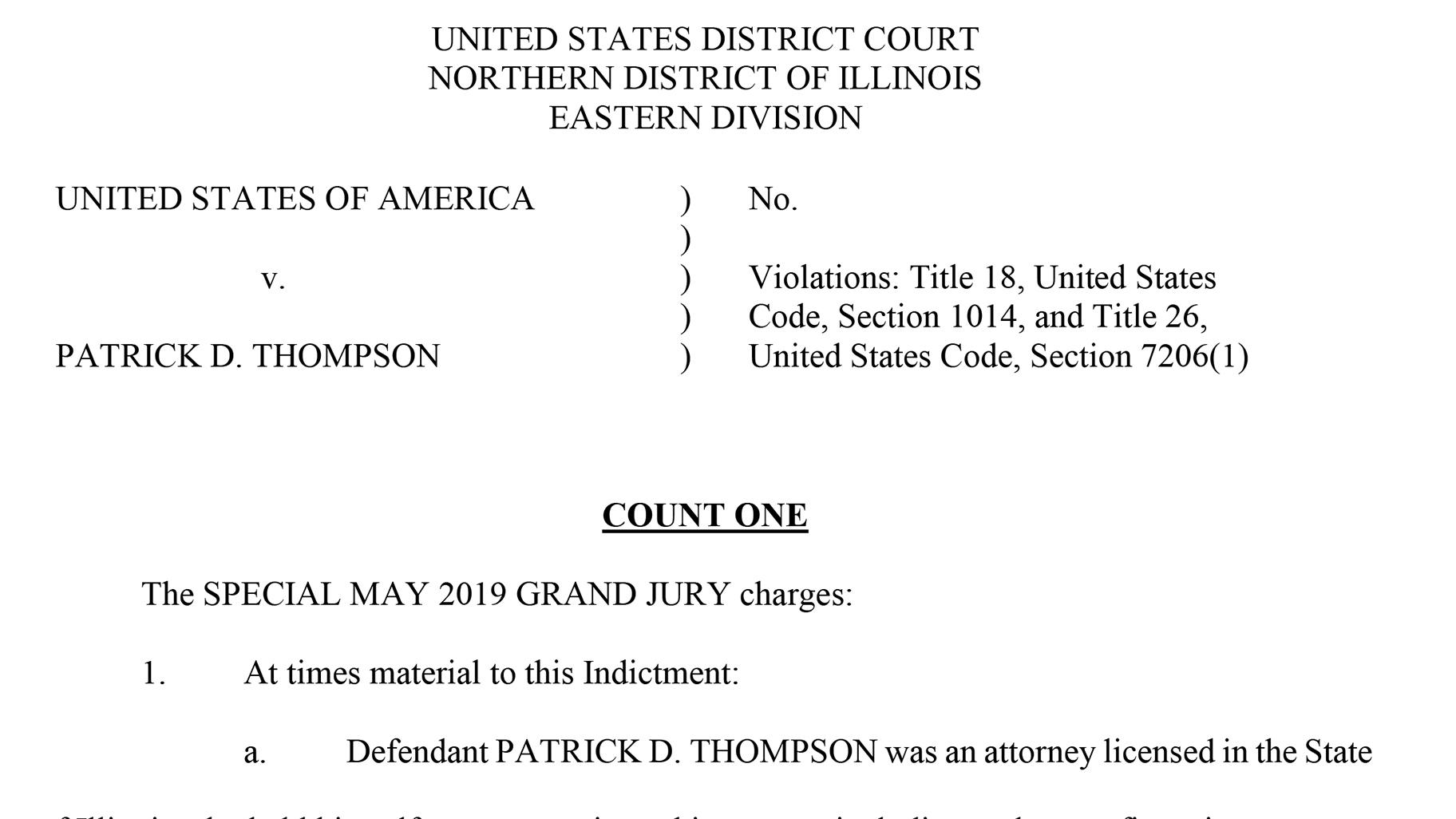 Document: Read the indictment The next hearing in the case is scheduled for June 10, and Valderrama said he would consider setting a trial date during that hearing. Trials have been repeatedly postponed because of the pandemic.
The seven charges faced by the alderman involve a "grand total" of $15,000 in taxes over five years, Gair said.
"This is a very small tax case that the court will soon learn is simply a mistaken deduction taken as part of the tax preparation process," Gair said.
However, Assistant U.S. Attorney Brian Netols said Daley Thompson could face significant jail time if convicted of the charges he faces and disputed Gair's description of the case as "small."
Each false statement count Daley Thompson faces is punishable by a maximum sentence of 30 years in federal prison, while each tax count is punishable by up to three years. However, if convicted, Daley Thompson is likely to serve less time in prison based on sentencing guidelines. 
Valderrama rejected arguments from Gair that Daley Thompson should not have to turn over his passport, calling it a standard requirement for defendants facing federal charges.
Gair called that an "indignity" that should not be imposed on Daley Thompson, whom Gair called a "highly respected lawyer and city official."
Gair emphasized the alderman's ties to Chicago, and invoked the fact that Daley Thompson lives with his wife and daughter in the bungalow once owned by his grandfather, the former mayor.
The alderman's last traveled as part of a city trade delegation to China, and he has no current travel plans but should be allowed to keep his "citizenship documents," Gair said.  
"Mr. Thompson is not going to defect to China," Gair said.
Daley Thompson must also turn over his Illinois Firearms Owner Identification Card as part of the requirements for his release. The alderman has disposed of his gun, Gair said.
The indictment alleges that between 2011-14, Daley Thompson, 51, "falsely represent[ed] on five years of income taxes that he paid interest on money he received from Washington Federal, even though he knew he did not pay interest in the amounts reported on the returns." 
Daley Thompson was elected to the City Council in 2015, and re-elected to a second term in 2019. In 2012, he was elected to the Metropolitan Water Reclamation District, starting his career in politics. He is also an attorney with the firm of Burke, Warren, MacKay & Serritella. 
The indictment alleges Daley Thompson "received $219,000 from Chicago-based Washington Federal via a purported loan and other unsecured payments." 
Daley Thompson made one repayment on the loan but then stopped making payments, and he failed to pay interest on the funds he received, according to the indictment.   
Washington Federal was shut down in 2017 by federal bank regulators after they determined it was insolvent. When the Office of the Comptroller of the Currency attempted to obtain repayment from Daley Thompson in 2018, he "falsely stated that he owed only $110,000 and that those funds were for home improvement, when Thompson knew he had actually received $219,000 and that $110,000 of it was paid by the bank to a law firm as Thompson's capital contribution," according to a statement from the Office of the United States Attorney for the Northern District of Illinois. 
Ten other people, including several high-ranking former bank employees, have already been charged as part of the ongoing federal criminal investigation into the failure of Washington Federal.  
The probe into Washington Federal was first revealed by the Chicago Sun-Times in a series of reports beginning in 2019.
Contact Heather Cherone: @HeatherCherone | (773) 569-1863 | [email protected]
---