A file photo shows Ald. Patrick Daley Thompson (11th Ward) at a Chicago City Council hearing on April 12, 2016. (WTTW News)
Ald. Patrick Daley Thompson (11th Ward) was indicted Thursday on seven charges that he lied to federal bank regulators and filed false tax returns in connection with a federal probe of Washington Federal Bank for Savings, a Bridgeport bank that failed in 2017.
Daley Thompson, the grandson of former Mayor Richard J. Daley, and the nephew of former Mayor Richard M. Daley and Cook County Commissioner John Daley said he was innocent of the charges and would not resign. 
"My conscience is clear," Daley Thompson said in a statement released by his attorney Chris Gair. "I did not commit any crime, I am innocent, and I will prove it at trial." 
Daley Thompson is the second sitting member of the Chicago City Council to be charged with federal crimes. Ald. Ed Burke (14th Ward) has pleaded not guilty to 14 counts of corruption.
READ: Ald. Ed Burke 'Thoroughly Corrupt': Federal Prosecutors
Mayor Lori Lightfoot, who campaigned on promises to root out corruption at City Hall, did not immediately respond to question from WTTW News about whether Daley Thompson should resign.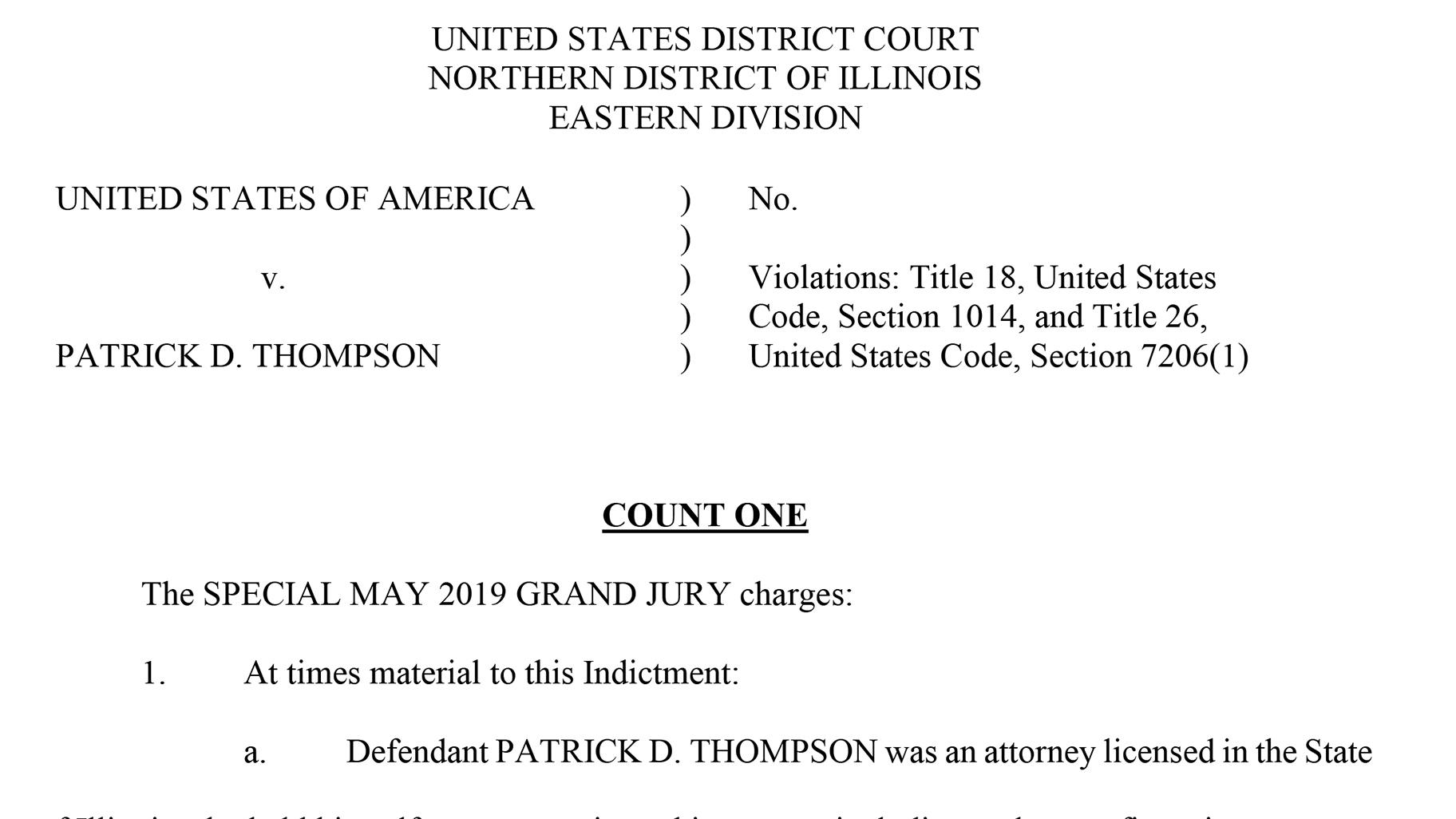 Document: Read the indictment The indictment alleges that between 2011-14, Daley Thompson, 51, "falsely represent[ed] on five years of income taxes that he paid interest on money he received from Washington Federal, even though he knew he did not pay interest in the amounts reported on the returns." 
Daley Thompson was elected to the City Council in 2015, and re-elected to a second term in 2019. In 2012, he was elected to the Metropolitan Water Reclamation District, starting his career in politics. He is also an attorney with the firm of Burke, Warren, MacKay & Serritella. 
"I am, first and foremost, a public servant," Daley Thompson said. "The charges in the indictment do not relate in any way to my public service or to my professional life. I remain 100 percent dedicated to serving the people of Chicago to the best of my ability." 
Daley Thompson has not yet been arraigned. 
Daley Thompson said he was "disappointed" by the indictment, which he said stemmed from "inadvertent tax preparation errors and my incorrect memory about the amount of a personal bank loan." 
Daley Thompson said he paid what he owed in taxes when the "error" was discovered and repaid the loan before the federal probe began. 
The indictment alleges Daley Thompson "received $219,000 from Chicago-based Washington Federal via a purported loan and other unsecured payments." 
Daley Thompson made one re-payment on the loan but then stopped making payments, and he failed to pay interest on the funds he received, according to the indictment.   
Washington Federal was shut down in 2017 by federal bank regulators after they determined it was insolvent. When the Office of the Comptroller of the Currency attempted to obtain repayment from Daley Thompson in 2018, he "falsely stated that he owed only $110,000 and that those funds were for home improvement, when Thompson knew he had actually received $219,000 and that $110,000 of it was paid by the bank to a law firm as Thompson's capital contribution," according to a statement from the Office of the United States Attorney for the Northern District of Illinois. 
Ten other people, including several high-ranking former bank employees, have already been charged as part of the ongoing federal criminal investigation into the failure of Washington Federal. 
Each false statement count is punishable by a maximum sentence of 30 years in federal prison, while each tax count is punishable by up to three years. However, if convicted, Daley Thompson is likely to serve less time in prison based on sentencing guidelines. 
The probe into Washington Federal was first revealed by the Chicago Sun-Times in a series of reports beginning in 2019. 
Contact Heather Cherone: @HeatherCherone | (773) 569-1863 | [email protected]
---