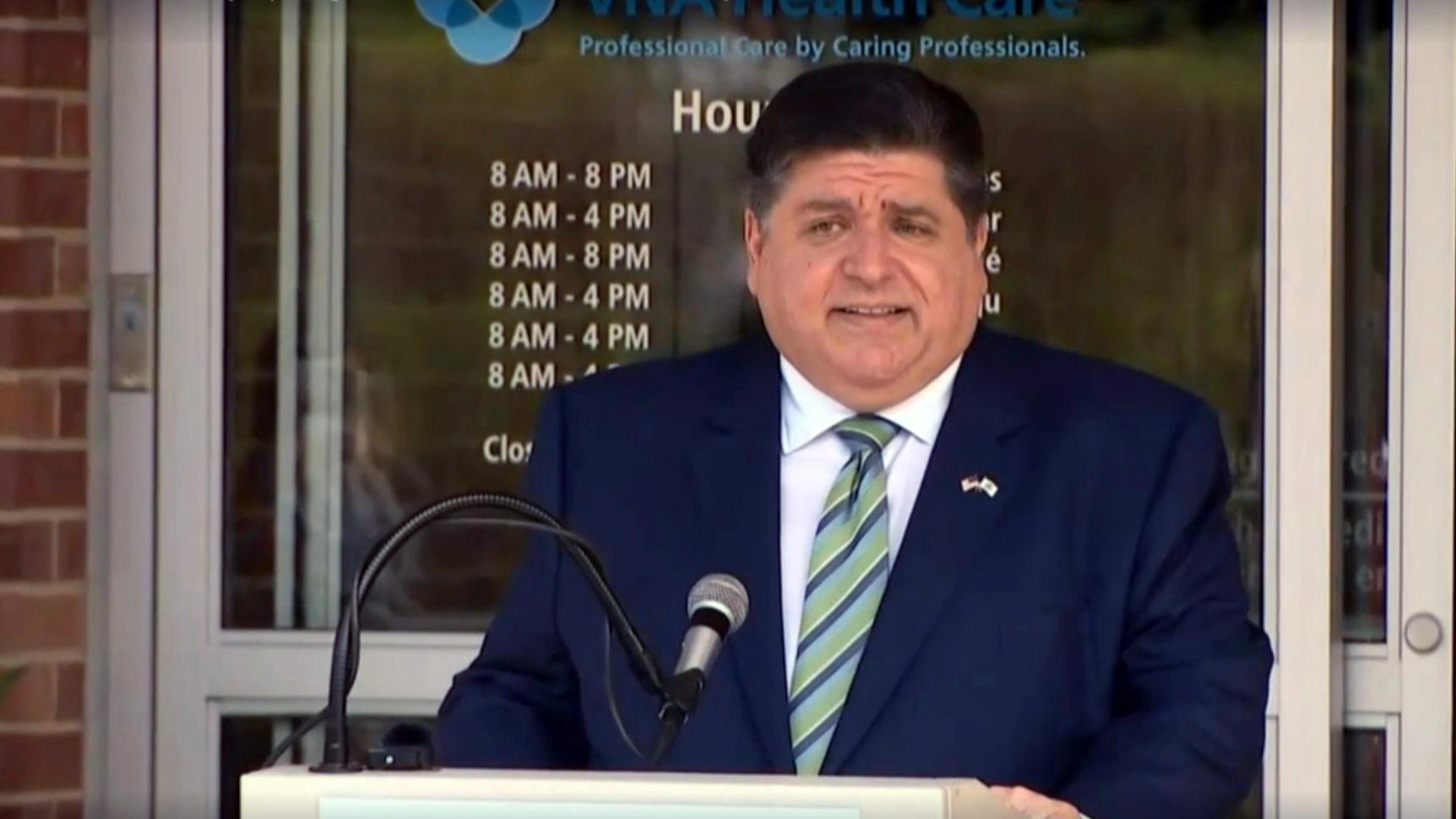 Gov. J.B. Pritzker talks about a program designed to help connect people who contract COVID-19 with resources and educate them about the vaccines on Monday, April 26, 2021. (WTTW News)
More than 1.3 million Illinois residents have contracted COVID-19 since the pandemic began last year, according to the Illinois Department of Public Health.
To help residents who become infected — or those who have concerns about the vaccine — state officials Monday announced the launch of the Pandemic Health Navigator Program.
"When someone tests positive for COVID-19, or comes in contact with someone else who has, pandemic health navigators are there, ready to assist with social service supports, personal care education, vaccine access, and even critical logistics like ensuring access to groceries and food when a person has to isolate," Gov. J.B. Pritzker said during a news conference Monday. "In short, our pandemic health navigators are a crucial part of keeping our most vulnerable residents safe, and I'm so grateful to all of them." 
The program has so far responded to 1,270 requests for assistance, with more than 96% of requests addressed within 48 hours, according to Dr. Tracey Smith, director of programs and community health at the Illinois Public Health Association.
"This new program integrates local health departments, community-based organizations and public health partners to coordinate Illinois' resources to reach the most vulnerable populations impacted by the COVID-19 pandemic through a grassroots approach," Smith said.
The program will focus its efforts on high-risk communities, including racial and ethnic minorities, foreign-born individuals, people with limited English proficiency, undocumented immigrants, people experiencing homelessness, people with disabilities and people who live in rural areas.
The program includes 65 community-based organizations and 23 federally qualified health centers across the state outside of Cook County. To date, more than 400 community health workers and regional supervisors have been hired, according to officials.
According to a Pritzker spokesperson, Chicago and suburban Cook County requested not to participate in the program, choosing instead to run their own community-based efforts. 
"This program is about one-on-one connections involving established, trusted members of the community, whether that's a federally qualified health center, a church, an LGBTQ-plus center, a senior center, or a local branch of the NAACP," Pritzker said. "These are local community organizations who know their peers, their students, their colleagues – people who speak their languages and know their neighborhoods."
While more than 29% of the state's population has been fully vaccinated, Pritzker said partnering with trusted organizations through this program is vital to addressing vaccine hesitancy.
Pandemic health navigators are "already hard at work building confidence among our unvaccinated residents, educating them about what COVID really is, what the vaccine can do for them and how they can protect themselves and their families," he said.
In addition to connecting residents with resources and educating them about COVID-19 and vaccines, pandemic health navigators help with local contact tracing efforts.
Contact Kristen Thometz: @kristenthometz | (773) 509-5452 |  [email protected]
---