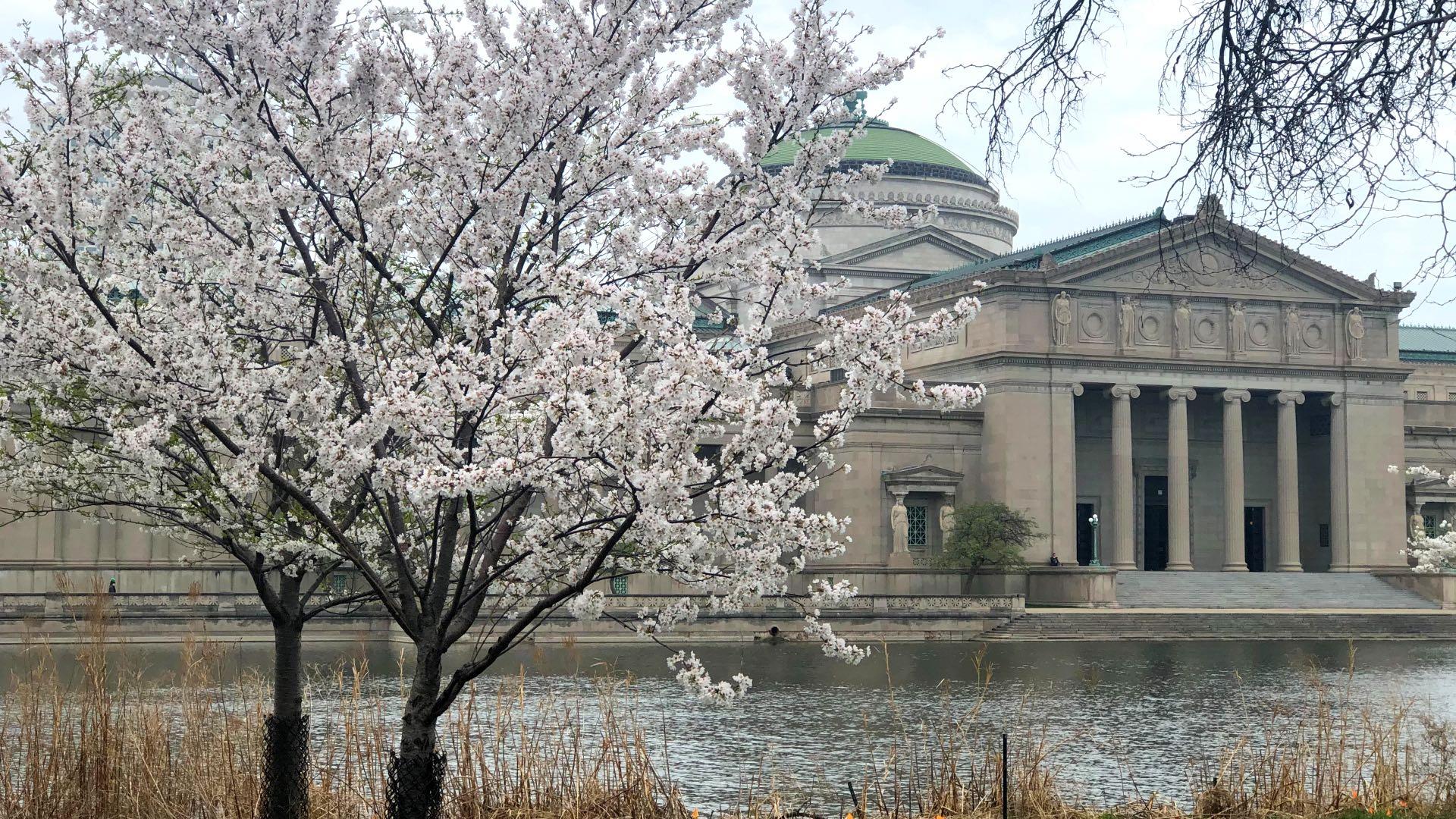 Visitors have been flocking to Jackson Park to catch the cherry trees in bloom. But when nature calls, there's nowhere to go. (Courtesy of Chicago Park District)
Thousands of visitors have been flocking daily to Jackson Park to marvel over the kind of spectacular show only Mother Nature can provide. 
They're coming to see the cherry blossoms, in what's been the first truly full-on bloom of a cluster of 170 trees planted eight years ago.
"People are coming from all over. It's just been amazing," said Louise McCurry, president of the Jackson Park Advisory Council.
Park District officials attribute the breathtaking display to the trees' maturity and the unseasonably warm temperatures Chicago enjoyed in early spring, which triggered widespread budding.
The trees rim the park's Columbia Basin area, which fans out from the south steps of the Museum of Science and Industry. The majority were planted in 2013 to commemorate the 120th anniversary of Chicago's famed World's Columbian Exposition of 1893. Though the trees have blossomed in the past, the extent of the blooms was stunted by unfavorable weather conditions.
In 2020, Chicagoans missed out on the blossoms during the coronavirus pandemic's stay-at-home order, so the Park District created a virtual tour.
There are more than 100 varieties of cherry trees, with blossoms ranging in color from white to deep pink. Four varieties were planted at Jackson Park, including the Yoshino, which has become closely associated with the annual cherry blossom festival in Washington, D.C. (For comparison, more than 3,000 cherry trees were planted in the nation's capital.)
The peak blossom period only lasts for a handful of days before the petals drop, so make plans to visit Jackson Park ASAP. 
Before You Go
There's just one catch to checking out the cherry blossoms in person. 
McCurry said a number of guests have had to cut their visits short when a different kind of nature calls and they realize there are no functioning public restrooms nearby.
There is a "comfort station" in the basin area. But the building's roof caved in when it was hit by a tree, and the structure is still blanketed in tarps and off limits to park-goers, according to Mike Kelly, Park District general superintendent and CEO.
Hopefully this other comfort station in Jackson Park, which predates the World's Fair, will also finally be repaired this summer... pic.twitter.com/k1WSPsrSJK

— Eric Allix Rogers (@EricAllixRogers) April 3, 2021
---
A repair date for the comfort station is up in the air. Depending on the amount of interior damage, it could stay closed until fall, according to officials. 
So while millions of dollars of investment are coming to the park in preparation of the Obama Presidential Center, what's topping the wish list at the moment is a Porta Potty.
Contact Patty Wetli: @pattywetli | (773) 509-5623 |  [email protected]