Chicago children's mental and emotional health has been hit hard by the coronavirus pandemic.
That's the finding of researchers at Lurie Children's Hospital, who surveyed more than 1,500 parents across the city—including all 77 community areas—about the impact of the pandemic on their child's behavior.
Among the key findings:
—Almost half of the parents spoke to their child's primary care provider about mental health concerns in the past year;
—24% said their child had used mental or behavioral services over the past year;
—18% said they were unable to access mental or behavioral services for their child.
To learn more, we spoke with Dr. Matthew Davis, chair of pediatrics at Lurie Children's Hospital. Davis co-authored a report about the survey.
The Q&A below has been edited for length and clarity.
What do you see as the key findings of the survey regarding the emotional health of Chicago children?
We found a couple of things that are really of interest. One is that 44% of the parents said that their 2- to 11-year-old children—so preschool to elementary school age children—were having symptoms of emotional or behavioral distress more during the pandemic than at any time before. Nearly half of all parents said there kids were having symptoms like more tantrums, more clinginess, difficulty sleeping, difficulty getting along with friends, nightmares, etc.
Would those be some of the key signs that a child may be suffering emotional distress? And if parents see those signs, what kind of help can they get for their child?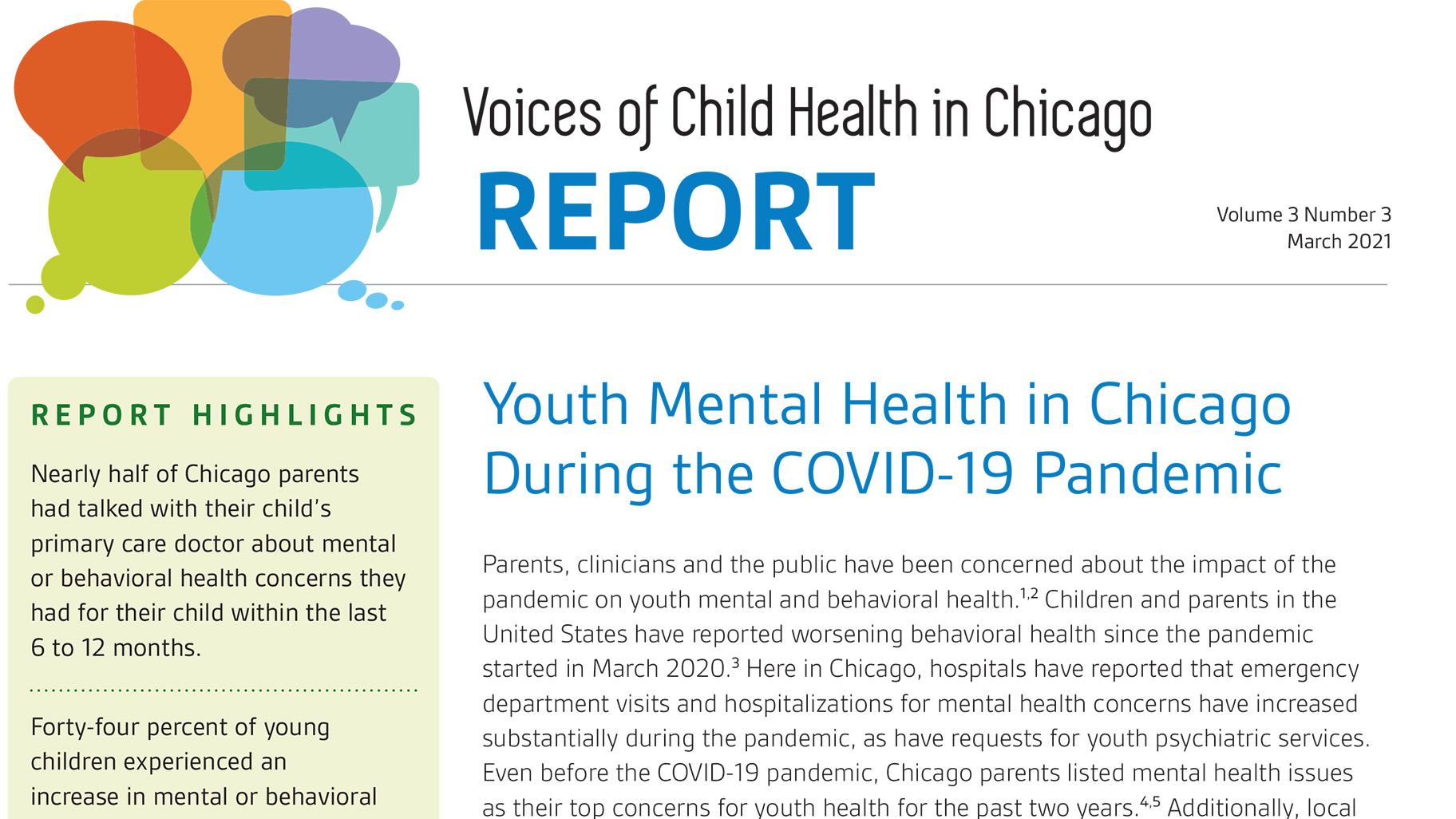 Document: Read the Voices of Child Health in Chicago Report Often the first line of help that parents turn to is their children's primary care doctor. So we also found that nearly half of parents said they had reached out to their children's pediatrician or nurse practitioner for help with these types of concerns. For kids who are really too young to put words to what they are feeling, it's often these behaviors that are the tip-off that we need to look at how we can help them.
How might older children, including teenagers, show signs of emotional distress?
For teenagers, they'll either come right out and say it in terms of expressing their emotions or we may see other symptoms such as chronic headaches, chronic abdominal pain, some symptoms of anxiety or change in mood, or oftentimes withdrawing from their family or their friendships.
So there are physical manifestations in many cases of emotional distress?
There certainly are. And then the other group that we are very concerned about at Lurie Children's Hospital are a group of kids who may have had some behavioral health concerns prior to the pandemic, and then the pandemic has made those additionally challenging. For example, children who have autism spectrum disorder for whom that routine of daily life is a really important keystone for them and their families … the complete disruption of routines has really been a challenge. 
What do you think children have found to be the most difficult over the past year? Isolation? Not being in school?
There's no question that the isolation from other children, their peers, has been immensely disruptive to what we call social and emotional learning. That school interaction with other kids is part of healthy development. And when that's been disrupted kids lose their reference point for how they are feeling about themselves and about the world around them.
We know that the pandemic has hit Black and brown communities the hardest. Is that also true in terms of the emotional and mental toll it has taken on children?
We looked at that and what we found is that the reports by parents of changes in their children's behavior were universal, similarly common among all racial and ethnic groups among the parents who responded. We did find that parents in the higher-income groups were slightly more likely to report these concerns than parents of children in lower-income households.
Do you expect these issues to ease as the pandemic is brought under control, or do you think children may have lasting emotional scars from the pandemic?
Childhood brings with it a lot of resilience and adaptability. Children by their very nature are in some ways more adaptable and more resilient than we are as we get older and more just set in our ways. So resilience is clearly an asset for many children. On the other hand, the experiences of the pandemic—either because of changes in the household or perhaps because a child has lost a family member to COVID-19—those could be long-lasting traumas. A key challenge for us in pediatrics and in the behavioral health community is to identify kids who are most at risk for that experience of trauma and the long-lasting effects it might have.
What are the key takeaways from the survey that you want people to understand? 
First of all, we want to help people understand that what they are going through is a common experience right now. It is distressing to parents, I know from being a primary care doctor myself. And what I say to them is that I know this is a very common experience right now. You are not alone. Furthermore, it's not going to be possible for us to train enough mental health care providers over the next few months to deal with all the need that we have. So instead what we need to do is to help primary care clinicians feel more comfortable and confident in managing these behavioral type of symptoms that many kids are experiencing. And number three, it's important for families to reach out to each other with suggestions for things that have worked, and fundamentally, as we open up our communities, encourage families to help kids reconnect. 
---
Resources that may be helpful to children and parents include:
—NAMI Chicago Helpline: 833 626-4244
—Crisis Text Line: text HOME to 741741
—National Suicide Prevention Lifeline: 1 800 273-TALK
---