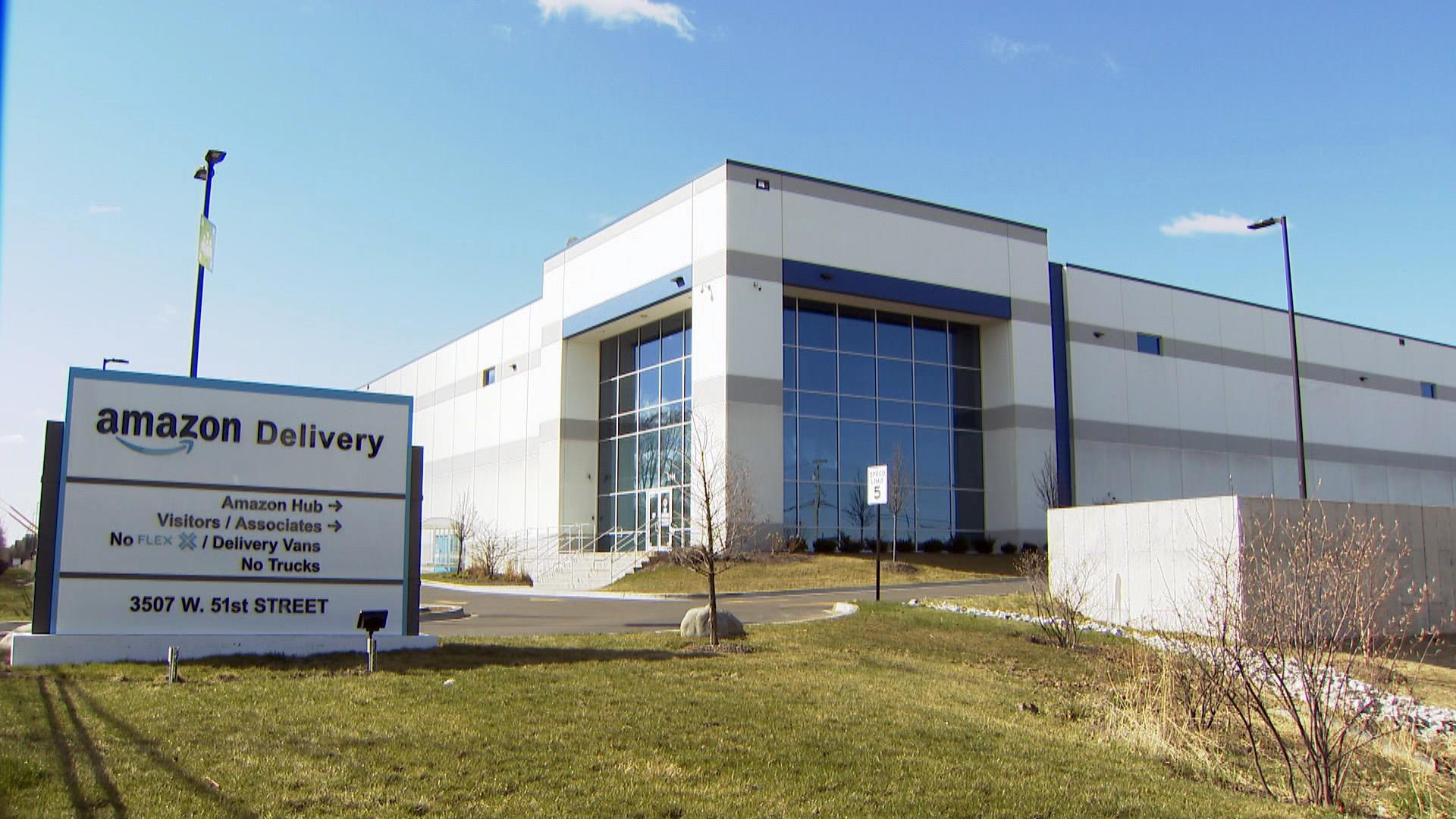 The Amazon facility in Gage Park known as DIL3. (WTTW News)
A group of Amazon employees walked out of the mega-retailer's Gage Park distribution center Wednesday morning, calling on the company to stop understaffing the facility and to provide accommodations for people working a 10.5-hour overnight "megacycle" shift.
"We're tired of being used," said Rakyle Johnson of Amazonians United Chicagoland on a livestream. "We work so hard, we give so much to our company … but they don't give anything back."
An organizer told WTTW News that 20-30 workers walked out, leaving management frustrated and angry. The organizer said 5-10 people who weren't scheduled to work Wednesday joined in support. They were also joined by Ald. Byron Sigcho-Lopez (25th Ward) who said workers were being "exploited."
A group from Amazonians United Chicagoland demonstrated last week outside the same Gage Park facility, known as DIL3, to demand accommodations for a shift from 1:20 a.m. to 11:50 a.m. that they say the company pushed them into. They're seeking a $2 per hour raise; accommodations for employees who can only work part of the shift because they need to care for children or for medical reasons; ride-share trips to and from work, which they say the company provides in New York City; and full 20-minute breaks without managers cutting them short.
Employees say management has not responded to their demands.
"We're still waiting for you to tell us, 'OK, we're working on it,'" Johnson said. "We're not going to be silent. We're going to have our voices heard loud and clear."
Workers say they learned about the megacycle shifts at the same time they found out Amazon was shutting down the DCH1 facility in McKinley Park, which has seen multiple actions by organized workers. The company says DCH1 was one of its older facilities, so it didn't renew its lease and instead transferred workers to three newer sites to better serve customers. One of the speakers who addressed the crowd Wednesday morning thought otherwise.
"Management thinks they're slick closing down DCH1, thinking that we're just going to go away or something, that we're just going to disappear," said the speaker, who identified himself as an Amazon employee in Cicero. "Our fight is just starting."
Amazon says it already offers industry-leading pay and benefits, and that workers can take paid breaks at any time to use the bathroom, eat or drink, or talk with other employees.
In a statement to WTTW News, a company spokesperson said: "(W)e respect our employees' right to voice their concerns and peacefully protest without fear of retaliation, intimidation or harassment, and are aware a few employees took time to express concerns. We are making changes to our schedules to create more full-time shifts, which include competitive medical, prescription drug, dental and vision coverage, in addition to paid time off and parental leave. These full-time schedules are commonly used across our operations network and as we transition sites to them, associates have a number of choices that best supports their needs."
---