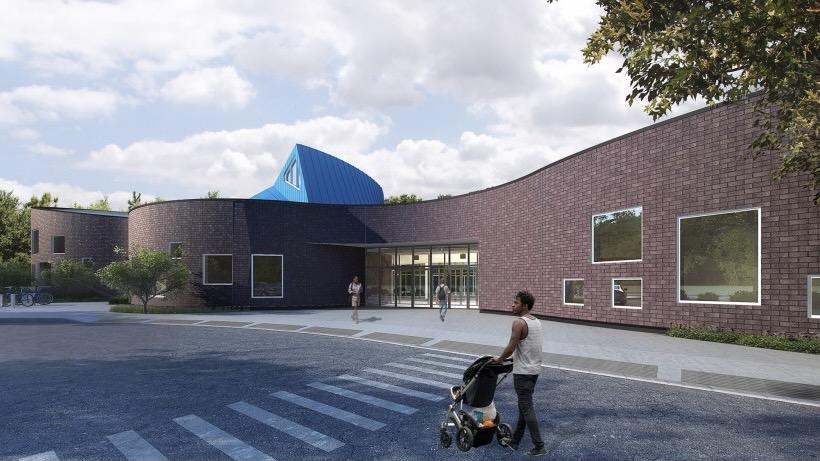 A rendering of the new Altgeld Gardens branch of the Chicago Public Library. (Credit: Koo LLC)
Ten Chicago Public Library branches will open on Sunday afternoons this month, Mayor Lori Lightfoot announced Wednesday as she celebrated the opening of the new Altgeld Gardens branch.
The new $7.5 million branch at 955 E. 131st St. on Chicago's Far South Side will open from 1-5 p.m. on Sundays starting April 18 along with branches in Mount Greenwood, South Shore, Back of the Yards, Chinatown, Merlo, Edgewater, Independence, Richard M. Daley and Austin, Lightfoot announced.
Nine Chicago Public Library branches added Sunday afternoon hours in December 2019, the first to do so after Lightfoot proposed—and the Chicago City Council approved—an $18 million property tax hike as part of the city's 2020 budget to fund the expansion. 
In all, 19 Chicago libraries will be open on Sunday afternoons as of April 18, along with the Harold Washington Library Center and three regional libraries: Sulzer, Woodson and Legler, officials said.
The remaining 62 branches will add Sunday hours by the end of 2021, officials announced.
Plans called for the library to hire 177 staff members to add Sunday hours at all 81 branch libraries, officials said.
The new Altgeld Gardens branch is the fourth built as part of a collaboration between the Chicago Housing Authority and the Chicago Public Library and the first to open since 2019.
The library building will also include a Centers for New Horizons childcare facility, a YOUmedia teen space with a recording studio for teens, a maker lab for patrons of all ages, an early learning center for children younger than 5 as well as private community and meeting rooms.  
Plans for the new branch were announced by Ald. Anthony Beale (9th Ward) and former Mayor Rahm Emanuel in 2016.
In 2019, Beale was the lone aldermen to speak out against Lightfoot's plan to reopen the libraries on Sunday afternoon, saying that the money would be better spent to reopen city-funded mental health clinics.
Beale celebrated the opening of the new branch Wednesday alongside Lightfoot, with whom he has feuded with for more than two years. More than 75% of residents of the geographically isolated Altgeld Gardens live below the federal poverty line, and nearly all residents—98%—are Black, according to Chicago Housing Authority data.  
An audit released in May 2018 by Inspector General Joseph Ferguson recommended that library officials conduct a system-wide analysis of staffing levels after he determined the branches were insufficiently staffed to meet the needs of library users and community residents after cuts imposed by Emanuel in 2011.
Lightfoot also announced Wednesday that applications are open for 21,000 part-time positions for teens and young adults ages 14-24 as part of the city's annual summer jobs program.
Participants can work in fields such as coding and tech, health care and media for 20 to 25 hours per week as part of the One Summer Chicago program, officials said.
Contact Heather Cherone: @HeatherCherone | (773) 569-1863 | [email protected]
---