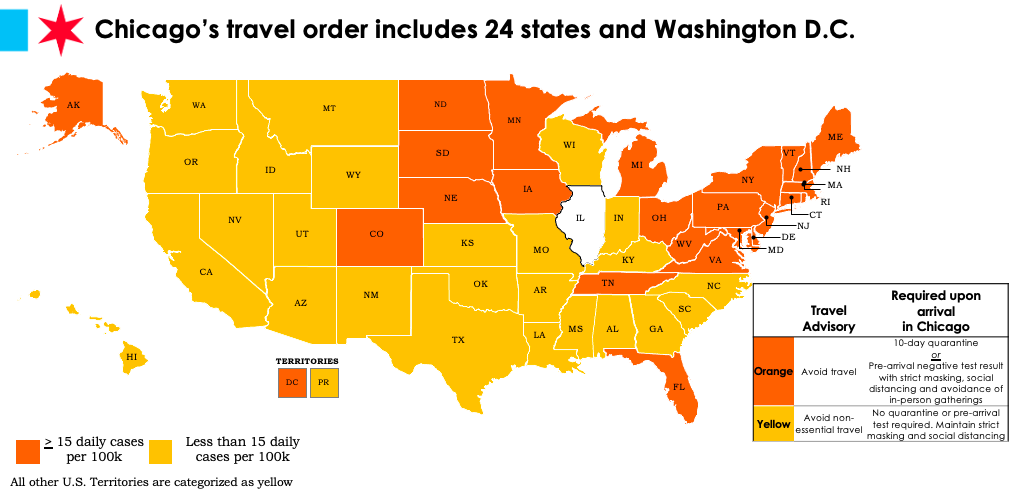 A map shows the latest version of Chicago's travel order. (Courtesy City of Chicago)
Chicago officials shuffled the city's travel order Tuesday to require visitors from four midwestern states — Iowa, Ohio, Nebraska and North Dakota  — and Washington, D.C., to quarantine for 10 days or record a negative test for COVID-19.
At the same time, officials with the Chicago Department of Public Health eased restrictions on visitors from Idaho, Montana, Alabama, Georgia, South Carolina and North Carolina, according to the updated travel order.
In all, 24 states and Washington, D.C., are covered by the order.
Visitors to Chicago who have been fully vaccinated against COVID-19 are not covered by the travel order.
The Centers for Disease Control and Prevention announced Friday that fully vaccinated people can travel within the U.S. without getting tested for the coronavirus or spending 10 days in quarantine, in keeping with Chicago's rules.
However, officials discouraged nonessential travel because of the rising number of cases of COVID-19 throughout the country.
Everyone must still wear masks, follow social distancing rules and avoid large gatherings, according to the city's rules.
Michigan is the epicenter of the COVID-19 outbreak, with approximately 65 new cases of COVID-19 per 100,000 residents per day, according to city data. States with more than 15 new cases per 100,000 residents per day are covered by the travel order, according to city guidance.
Violators of the quarantine order could face fines of $100 to $500 per day for a maximum fine of $7,000, according to Mayor Lori Lightfoot's office. However, city officials have said they're relying on an education campaign rather than an enforcement effort. No one has been cited for violating the order, which was first announced in July.
Travel by essential workers and students commuting to class is exempt from the order, according to the mayor's office, as is travel to obtain medical care or exchange children subject to a shared custody order.
Contact Heather Cherone: @HeatherCherone | (773) 569-1863 | [email protected]
---