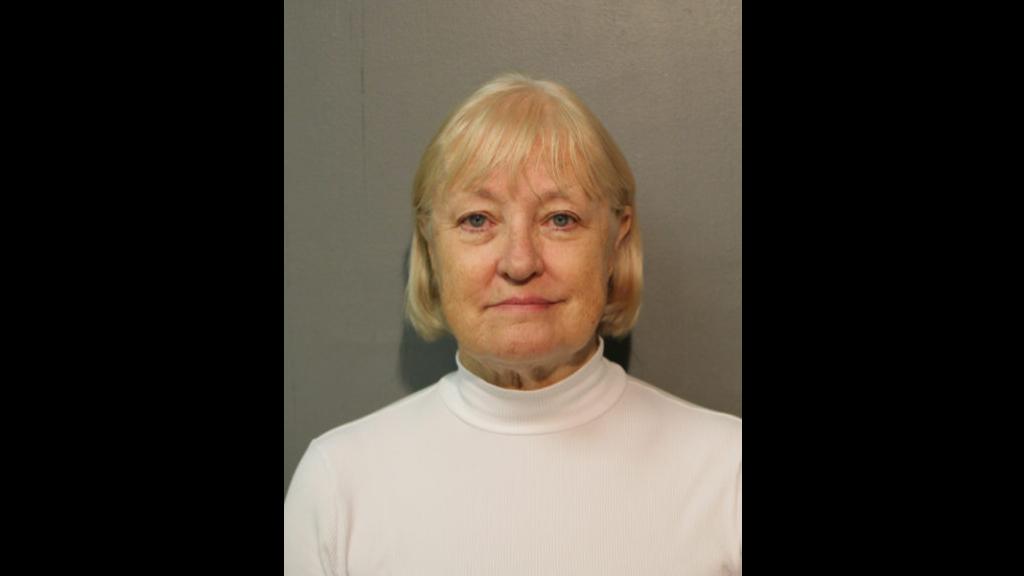 A 2019 police booking photo shows Marilyn Hartman. (Chicago Police Department)
The Chicago woman dubbed the "Serial Stowaway" for her repeated attempts to sneak past security and onto flights has been ordered held without bail after she was once again arrested at O'Hare Airport this week while out on electronic monitoring in a previous case.
Cook County Judge David Navarro said Thursday that Marilyn Hartman "thumb(ed) (her) nose at the courts and the entire process" following her arrest Tuesday at O'Hare.
Navarro issued Hartman, 69, a $100,000 D-bond, meaning she must pay $10,000 to be released on her latest escape charge, but also ordered her to be held without bail for violating the terms of her electronic monitoring agreement stemming from a previous charge.
In a statement, the Cook County Sheriff's Office said it was notified around noon Tuesday that Hartman had left the residential facility where she has been staying while on electronic monitoring.
Investigators discovered that her monitoring device indicated she was traveling toward O'Hare. Chicago Police were notified, and after an alarm siren was activated on her monitoring device, she was taken into custody at the CTA Blue Line station at the airport.
The Sheriff's Office said Hartman did not enter any secure areas. Cook County Assistant State's Attorney James Murphy said Thursday that Hartman had admitted to police that she left her facility because she was depressed.
Murphy said that by Hartman's own admission, she has trespassed at airports at least 30 times, adding that while this is a nonviolent charge, it's "only a matter of time before somebody gets hurt."
During Thursday's hearing, Hartman's attorney claimed her client had been getting mental health treatment with the Safe Haven Foundation for the last year without issue. But she said Hartman was "triggered" by her appearance in a television interview that aired Sunday on Chicago's CBS affiliate, WBBM-TV.
That interview, in which a CBS reporter spoke with Hartman over the phone, was apparently an old conversation that Hartman "did not agree to" have aired, her attorney claimed. Her attorney added that Safe Haven would "gladly" take Hartman back to continue her treatment.
Navarro said he had not seen Hartman's television interview and would not take her statements there into account in making his bail decision. But he noted that in leaving the facility, Hartman didn't just "go for a walk," but instead added "salt to the wound" by again heading to the "one place you specifically can't go."
"It is simply a bright line," he said, "you either are in custody or you're out of custody. And when you're at the O'Hare Airport on electronic monitoring, that would seem to be a clear indication you're in violation of the electronic monitoring agreement."
Beyond her pending charges stemming from a similar October 2019 incident, Hartman also has several previous trespassing convictions.
She is due back in court Monday on her previous case and then April 7 on the new escape charge.
Contact Matt Masterson: @ByMattMasterson | [email protected] | (773) 509-5431
---