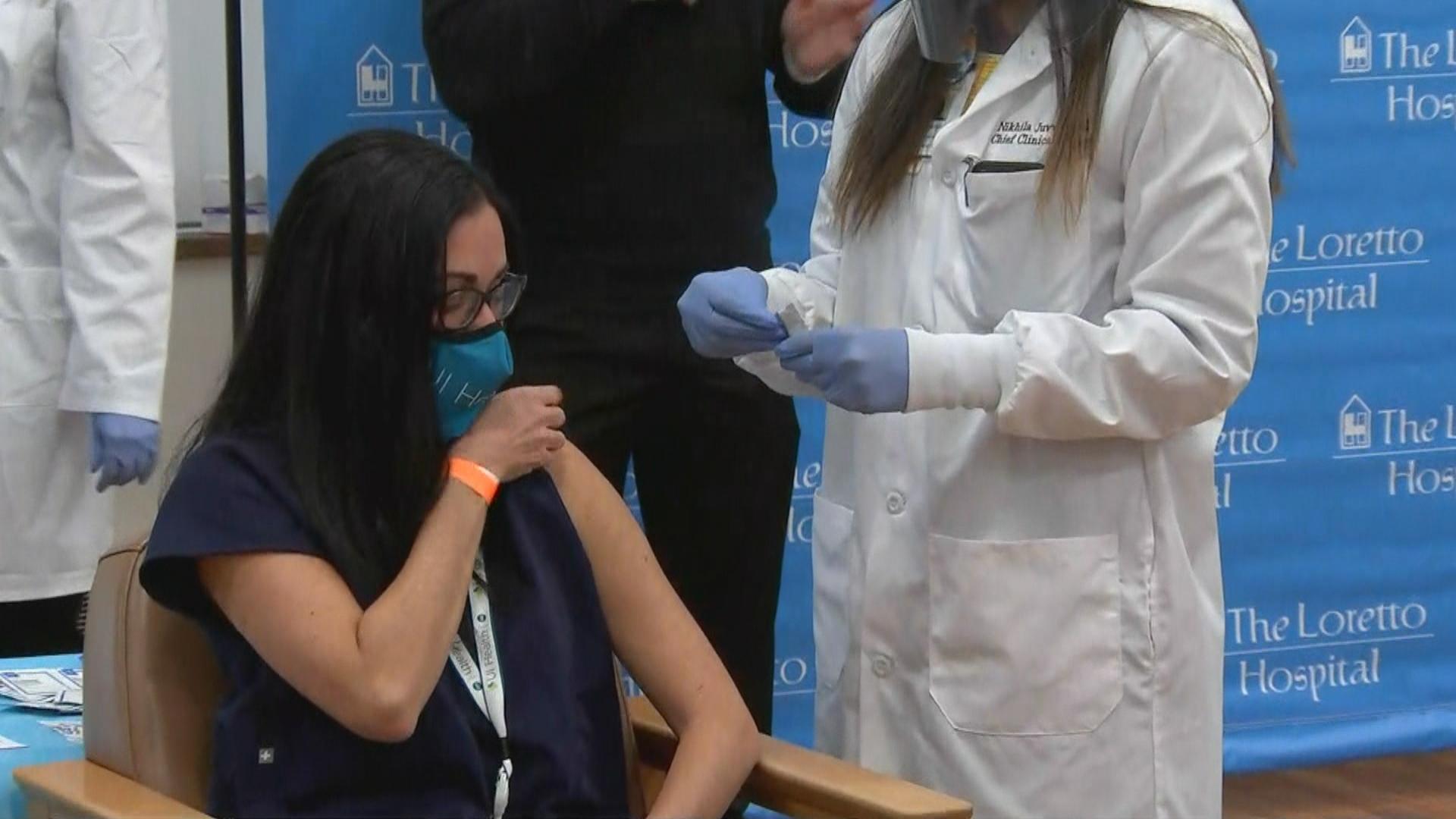 Dr. Marina Del Rios receives the first dose of the COVID-19 vaccine by city officials on Tuesday, Dec. 15, 2020 at The Loretto Hospital. (WTTW News)
Chicago will begin the next phase of its vaccination effort on March 29, which will allow all essential workers and those with underlying health conditions to get doses of the COVID-19 vaccine, Mayor Lori Lightfoot announced Wednesday.
While touting the progress the city has made in distributing the coveted vaccine, Lightfoot and the city's top doctor, Dr. Allison Arwady, warned that the city will still not have enough doses of the vaccine to inoculate everyone who wants a jab once the next phase starts in two weeks.
"Hope is on the way," Lightfoot said.
Chicagoans must continue to wear masks, keep their distance from those who are not in their household and avoid large gatherings and nonessential travel, Arwady said.
Most Chicagoans will become eligible for a vaccine during this next phase of the vaccination effort, Arwady said.
The health conditions that qualify Chicagoans for the vaccine starting on March 29 are: cancer; cardiac and cardiovascular disease, high blood pressure, kidney disease, cystic fibrosis, moderate to severe asthma, pulmonary fibrosis, emphysema, Type 1 and Type 2 diabetes; physical, developmental, visual, hearing or mental disabilities; dementia, Down syndrome, immune deficiencies, HIV, hepatitis, pregnancy, obesity, schizophrenia and sickle cell disease.
Restaurant and bar servers as well as hair stylists and nail technicians will also become eligible for the vaccine along with those who work in the media, energy, finance, higher education, information technology, retail, government, public safety, hotel, transportation and water industries, according to the city's rules.
President Joe Biden said his administration is working to ramp up the supply of the vaccine and will order states to make all adults eligible for the vaccine by May 1. Chicago's original vaccine rollout plan called for that to happen by May 31.
Chicago is "more than ready" to expand vaccine distribution efforts, Arwady said.
About half of all Chicagoans older than 65, who have been eligible for the vaccine since mid-December, have received at least one dose of the vaccine, Arwady said. The city is on track to administer its 1 millionth vaccine dose next week, she said.
The city of Chicago is getting between 9,000 and 10,000 first doses per day, in addition to supplies for pharmacies and the federally run mass vaccination site at the United Center, Arwady said.
Only city residents will be eligible for appointments at city-run facilities after March 29, as part of the city's efforts to ensure that Black and Latino residents, who are at an increased risk of severe illness and death from COVID-19, are vaccinated as soon as possible, Arwady said.
More than 50% of all vaccine distributed in Chicago last week went into the arms of Black and Latino Chicagoans, Lightfoot said.
Approximately 40% of those vaccinated in Chicago live outside the city, according to city data.
Even as the next phase of the vaccination effort launches, the city will not change the eligibility rules to get vaccinated at the United Center, Arwady said. That site is operating at capacity and will continue to prioritize those who live in Chicago neighborhoods hit hardest by the pandemic, Arwady said.
Contact Heather Cherone: @HeatherCherone | (773) 569-1863 | [email protected]
---