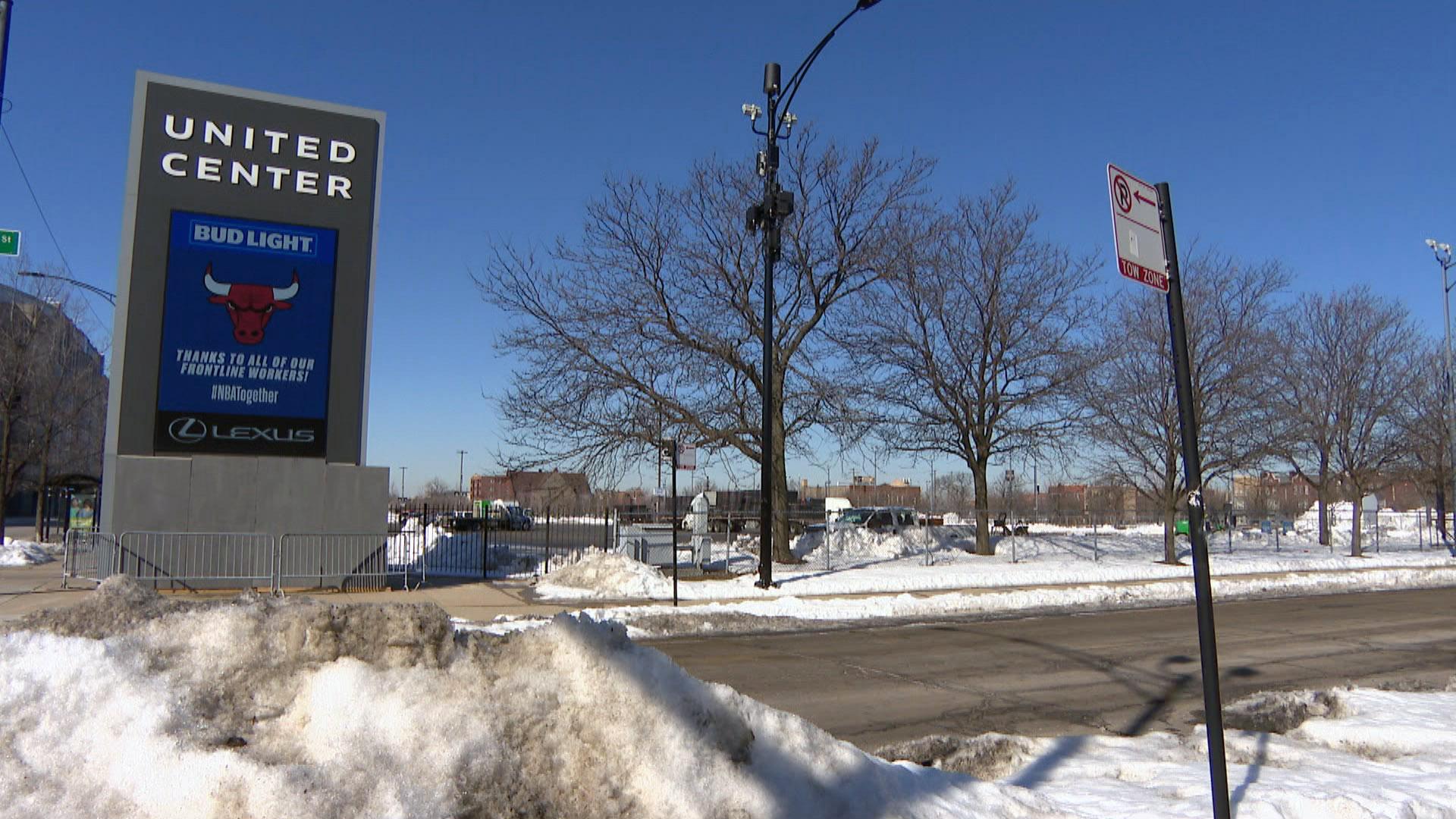 (WTTW News)
Federal and state officials will open a mass vaccination site at the United Center on March 10 that could administer an additional 6,000 doses of the COVID-19 vaccine per day, officials announced Friday.
The vaccination effort will prioritize Chicago residents older than 65 and those who live in the hardest hit communities. Appointments made on ZocDoc will be required, officials said.
Plans call for the mass vaccination center to operate from 8 a.m. to 8 p.m. seven days a week for eight weeks, officials said. Eventually, everyone eligible for the vaccine will be able to book appointments at the United Center, including those with underlying health conditions that make them more vulnerable to COVID-19. 
Gov. J.B. Pritzker, Chicago Mayor Lori Lightfoot and Cook County Board President Toni Preckwinkle announced the effort Friday morning alongside Sens. Dick Durbin and Tammy Duckworth and representatives of the Federal Emergency Management Agency, which will run the drive-thru and walk-up facility in the stadium's parking lots.
"We are truly in a race against time," Durbin said, adding that the pace of vaccinations must increase significantly to stop the spread of more transmissible variants of COVID-19.
If the facility operates at full capacity, it would represent a massive expansion of the city's vaccination effort. Until this week, the city was getting a total of 6,000 doses per day. Plans call for the doses to be administered at the United Center to come from a separate allotment directly from the federal government.
It is not clear what vaccine will be offered at the United Center, Pritzker said.
"The United Center is one of the best locations for vaccinating large numbers of people in America: it's easy to get to, is in the midst of a medically underserved community, can handle large crowds and is well-known to everyone in Illinois," Pritzker said.
The Blackhawks and Bulls will continue to use the United Center for their games, while fans have not been allowed in the stands as part of efforts to stop the spread of COVID-19. Discussions are underway to craft rules that would allow fans to return to the stands, Pritzker said.
"We want to be wary and careful," Pritzker said.
Uber will donate 20,000 rides to cover the cost of transporting Chicagoans to the United Center to be vaccinated. The free rides will be targeted to residents on the South and West sides, officials said.
Contact Heather Cherone: @HeatherCherone | (773) 569-1863 | [email protected]
---