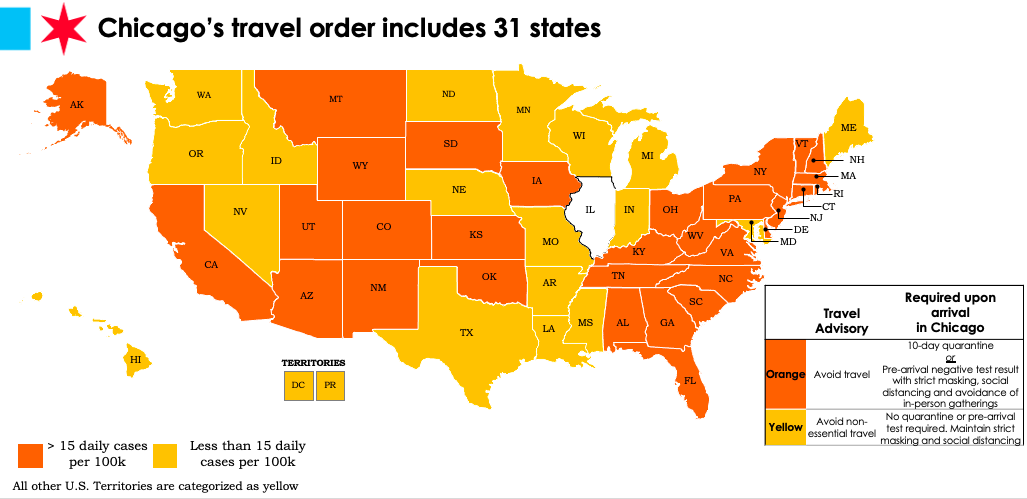 Chicago's travel order. (Credit: Chicago Department of Public Health)
Visitors to Chicago who have been fully vaccinated against COVID-19 do not have to quarantine for 10 days or record a negative test for COVID-19, the city's top doctor said Tuesday.
Citing guidance from the Centers for Disease Control and Prevention, Dr. Allison Arwady, the commissioner of the Chicago Department of Public Health, said that two weeks after someone receives the second and final dose of the COVID-19 vaccine or two weeks after the first dose without any symptoms they are considered fully vaccinated and not subject to the city's travel order, which now covers 31 states.
"But that's not a green light to travel," Arwady said. "We are seeing major progress here in Chicago and across the country."
In addition, visitors to Chicago from Hawaii, Puerto Rico, North Dakota, Washington D.C., Indiana, Minnesota, Mississippi, Texas, Idaho, Louisiana, Nebraska, Maryland, Wisconsin, Nevada, Arkansas, Washington, Michigan, Maine, Missouri and Oregon do not have to quarantine or test negative for COVID-19 within 72 hours before they arrive, according to the travel order, which was updated Tuesday and takes effect Friday.
Two weeks ago, only visitors from Hawaii, Puerto Rico, Alaska and North Dakota did not have to quarantine or test negative for COVID-19 because they had fewer than 15 new COVID-19 cases per day, per 100,000 population, officials said.
Everyone must still wear masks, follow social distancing rules and avoid large gatherings, according to the city's rules.
Illinois is averaging less than 14 new cases per day based on a seven-day rolling average, according to city data.
The city's COVID-19 test positivity rate is 3.2%, according to the Chicago Department of Public Health, the lowest rate since the start of the pandemic. Seven days ago, it was 3.6%
There is now an average of 257 confirmed cases of COVID-19 per day, based on a seven-day rolling average. That's down 26% in a week, according to city data.
Six people, on average, die every day in Chicago after being diagnosed with COVID-19, according to city data.
During an online question-and-answer session Tuesday morning, Arwady said that progress is due in part to the impact vaccines are having in congregate settings, like long-term care facilities, where the virus spreads most rapidly.
Arwady traveled Tuesday afternoon to the Pacific Garden Mission to tout the success the city has had in vaccinating more than 2,000 Chicagoans who are experiencing homelessness and those who work at Chicago's shelters.
Violators of the quarantine order could face fines of $100 to $500 per day for a maximum fine of $7,000, according to Mayor Lori Lightfoot's office. However, city officials have said they're relying on an education campaign rather than an enforcement effort. No one has been cited for violating the order, which was first announced in July.
Travel by essential workers and students commuting to class is exempt from the order, according to the mayor's office, as is travel to obtain medical care or exchange children subject to a shared custody order. 
Contact Heather Cherone: @HeatherCherone | (773) 569-1863 | [email protected]
---