When Rabbi Douglas Goldhamer arrived in Chicago from Cincinnati in the early 1970s, he found deaf Jews attending church services because they had no place of worship to accommodate their needs or view them as equals.
"I went to different churches and I found deaf Jews as members in these churches because one – there was no Jewish deaf congregation," Goldhamer said. "And two – even if there was a Jewish deaf congregation, deaf people couldn't have parity."
So in 1972, Goldhamer founded Bene Shalom, a Reform Judaism congregation in Skokie that interprets all of its services in American Sign Language. It's often cited as the only full-service synagogue in the nation dedicated to the deaf.
"Not only do we speak our services in English, Hebrew and Aramaic, but we also sign our services," Goldhamer said. "Every word is signed, so it looks as if we're painting pictures in the air."
The rabbi said some interpretations of The Talmud, a central book of Jewish law, exclude from religious obligations the deaf, along with children and people with intellectual disabilities.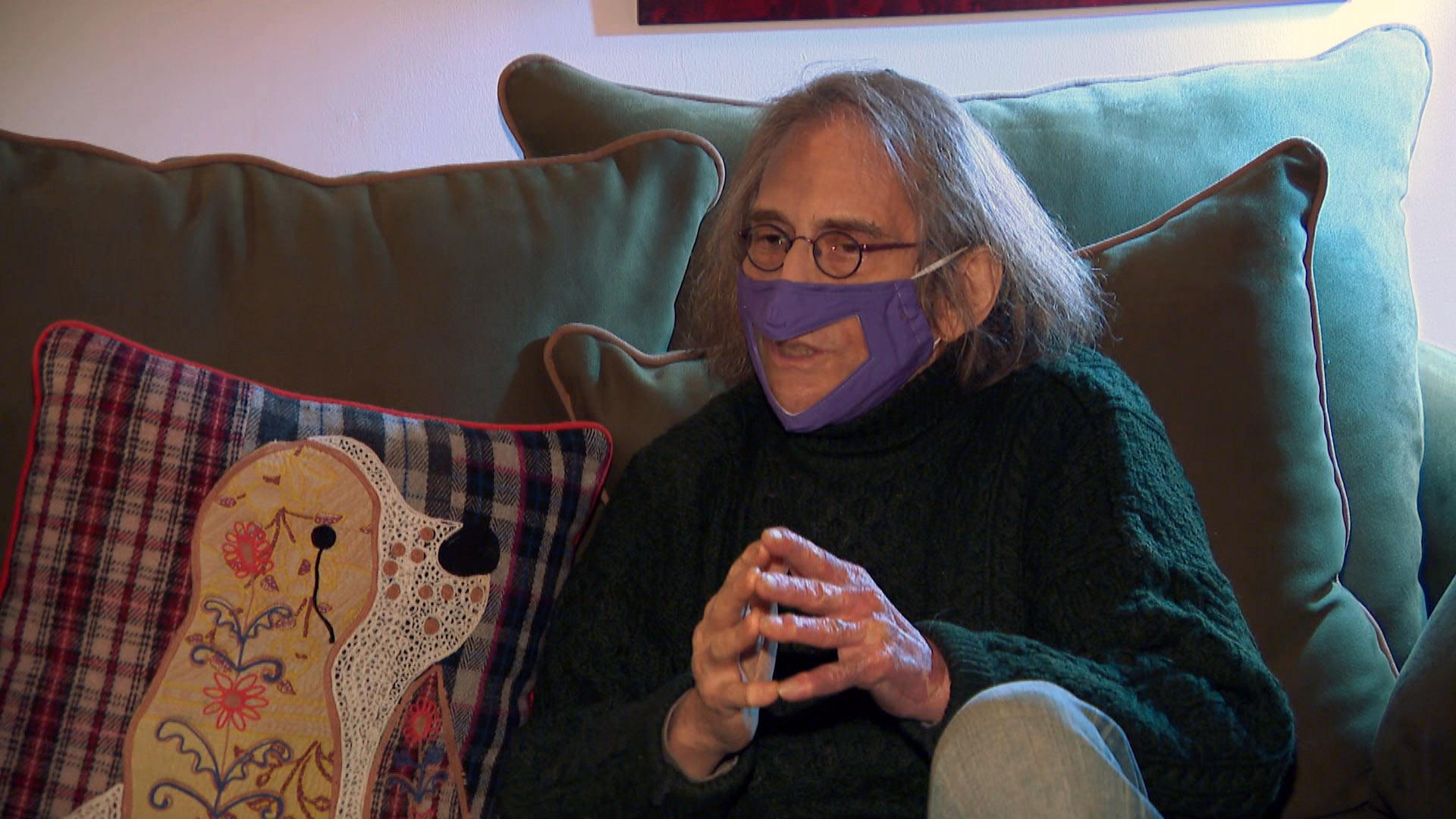 Rabbi Douglas Goldhamer, who started Skokie's Bene Shalom congregation in 1972, at his Evanston home on Feb. 5, 2021. (WTTW News)
"Even rejoicing – so if it's a Jewish holiday and we're celebrating the reading of The Torah," Goldhamer said. "We just finished the last page, we're starting the first page and it's time for a celebration – 'Take out the whiskey! But you deaf don't have to, you're exempt from this.' I think it's pretty awful."
While the congregation serves an important need to the 180 or so families that belong to it, Bene Shalom is facing financial hardship threatening its closure.
Goldhamer said the longtime support of the Friends of Bene Shalom has dwindled over time.
"They knew the difficulties we had financially and they gave us gifts every single month," Goldhamer said. "But unfortunately, just as I'm 75 now, they were 65 then and they're not alive anymore and so we need help because our congregation is not a well-to-do congregation."
Goldhamer and his wife Peggy Bagley, the congregation's executive director, said they've slashed salaries in half to reach a $300,000 annual budget target.
They're a few thousand dollars short of reaching a $50,000 goal through a GoFundMe page set up last year and in addition to membership dues and holiday donations, they hope to raise from the public an additional $50,000 later this year.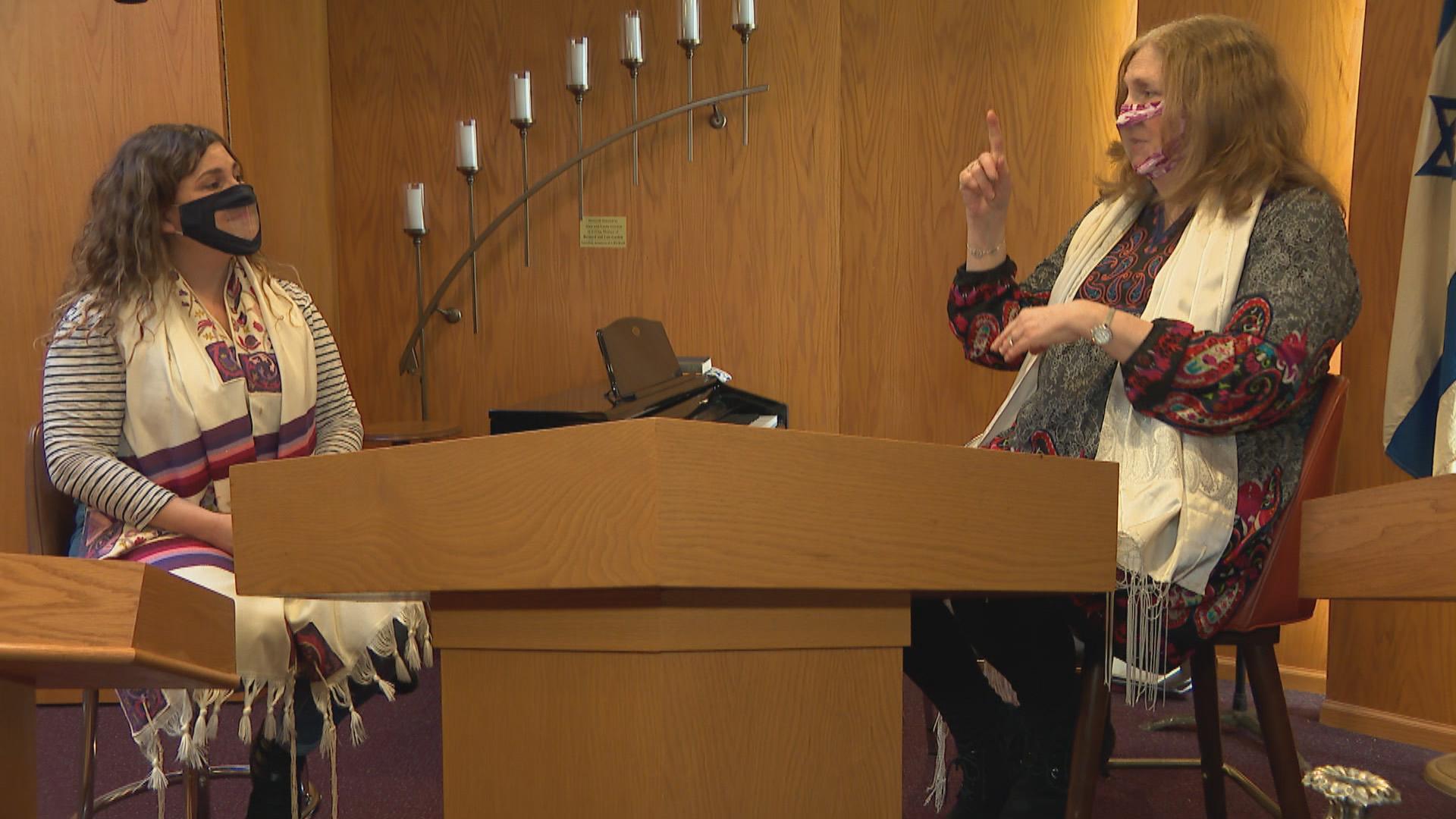 Rabbinical student Sari Daybook, left, and Rabbi Shari Chen communicate through American Sign Language at Bene Shalom synagogue in Skokie on Feb. 5, 2021. (WTTW News)
Since she was 5 years old, rabbinical student Sari Daybook, who has severe to profound hearing loss, has worshipped, learned and grown within the Bene Shalom synagogue.
"If we're done, I have nowhere to go – I have nowhere to pray," said Daybook, now 38. "I have nowhere where I can rely to have faith in God and to feel good because when I'm sad, I get excited on Friday nights because I know that I can pray and I can sign."
Daybook is hosting an eight-week introductory ASL class via Zoom starting Feb. 21. The $65 fee covers eight sessions and anyone interested can register by calling Bene Shalom's office at (847) 677-3330 or by visiting the congregation's website.
Follow Evan Garcia on Twitter: @EvanRGarcia
---